Dania is lying on the ground, she is gasping listlessly. Her white hijab is absorbing her warm red blood as it flows from her face. She is gasping for breath as her body is subsumed in shock.[i] She was shot in the face walking home from an after school English advancement course, her backpack and uniform on, in the Israeli occupied city of Hebron, Palestine. She was left to die on the street as ambulances were refused access to her. She is recorded as another Palestinian girl executed in public; she will be remembered as another Palestinian martyr buried in heartache.
Since the beginning of October 2015, 83 Palestinians have been murdered by Israeli police, soldiers and civilians in public executions and lynchings. Over 3,000 Palestinians have been injured and another 1,195 have been arrested, including 177 children.[ii] The context of 'conflict' in the case of Palestine/Israel is very clear: there is an occupying power (Israel), operating the fourth largest military in the world; versus, an occupied people (Palestinians) physically and mentally displaced within manipulated carceral environs, continually forced into a life of subjection to settler-colonial rule since before 1948. Alongside the everyday, generic oppressions Palestinians endure, (checkpoints, military invasions, house arrests, raids, lack of water/resources/electricity/employment, restricted education, permits and IDs', house demolitions, land grabs, tear gas, shootings), the visible processes of ethnic cleansing manifest in Israel's habitual killing of the indigenous population. To consider the recent situation as a sudden upsurge in violence is to succumb to a collective amnesia: Palestinians are and always have been embroiled within the political and ideological institution of Zionism[iii] which defines and categorises who is worthy and privileged, who is punishable and disposable. Zionism, as an ideology and practice, is carefully knitted into the very fabric of Israel's historical, social and political reality.
Israel's settler colonial logic
Israel's settler-colonial logic and practice is very European in its historical foundation, racism and patriarchal domination.[iv] The largely accepted racist discourses in Israel's mainstream, reflect the embedded colonial mindset that drives policies and practices. Prominent Israeli figures are given authority to incite violence, such as Mordechai Kedar, an academic professor, calling for the collective rape of Palestinian women in order to target Palestinian men[v]; or the Israeli politician and lawyer, Ayelet Shaked, publicly labelling Palestinian women as the root of Israel's demographic threat through their reproduction of 'little snakes', Palestinian babies.[vi] The dehumanisation of Palestinians is not restricted to the mechanisms of occupation, it is normalised within all sectors of mainstream society.
Palestinian women are not on the fringes of violence: they are direct targets of the occupation as their 'Palestinianness' signals threat. The endemic racial violence they face has been overwhelmingly documented recently through hand-held cameras. Like the Palestinian woman in Haifa, dragged out of a taxi for disagreeing with the driver, pinned to the ground, kicked in the head, while Israelis discuss whether to kill her or not. Or the graphic video of Israa Abdah shot at point blank range by a firing squad of Israeli police officers in a bus station in Afulah. Or Hadil Hashlamoun, an 18-year-old girl shot 10 times while standing in front of a soldier. She was left sprawled on the street, bleeding for 30 minutes before medical staff were permitted to reach her.
Gendering an analysis of the recent violence is not about making tables and lists recording who is disproportionately affected; somehow disaggregating Palestinians into aggressors and victims. The idea of proportions is nonsensical in the well-known political context and lived reality of colonialism. Rather, to intricately unpick Israel's structural violences by looking at its manifestations is essential in order to understand, politicise and challenge settler-colonialism. The killing of Palestinian women is de-politicised when they are labelled as mere victims caught up in the throes of violence, in comparison to an 'Arab male aggressor'. Palestinian women, like their men counter-parts, are subject to an acute system of colonial racialisation, and are victims of a historical trauma, an ongoing Nakba (catastrophe). Yet, they are also subjects and agents of their identity and struggle:[vii] they choose how to survive, continue, resist and articulate themselves in the ways that make sense to them.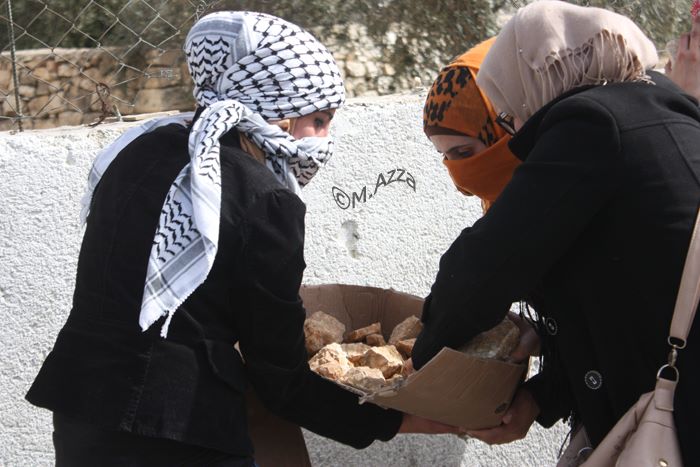 A coalition of women in Jerusalem made a public call for protection invoking the Security Resolution 1325 on Women, Peace and Security. Their call speaks volumes on the treatment women face in occupied Jerusalem specifically: 'The feminization of slavery in the colony is apparent when watching Palestinian women turn into domestic workers, humiliated, controlled, and oppressed in Israeli public and private entities.' This characterisation lays bare the brutal reality of Israel today: apartheid. To ignore this call is to be complicit in the silencing of women living under the domination of colonialism.
The E.U. Funds Apartheid
The institution of the E.U. and the individual European states share a sinister involvement in Israel's militant colonial rule. In some respects, the E.U. maintains an air of discontent by wagging a finger at certain human rights abuses Israel commits, yet, it actively funds and fuels its military machinery. In 2014, Israel announced its participation in 205 projects in the EU's Horizon 2020 research and innovation programme, amounting to over 4 million euros. In essence, this means, European taxpaying money is directly channelled into Israeli institutions such as Elbit systems, a security and surveillance system that secures illegal Israeli settlements, the apartheid Wall, gunboats, sniper rifles and drones, all mechanisms active in occupying the Palestinian people.[viii] Israeli military aggression is approved and encouraged as the E.U. directly profits from Israel's overt and continual violations of international law.
Palestinian civil society made a call in 2005 for an international boycott, divestment and sanctioning (BDS) of Israel. As the BDS movement gains momentum globally and Israel sets up a special ministry to tackle it[ix], now more than ever is the time for progressive feminist movements, scholars and activists to throw weight behind the campaign.
A Feminist Politics Against Colonialism
The full boycott of Israel is a feminist issue, as David Lloyd's important intervention perfectly delineates.[x] As Israel continues to fashion its appearance on a bizarre image of 'the only women/LGBT+ friendly, democracy in the Middle East', its skewed reality is that of a strange population mix up of the world Jewry's entitlement to reside in a place unknown to them at the expense of an indigenous people; an enslaved freedom for women to serve in an occupation army; and an apartheid landscape of walls, surveillance and checkpoints.
The question is not why are Palestinian women, men and children being visibly executed on the street with impunity; the question is why are we all complicit in this ongoing colonial project today?
An intersectional, transnational feminist politics is about exposing the hypocrisy of power structures and fighting for the equality of all. That fight includes the right to protection, to education, healthcare and reproductive freedom, the basic right to move through this world freely. That extends to Ahmad Manasra[xi] the child left bleeding on the street while Israelis surround him, film him and shout 'die you son of a bitch. Shoot him in the head!'; that extends to 73 year old Tharwat al-Sharawi[xii] shot 15 times while driving her car; that extends to every single agent of Palestinian resistance, defending their community, their history, their land, their life in the ways that they can.[xiii] By really listening to Palestinians in struggle, amplifying their voices above the cacophony of oppression, we are critically engaging in active solidarity.
What kind of normal relations and dialogue can be had with a state that harvests the organs of the indigenous people it kills[xiv]; or a state that forcibly sterilises Ethiopian Jewish women[xv]; or publicly threatens to kill everyone within a U.N. refugee camp by gassing them?[xvi] As Assata Shakur said: 'Nobody in the world, nobody in history, has ever gotten their freedom by appealing to the moral sense of the people who were oppressing them.'[xvii] The case of Palestine/Israel is about privilege: a feminist political standpoint challenges the very root of privilege in a bid to disrupt and transform the relations of power. A key principle of progressive feminism is to make visible the stranglehold of power, no matter how difficult or tiresome that may be. Boycotting is painful and disruptive, but the loss of privilege in the fight for equality was always going to be messy, no one can naively claim transformation prevails through handing out flowers and kissing the hands of the patriarch. By centring women's voices in the midst of colonial violence, new knowledge is possible, a knowledge that can touch the root of inequalities and seek the dismantlement of the systems of power that allow these unjust conditions to perpetuate.
_____________________________
[i] Trigger Warning (TW): Photo, video and news article: http://mondoweiss.net/2015/10/executed-arshid-hebron (last accessed 09/11/15)
[ii] See http://mondoweiss.net/2015/11/ministry-palestinians-including-children and http://www.addameer.org/sites/default/files/publications/october_2015_newsletter.pdf (last accessed 09/11/15)
[iii] Pappe, I.  2006 The Ethnic Cleansing of Palestine Oneworld Publications
[iv] See https://www.opendemocracy.net/arab-awakening/jonas-fossli-gjers%C3%B8/israel-last-of-settler-colonies (last accessed 09/11/15)
[v] See http://www.haaretz.com/israel-news/.premium-1.606542
[vi] See https://electronicintifada.net/blogs/ali-abunimah/israeli-lawmakers-call-genocide-palestinians-gets-thousands-facebook-likes (last accessed 09/11/15)
[vii] See http://www.aljazeera.com/indepth/features/2015/10/women-intifada-palestine-151023085848279.html (last accessed 09/11/15)
[viii] See http://www.stopthewall.org/sites/default/files/horizon2020%20elbit.pdf (last accessed 09/11/15)
[ix] See https://www.middleeastmonitor.com/news/middle-east/22088-israel-sets-up-special-ministry-to-tackle-bds
[x] See http://criticallegalthinking.com/2014/05/13/belief-palestine-feminist-issue/ (last accessed 09/11/15)
[xi] TW: Video of Ahmad after being shot: http://www.imemc.org/article/73371 (last accessed 09/11/15)
[xii] See http://english.pnn.ps/2015/11/06/palestinian-woman-shot-died-at-the-hospital/
[xiii] See http://mondoweiss.net/2015/11/instructed-nonviolence-problematic
[xiv] See http://english.pnn.ps/2015/11/09/iof-harvest-organs-of-executed-palestinians/ (last accessed 09/11/15)
[xv] See http://www.independent.co.uk/news/world/middle-east/israel-gave-birth-control-to-ethiopian-jews-without-their-consent-8468800.html (last accessed 09/11/15)
[xvi] Video footage: https://www.facebook.com/ajplusenglish/videos/639281589546685/?pnref=story (last accessed 09/11/15)
[xvii] Shakur, A. 1999 Assata: An Autobiography Chicago Review Press