Read Time:
5 Minute, 28 Second
Sports, be it team sport or individual sport, has for a long time been a male domain. Since the First Wave of feminism in the late 19th, and early 20th century, this is changing. But when will women be truly equal in sports?
"When you lose a couple of times, it makes you realize how difficult it is to win." Former famous German tennis player Steffi Graf knew how hard a fight can become – and so did all the women who came before her, battling themselves against a lot of resistance to be able to follow their passion: doing sports.
For most of history, it was simply unimaginable that women could do horse-riding, swimming or running. In Ancient Greece, women were not even allowed to be spectators, especially in the Olympic Games. Doing sports was associated with masculinity, and women were discouraged from competitive sports.
Eventually, women were allowed to do sports, but just "ladylike" sports like cycling, horse-riding, skating or walking. This situation persisted over the centuries. In the Victorian era, the "female ideal" was even further tied down: Women were expected to be obedient and attractive, and their destiny was to take care of their children and their husband. Sports was not considered as an area where they should become active. This "ideal" especially applied to upper class women, whose only acceptable role in society was being a wife and mother.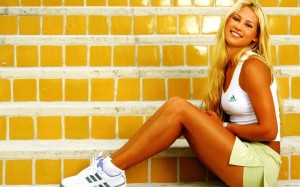 At the end of the Victorian era, however, a change set in: The Olympic Games in Paris 1900 was the first time in history that women were allowed to participate – 19 women from four different countries competed in three amateur sports: tennis, golf and croquet. Although sports continued to be associated with masculinity, and women were discouraged from competitive sports, the first wave of feminism (late 19th and early 20th century) could not be held back.
As society opened up for women, they started to emerge in sports more than ever before, especially during the interwar period. During the 1928 Olympics held in Amsterdam, about 10 percent of the participants were women. However, later on, women started to emerge more and more in sport, for example in 1948 Alice Coachman was the first black woman to win an Olympic gold medal. She got gold in the high jumping. In 1956 Althea Gibson is the first black person to win a tennis Grand Slam title when she wins the French Championship. Events like this made women more and more included into sport. Women clubs and sports associations were set up, even though these were aimed mainly at middle class women. This advance was facilitated by the emergence of mass consumerism: Sports equipment and clothes designed specifically for women were developed and strongly advertised for – women's sports had become a big business for (male-led) multinational corporations.
Naturally sport is gendered
Still today, successful female athletes who do not look masculine were preferred by society. Good examples of conventionally "desirable" female athletes are Maria Sharapova or Anna Kurnikova, who are toned and fit, but still look very feminine. This type of body cannot be achieved by some female athletes, particularly those doing sports like rugby, basketball, etc.
Even more so, women are often sexualised through official game rules like wearing a particular uniform the revealing spandex uniforms in women's beach volleyball which do not cover all areas of the body. Very short and tight shorts and shirts are aimed at making female beach volleyball more interesting and "sexy" for spectators. However, in 2011 Fédération Internationale de Volleyball (FIVB) gave all players the option to cover up more body with shorts and tan tops, but not all female players wear it. It looks like women have options what to wear nowadays, no one is forcing them to wear bikini. However, they choose to denude body to get much more attention.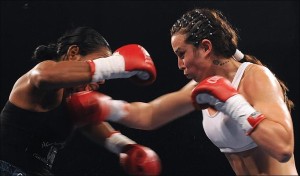 Another example is the popular "Legends football League (LFL)", a women's American football league where they are playing football in bikini. Ironically, founder Mitchell Mortaza claims that their focus is on the game, not on the display women's bodies. Men, however, still play in the traditional football uniform with protective pads.
Time for changes
Society continues to set limitations on who can and cannot participate in sports. The London Olympics in 2012 was the first Olympics where women competed in all disciplines, as for the first time women were included in boxing. This fact highlights the situation we are still in: some sports have been and still are viewed as "feminine" sports and others as "masculine" sports, with boxing seen as a more masculine sport, because of the strength and aggression required. As women are by some seen as not "biologically suited" for aggressive sports like boxing, the inclusion of women's boxing in the Olympics sparked controversy with some suggesting that is not appropriate for women to be involved in boxing. Women are seen as weaker sex, but if they show their masculine side by being competitive and aggressive they get labels of being lesbians, especially in traditionally masculine sport like box.
The European Commission states that only 10 percent of coaching or leadership positions in sporting governing bodies are occupied by women. In other words, women's role in the decision making process in different sport disciplines is very limited.
Women do not have to do just what supposedly is "in their nature"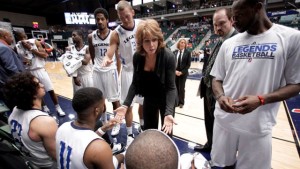 What should not be forgotten is that sports clubs, especially the amateur clubs where most sportsmen and sportswomen start their career, would not function without women: They are the overwhelming majority of those who do the cooking at club events, the cleaning of the clubhouses and the washing of the sports clothes.
The aforementioned examples show that despite the fact that women are more and more included in sports, they still face serious discrimination, like the sexualisation of their bodies, a lack of representation in sports governing bodies, prejudices in traditionally "masculine" sports etc. However, not gender, but preferences should be crucial for people's careers, including sports. Women should not only be present as the hard workers in the background, but be visible as athletes and in executive positions. Gender equality should and can be achieved, but there is still a long way to go.