Read Time:
9 Minute, 12 Second
Below you will find a series of events that Young Feminist Europe planned,(co-) organised, facilitated, and participated as a guest-speaker in 2021.
This is a non-exhaustive list of our work during 2021.
Behind the events, hours of meetings, conversations, preparations took place.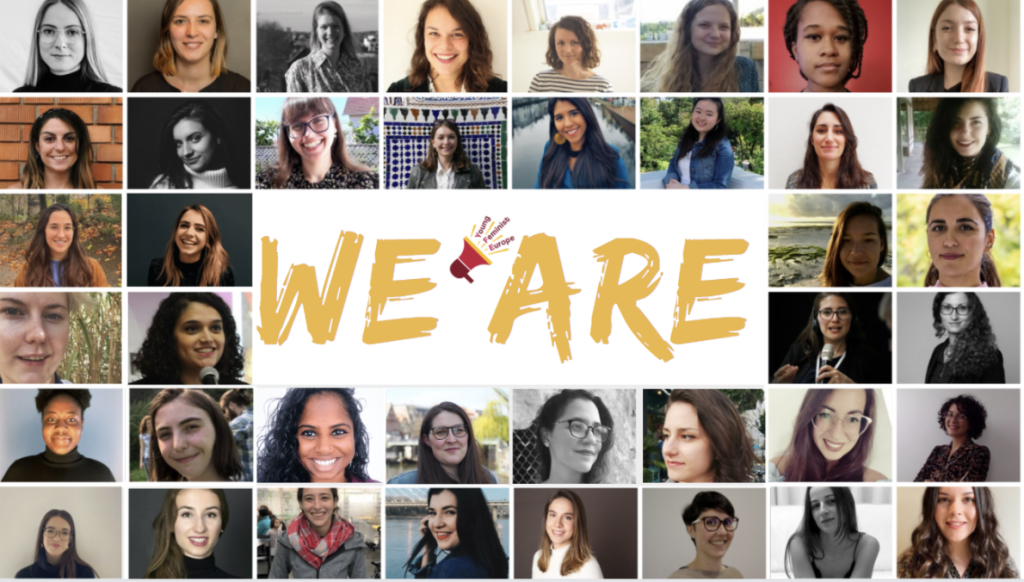 In January 2021, we welcomed 28 new members, and also restructured our working group and teams. YFE consists of 4 main working groups: 
Advocacy and Policy

Communications, Digital and Media

Editors Hub 

Fundraising
Each of the working groups is divided into more specialised teams, taking care of different topics, like the Newsletter team or SRHR team, or different Campaigns (Period Poverty Campaign in Europe)
Additionally, this year, we created special Task Forces. Most notably the intersectionality working group and internal communications.
January 27th – Jenay, Antonella, Eleni and Melanie participated in the expert roundtable on Eliminating Violence Against Women and Girls for the OSCE regions. 
The OSCE Expert Roundtable on #EVAWG has just started! We are honoured to have a seat at this table, ready to bring our #feminist perspective to the discussion.

— Young Feminist Europe (@YoungFeministEU) January 27, 2021
January 28th – YFE  invited Daniela, founder of Women MAKE Stories, for a 2-hour workshop for women entitled Follow your Intuition: writing & mindfulness workshop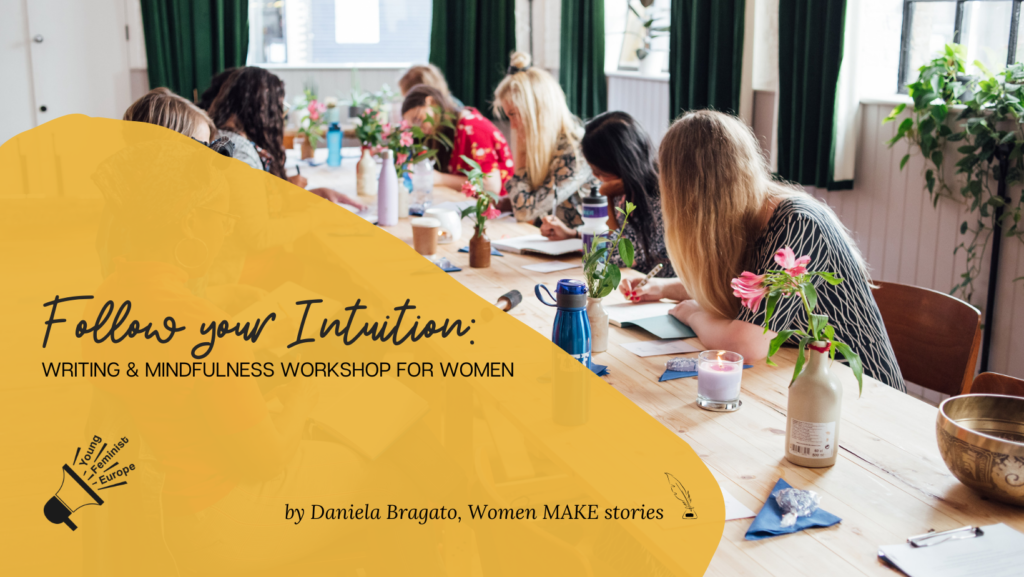 February 17th – Xenia and Chan attended  YFE is participating in an OSCE expert roundtable on the intersection of gender equality & youth YFE. They discussed how this intersection is at the core of everything we do!
Xenia (@FrauFridaFrei): "we need to differentiate #youthparticipation from #youthleadership. We often focus on participation but in fact it's not enough for youth to just have a sit the table. They should also be allowed to lead and co-create bold & transformative spaces".

— Young Feminist Europe (@YoungFeministEU) February 17, 2021
February 22nd – Kristy participated in the conference "Movements and feminist leadership" organised by Forum Génération Egalité. She spoke about Young Feminist Europe's involvement in the Generation Equality process & the Action Coalition on Feminist Leadership and Movements.
Our Kristy Romain highlights 3 main lenses needed to ensure feminist, inclusive and transformational leadership within the #GenerationEquality process:
1) Solidarity
2) Intersectionality
3) Youth Leadership #YouthPower #FeministLeadership #NotreGenerationEgalite https://t.co/L1BumfjKSg

— Young Feminist Europe (@YoungFeministEU) February 22, 2021
February 23rd – Julia participated in the "Fundamental Rights Dialogues", organised by the EU Fundamental Rights Agency. She talked about the protests in Poland about the near total abortion ban and asked if the EU will take a more proactive approach in ensuring and protecting women's rights including access to sexual and reproductive health and rights.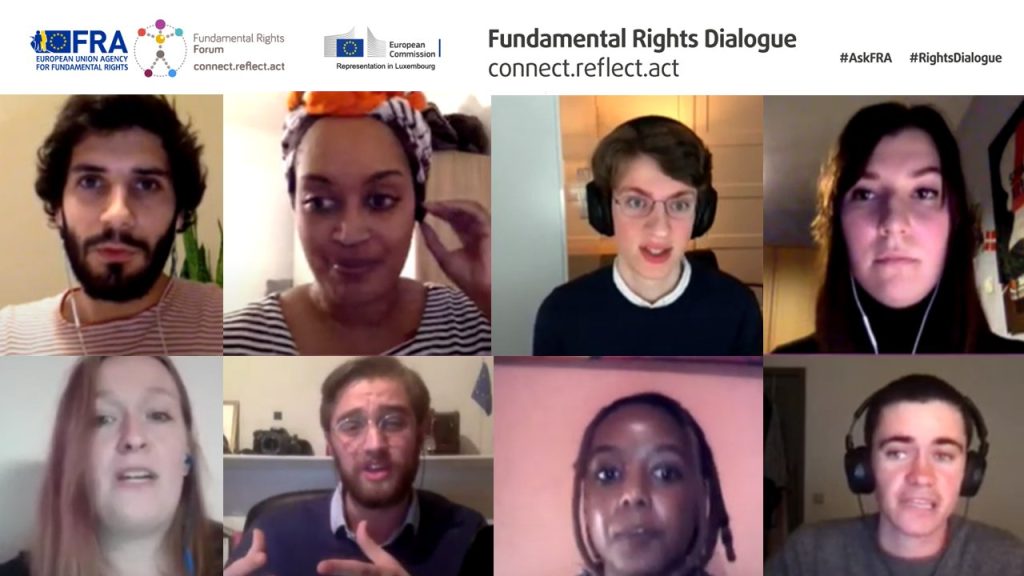 March 2nd – YFE participated in the 2021 edition of SheDecides Day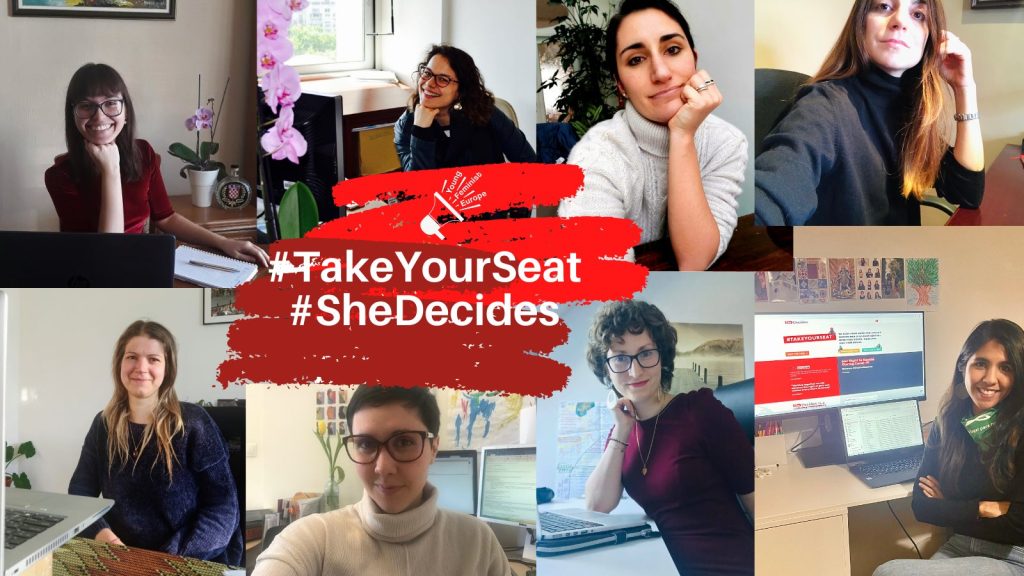 March 2nd & 7th – Antonella and Melanie participated in the Plan International campaign for International Women's Day 2021."No peace comes from our exclusion."
With #InternationalWomensDay coming up, we bring girls' voice to the forefront.

Saanvi is afraid her peers don't express themselves due to insecurity. We asked @YoungFeministEU for their reaction. #IWD #IWD2021 #GirlsGetEqual pic.twitter.com/W7YRFPj6aH

— Plan International EU (@PlanEU) March 2, 2021
With #InternationalWomensDay tomorrow, we continue bringing girls' voice to the forefront!

Afua, from Ghana, is concerned that excluding girls from decision-making affects the girls in her community.

What can we do? We asked our friends at @YoungFeministEU#IWD #IWD2021 pic.twitter.com/BIxRBqelVn

— Plan International EU (@PlanEU) March 7, 2021
March 8th – Melanie created a photo series for the International Women's Day 2021.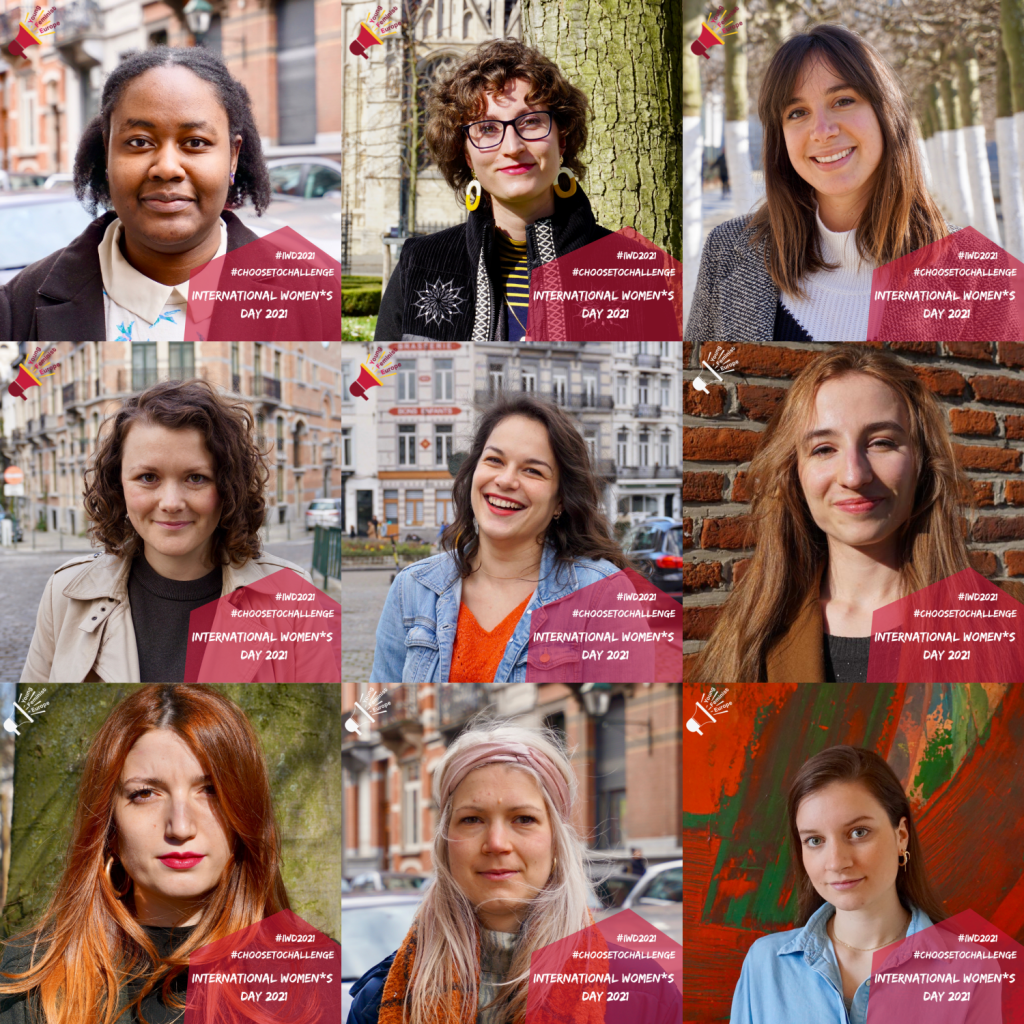 Check our dedicated page. 
March 11th – Melanie contributed to the EYE Online panel on gender equality in the post-COVID-19 world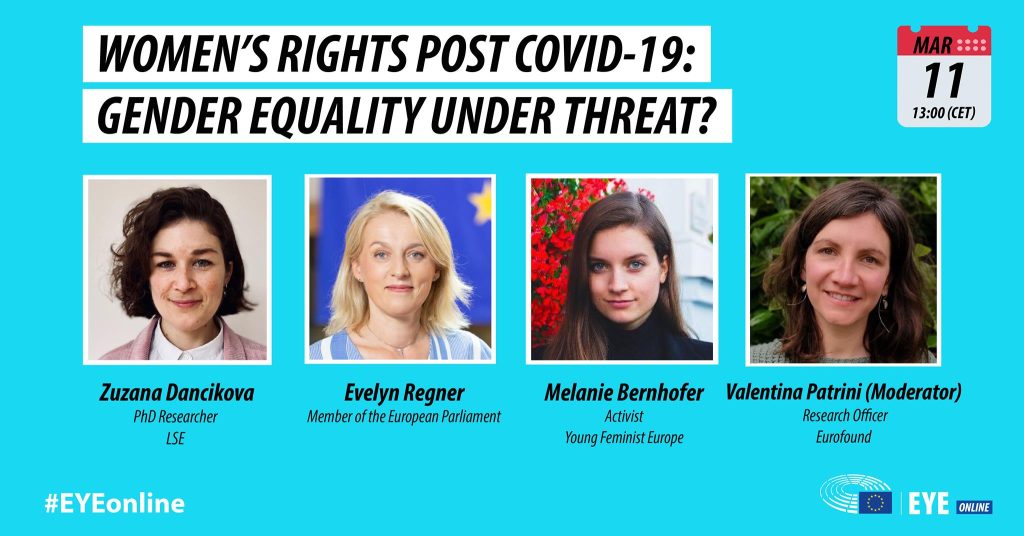 March 19th – In the frame of CSW65, Xenia participated in a panel about Feminist Leadership and Movements organized by YASM (Youth Against Slavery Movement)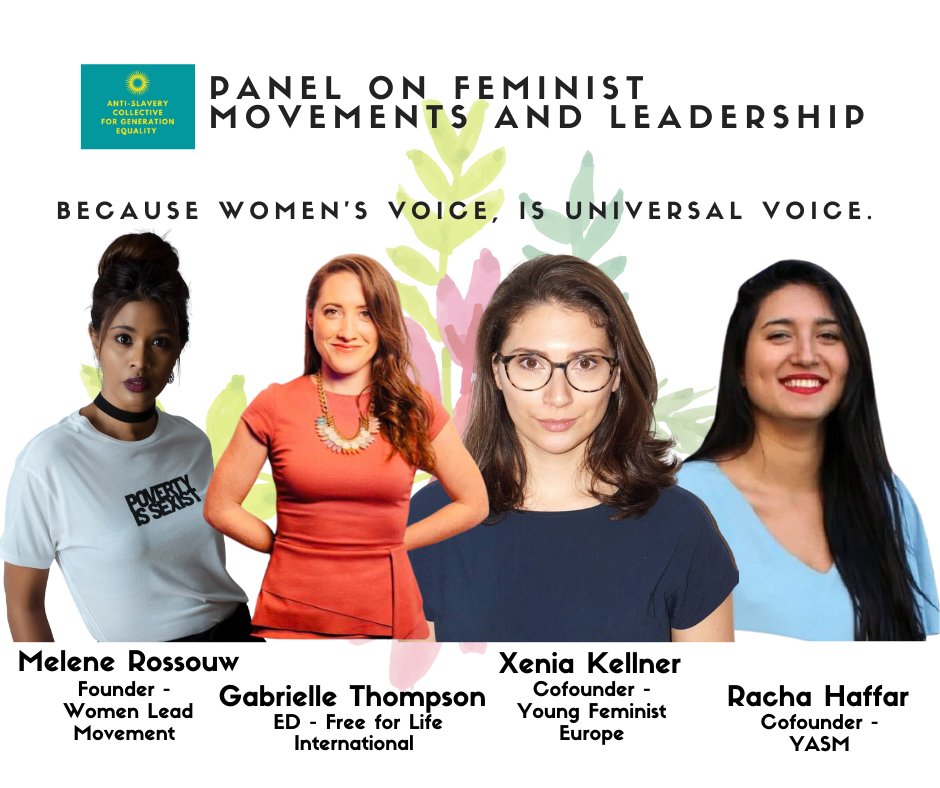 March 20th – Xenia met  with UN's Deputy-Secretary General Amina J Mohammed and fellow youth leaders to share perspectives on young feminist leadership and how to work together to strengthen intergenerational dialogue.
Our Xenia Kellner @FrauFridaFrei is meeting with UN's Deputy-Secretary General @AminaJMohammed and fellow youth leaders to share perspectives on young feminist leadership and how to work together to strengthen intergenerational dialogue https://t.co/lymtX4w1rY

— Young Feminist Europe (@YoungFeministEU) March 19, 2021
March 22nd – Launch of the Young Feminist Manifesto: a bold & transformative vision for change

March 24th – YFE co-hosted the Anti-Racism Conversation Circle and offered a variety of workshops on anti-racism together with NGO CSW NY.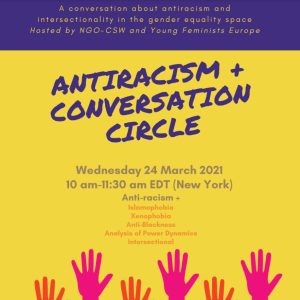 March 26th – Xenia spoke at the side event "Navigating the Generation Equality Mexico Forum: A Preparatory Workshop for Women and Youth Peacebuilders"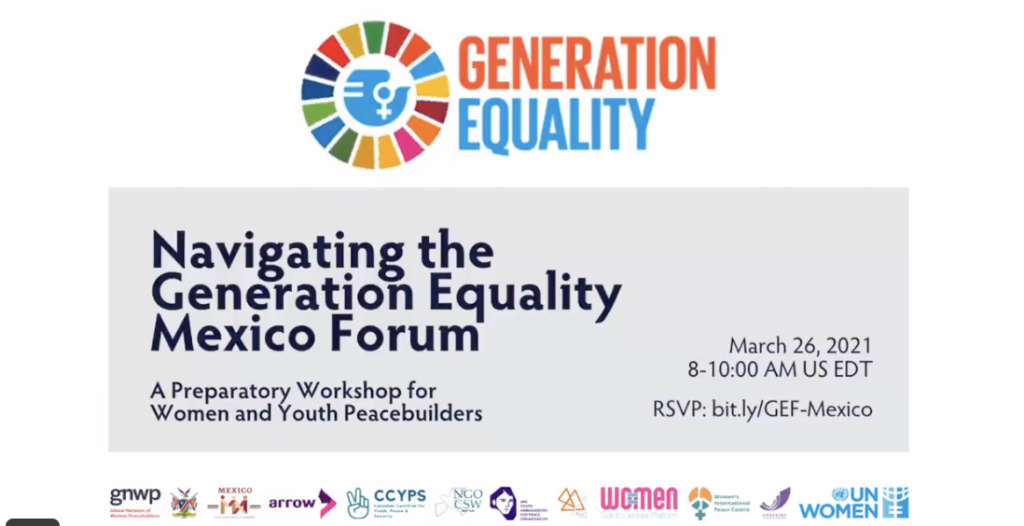 Xenia spoke at the CSW65 parallel event on Global Feminist Movement Building organized by WECF.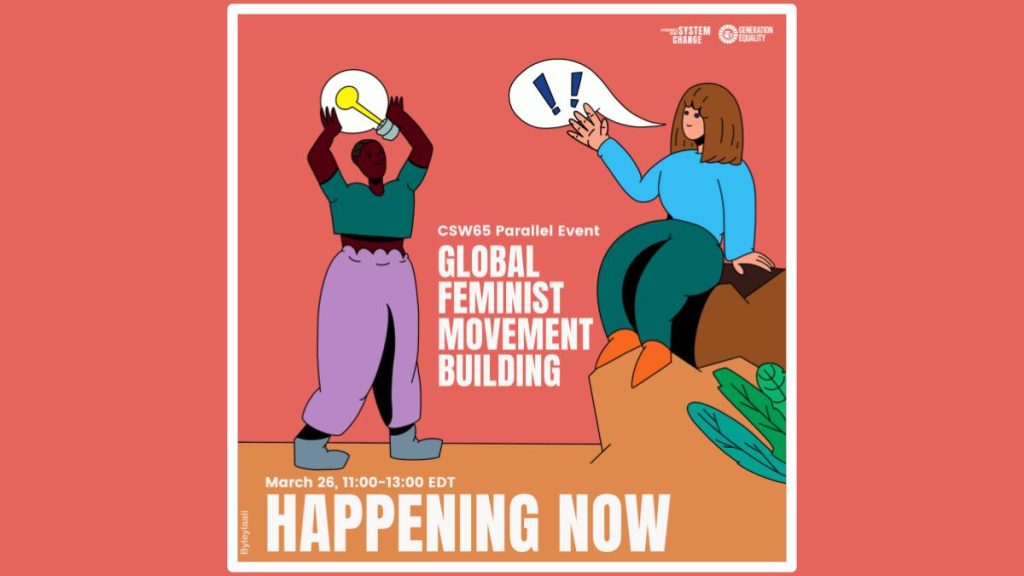 March 30th – For GEF Mexico, Xenia participated in a Dialogue on Action Coalition 6 on #Feminist Movements and Leadership – "Young feminists in Mexico and across the world are really creating change beyond the formal structures, and that is so powerful".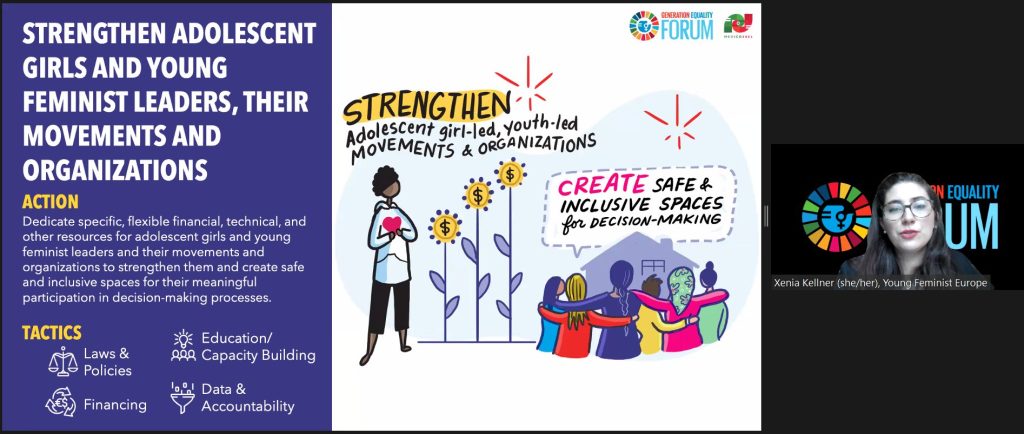 April 23rd – YFE co-organised with AWID and Balance the Beijing Unfettered Workshop, a space for Young Feminists to reflect on multilateralism in light of current crises,  and envision how to build people-centered political systems.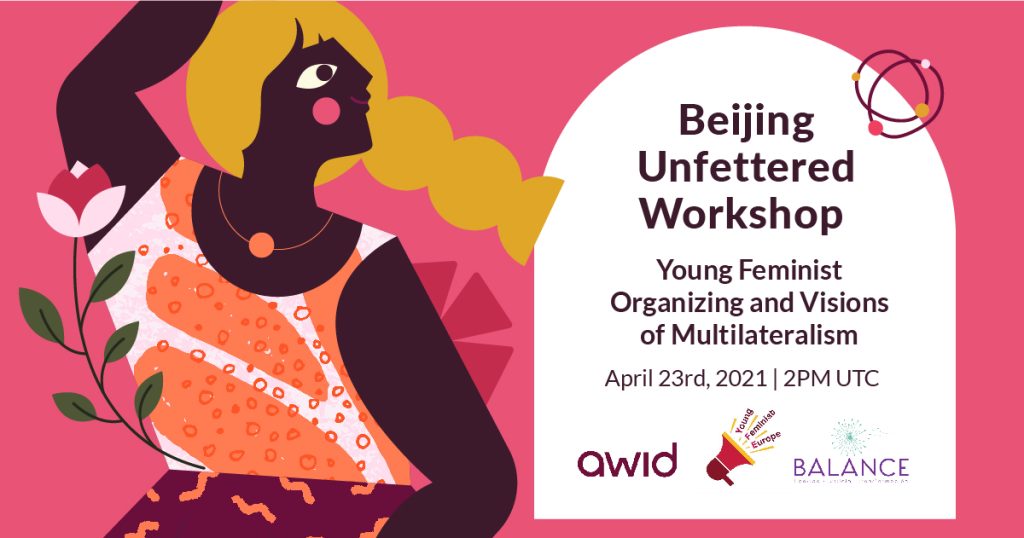 April 25th – Julia participated in a panel on "Activism on a pandemic" during the Eye on the Edge Galway 2021 Festival.
Activism in a Pandemic is live now.

Click here to tune in: https://t.co/KpBo3SmZD2 #GalwayEYE@GalwayPride @OwenHanleyLives @Mamobo96 @jamiepmcelwain @NdahiroSandrine @JuuliaKono @EYEGalway2021 pic.twitter.com/kK8g020xxv

— Galway 2020 (@galway2020) April 25, 2021
April 28th – In a statement, Young Feminist Europe condemned the announcement of Turkey's withdrawal from the Istanbul Convention.
June 2nd – YFE organised a joint event to raise awareness among the European youth and wider population on the issue of period poverty in Europe. Check our dedicated page.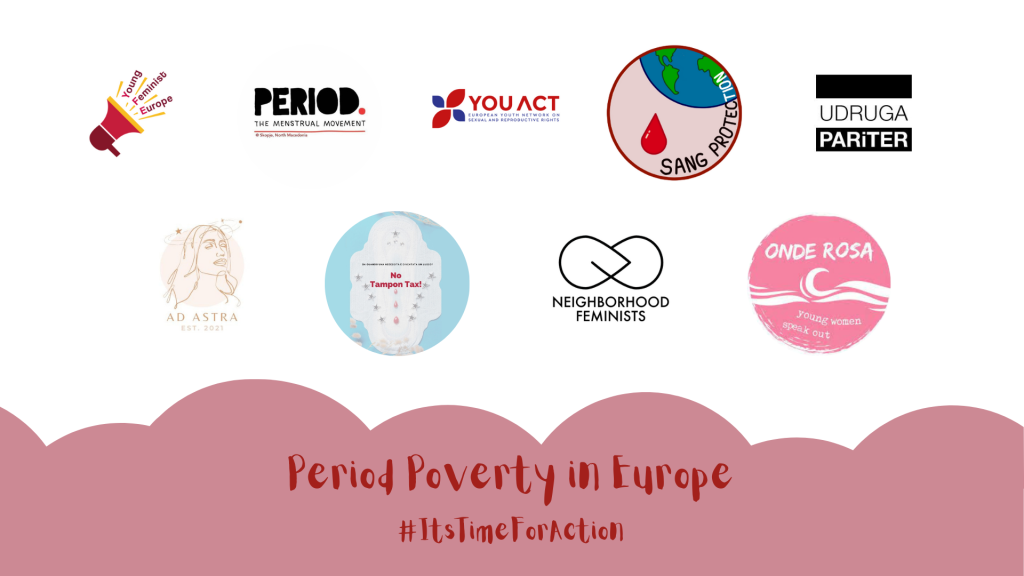 June 11th-13th – Together with the Youth Task Force, the National Gender Youth Activists, CSAG Youth and the youth co-leads of the Action Coalitions, with the support of youth-serving organizations like Restless Development, Plan International, AGIP, She Decides and Action Aid, YFE co-organised the GENERATION EQUALITY: YOUNG FEMINIST UNCONFERENCE.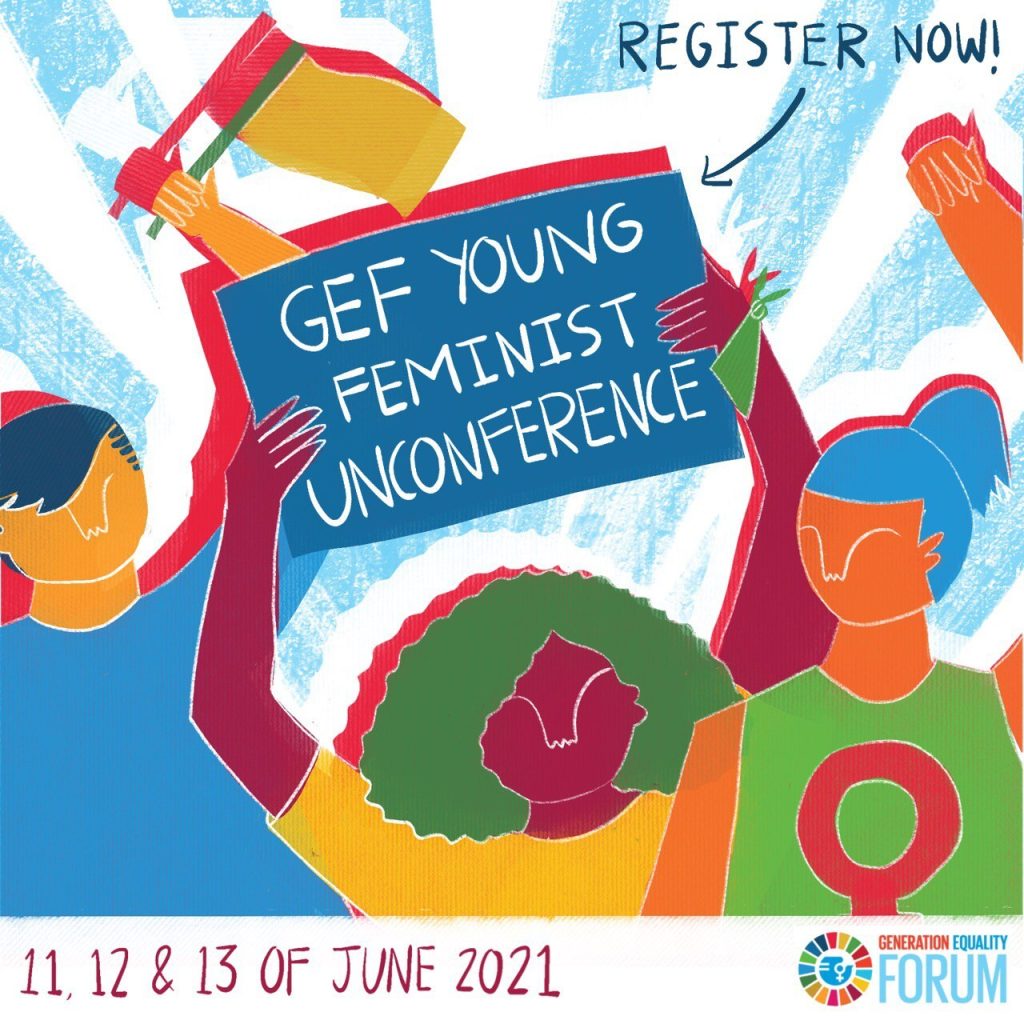 June 18th – Chiara and Moira discussed the issue of Period Poverty in Europe with an intersectional approach in an online talk organized by European Student Think Thank.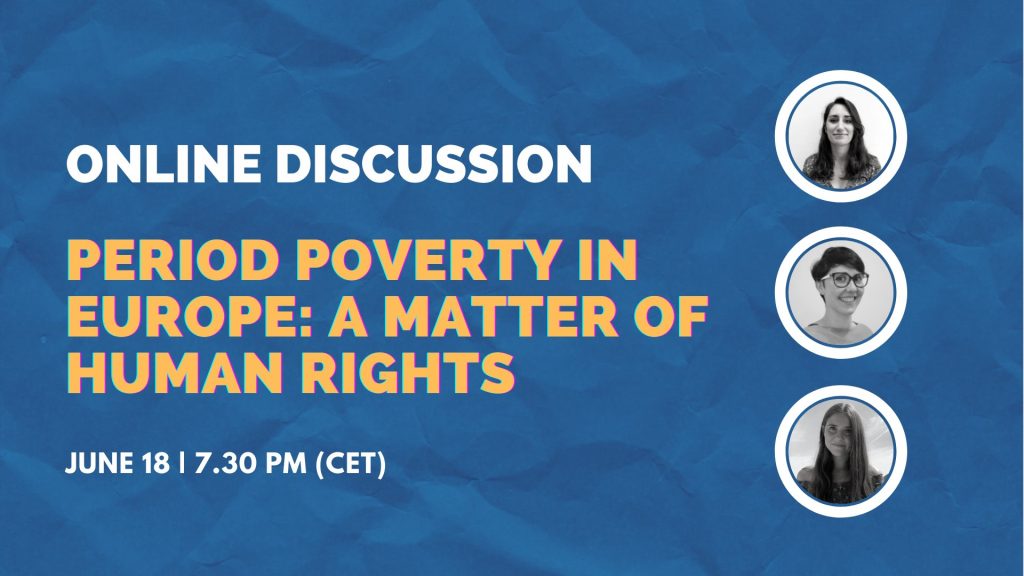 June 23rd – Hannah participated in the #StopTalkingStartFunding Feminist World Tour by the Collectif Génération Egalités to talk about the fight against GBV in the run-up to the Paris GEF Forum.
June 30th – July 2nd– Xenia attended the Generation Equality Forum in Paris spoke on the AC6 session on Feminist Movements, Leadership, and fundings . We co-organized daily check-ins and outs, and a closing ceremony.
Listen to Xenia Kellner of @YoungFeministEU reflecting on #GEF

"Going into the spaces, there are a lot of struggles and experience has been very difficult. Ok now we are at the table, but it's not a different table, it's diversifying but not transforming" @FrauFridaFrei More pic.twitter.com/WiGvQSo6mT

— AWID (@AWID) July 1, 2021
July 13th – Chan represented YFE in an intergenerational dialogue on feminist activism with feminists from Asia Pacific during the Youth Activism Accelerator.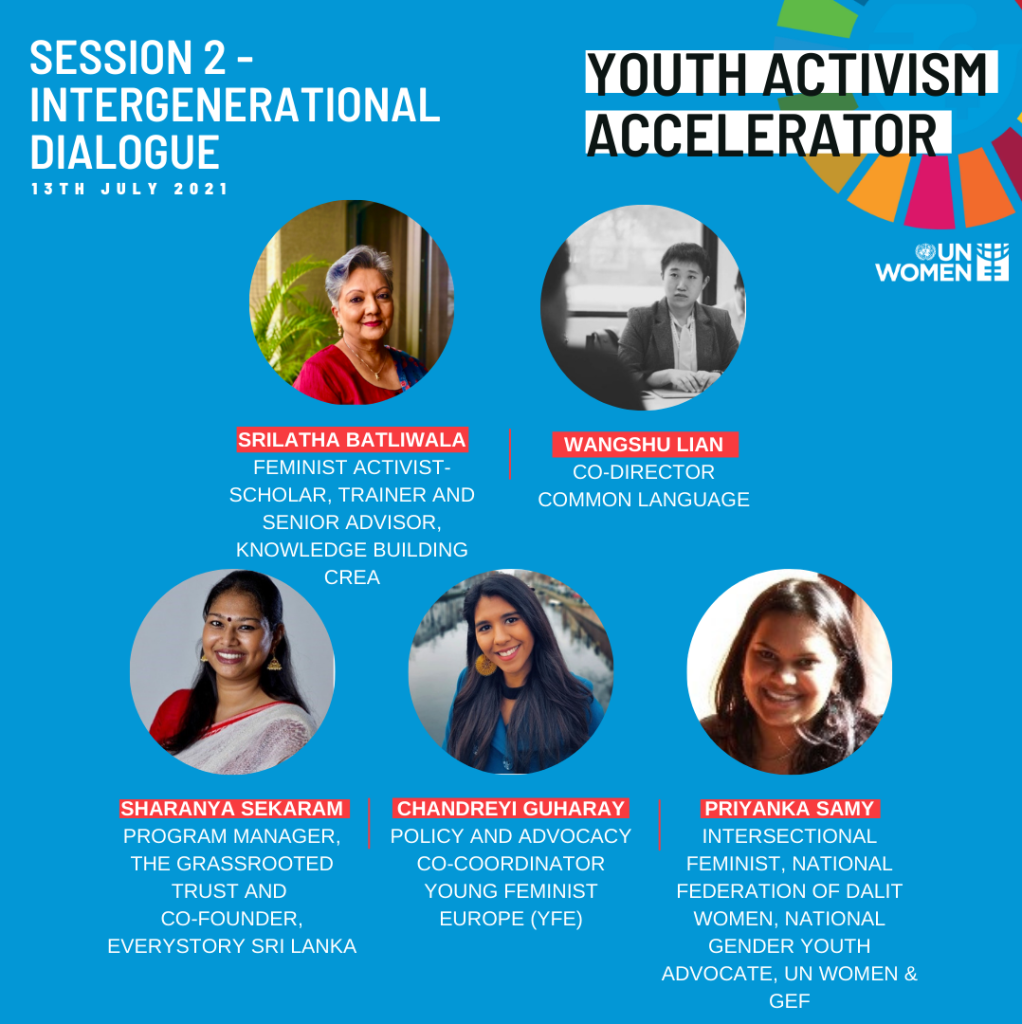 July 19th – September 10th – YFE Collective Breath
YFE is taking a "Collective Breath" from July 19th until September 10th. to focus on our internal work and organisational #wellbeing.
Our commitment to intersectional feminist values and principles must start with ourselves and our #collective https://t.co/Hkrd7zeoC2#feminism pic.twitter.com/IqEsKhhLI2

— Young Feminist Europe (@YoungFeministEU) July 19, 2021
September 28th – Xenia participated in a roundtable on ending Gender-based violence organised by Greens/EFA in the European Parliament.
Don't miss the high-level roundtable organised by @GreensEFA TODAY 15-16:30 (CET)!

With Commissioner @helenadalli, MEPs @TerryReintke, @SylwiaSpurek, @DianaRibaGiner, experts Lara Dimitrijevic, @Magda_Szarota & #YFE's Xenia @FrauFridaFrei!

Register now! https://t.co/rnRAyaKE1V

— Young Feminist Europe (@YoungFeministEU) September 28, 2021
September 29th – October 2nd – In 2020, YFE was the awardee of the Belgium national Charlemagne Youth Prize. This year, Leonie went to Aachen to represent YFE during the international #karlpreis awarding ceremony. Congratulations to the winners of 2020 & 2021!
to @LeonieWetzel for representing #YFE at the Charlemagne Youth Price!

You can follow the award ceremony at https://t.co/YGI9uFGCDx and on Instagram @EUyouthprize #ECYP2021 #karlspreis2021 https://t.co/ZCHz0nVoMm

— Young Feminist Europe (@YoungFeministEU) September 30, 2021
October 11th – Xenia participated in the International Day of the Girl Child Regional Conference in Istanbul. The theme of the event was  "The time is now! Girls' Leadership in the Digital Era". Watch her speech.
11/10 is the International Day of the Girl Child.

Join YFE's @FrauFridaFrei in the Regional Conference in Istanbul for the panel "Digital Sphere and Skills for Advancing Gender Equality" to hear about young feminist leadership in multilateral spaces https://t.co/sFij7rphQt pic.twitter.com/riNMlbM5aD

— Young Feminist Europe (@YoungFeministEU) October 8, 2021
October 12th – Young Feminist Europe & KINILI facilitated a session on the Anti-racism EU Plan and youth during the Fundamental Rights Forum 2021 organised by the European Union Agency for Fundamental Rights.
Happening today!

It's stil time to join us & KINILI for an interactive online workshop and discussion on the #EUAntiracism Plan from a youth perspective.

YFE will facilitate a session during the Fundamental Rights Forum 2021.

Register: https://t.co/v1Rb5dKI4X pic.twitter.com/pSmz1iXDRL

— Young Feminist Europe (@YoungFeministEU) October 12, 2021
October 19th – December 2nd – First YFE Collective Learning Sessions: Unlearning our Truth.
These spaces are facilitated by members of  our recently created Intersectionality Working Group which aims to support and strengthen intersectional approaches in our feminist organising and mobilisation both internally and externally.  Our first series comprised of monthly sessions from October to December focusing on the following topics:
Decolonising Feminism 

Power and feminist and transformational leadership 

Anti-racism and Feminism
October 28th – Xenia facilitated a workshop on Process Design organised by FAIR SHARE of Women Leaders. 
ICYMI: #resources from our session on #FeministLeadership & Process Design – hosted by @YoungFeministEU co-founder @FrauFridaFrei – are now available!

Video recording
Presentation slides
Key insights one-pager

https://t.co/J9IqyLurmM#ExploreFeministLeadership pic.twitter.com/rz93UsDo7j

— FAIR SHARE of Women Leaders (@fair_wl) November 2, 2021
November 25th – For the International Day for the Elimination of Violence against Women, YFE published a collage based on Mirabal picture project. YFE members released as well a series of video statement. 
It is time for us all to act and end violence against women and girls.´Enough is enough'.

Let's join the Mirabal Belgium movement together by posting a picture with the hand painted in purple and the hashtags: #stopviolencesfaitesauxfemmes #MirabalBelgium pic.twitter.com/WsIL6EQ9R3

— Young Feminist Europe (@YoungFeministEU) November 26, 2021
November 26th – Antonella represented Young Feminist Europe during an Instagram live organized by ThinkYoung. She discussed the different forms of gender based violence, the possible solutions to this global problem and how the younger generation can take an active role in this fight for a more equal world.
Today is the International Day for the Elimination of #GenderBasedViolence
Follow our Instagram tomorrow, for a live feed with @thinkYoungNGO and our Antonella Crichigno about possible solutions to #GBV
Let's take an active role for a more #equal world#OrangeTheWorld #16Days pic.twitter.com/4qptadj6o4

— Young Feminist Europe (@YoungFeministEU) November 25, 2021