"This time I'm voting for a Feminist Europe!"
Did you know that in the last EU elections in 2014, only 40.7% of women voted and out of 28 member states, only 9 countries had a higher electoral turnout for women than men?

As the gender gap widens and has been estimated to take over 100 years to close, it is of great importance that young women* especially, not only vote but also actively engage in politics. For far too long has the political sphere been a hostile environment for women and a culture of misogynism prevails to prevent them from seeking leadership positions.
With the rise of xenophobic and anti-LGBTQ+ agendas from the radical right, as well the ever increasing infringement of women's rights from social conservatism, this generation of young women owe it to themselves and to those who come after, to fight against this wave of oppression. 
The feminist Europe we aspire to is democratic and human rights based. It is citizen first, rather than market driven. It is a Europe where all people are protected, valued and are given equal opportunities to reach their full potential. The 2018 US mid-term congressional elections seen a women's wave sweep in and shake-up the status-quo. Let 2019 be the year Europe does the same.
By voting and promoting women politicians in the European Parliament that represent feminist values between 23-26 May 2019, we can all contribute to building a society where gender equality is no longer just a fundamental principle of the EU, but a principle that becomes reality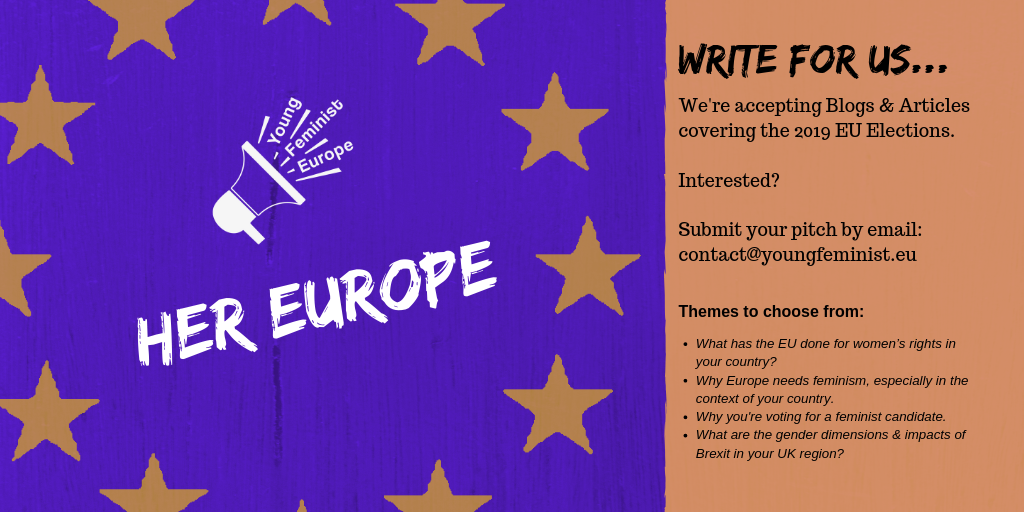 'Her Europe' provides an opportunity for young women* to participate in European politics, to present their hopes and aspirations for women's rights, and overall vision for the future. 
To achieve this, Young Feminist Europe will be carry out a number of activities throughout the next few months such as