Young Feminist Hub highlights
What is the Young Feminist Hub?
It's a movement-building space for and by young feminists to connect, organise, strategise and mobilise
This online platform was created for and by young feminists from across the world to engage actively in the Beijing+25  process. It offers a space for mobilising, coordinating, organising, information exchange, collaboration, and strategic planning to put young feminists and intersectional analysis as a framework at the core of the Generation Equality Forum (GEF).
List of GFE Commitment-makers​
As the GEF Platform is no longer available, the Hub developed a document that lists the organizations that have made financial, policy and program commitments at the Generation Equality Forum in Paris. 
To have access, you can check the following Document.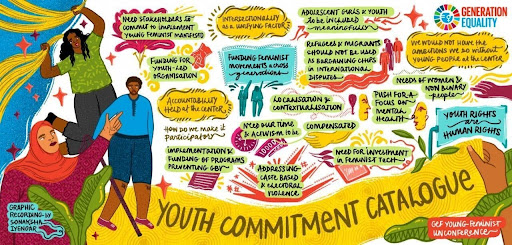 Connecting with the community: open sessions & survey​
Throughout the year, we hosted several open community session through the Young Feminist Hub and were able to connect with some of its brilliant and inspiring members. Thanks to everyone who joined and co-created wonderful initiatives, such as the collective healing space.
In order to better attend to your wishes and understand your needs, we have set up a small survey in July. The survey touched upon thematic interestes, modalities and challenges that may prevent us from working together in the best way.
This was a wonderful opportunity for everyone to give us feedback and let us know how we can support you and provide you with the resources and knowledge that you need and we will be in touch about further input soon.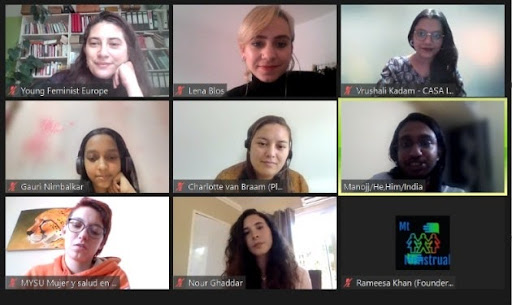 Accountability framework​
We are glad to announce good news on the accountability framework process that has been going on. While the GEF brings a long overdue and welcomed vision, participants of the accountability dialogues noted the negative impact of weak accountability frameworks. 
In this sense, the document "Recommendations Towards a Transformative GEF: Reimagining Accountability through a Feminist and Youth Lens" has been prepared by Claudia Ahumada as a summary of the main emerging recommendations that raised from the accountability dialogues around the process. 
Three core recommendations emerged from the dialogues:
Ensure principle-based accountability;

Enable young women, girls, and gender non conforming people in all their diversity to lead;

Participatory development of an interlocking, independent, and sustainable monitoring mechanism of GEF outcomes and processes.

You read the full Document.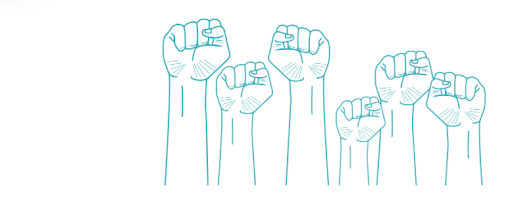 Generation Equality Forum Paris
The Forum in Paris, held 30 June – 2 July, engaged nearly 50,000 people in a mainly virtual format to generate action for the rapid advancement of gender justice. In order to create an empowering, feminist space, we hosted check-in and check-out sessions during the Generation Equality Forum. The sessions served as an opportunity to reflect on developments and sharpen our focus throughout the conference. As part of the check-out sessions, Choice and Young Feminist Europe as well as their respective Young Feminist Hub  worked together to engage a graphic designer, that summed up the main ideas of the check-out through her wonderful illustrations. The images addressed challenges such as the lack of accessibility and the fact that youth representatives were sent back home in the middle of the forum, as well as tokenism and many other aspects. They also touched upon common messages around inclusive, empowering spaces for co-creation and co-designing as well as taking up space to make sure that the different initiatives are seen, heard and valued!
Take a look at these beautiful illustrations created by Maitree Muzumdar: 
Publication of ToR and Community Guidelines
Through the development of a ToR, members are able to find out more about the  scope of this platform and how it is going to be used during the next months. 
Additionally, we have also devised some Community Guidelines of the Young Feminist Hub!
As a hub created to strengthen feminist activism and social justice, we wanted to remind everyone that this a co-created safe space where all people must be respected. In this sense, we do not accepted any type of comment or action that reinforces sexism, homophobia, transphobia, racism, classism, religious discrimination, ageism, fatphobia, ableism, and/or any other form discrimination towards someone or a group of people.