Read Time:
2 Minute, 24 Second
The Commission on the Status of Women 2022 started on the 14th March, and run until the 25 of March, in a hybrid format.
The priority theme of this year is "Achieving gender equality and the empowerment of all women and girls in the context of climate change, environmental and disaster risk reduction policies and programmes".
During CSW66 YFE is co-hosting two exciting parallel events!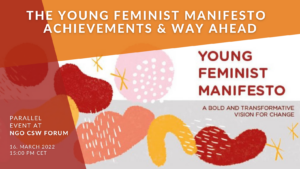 Wednesday 16 March at 10:00am – 12:00pm EST / 3:00pm – 5:00pm CET
One year after the launch of the Young Feminist Manifesto we are taking stock. What were our successes, what has changed and where did we hope for more impact.
The Young Feminist Manifesto is the result of a powerful, co-creative, youth-led process over the past year led by young feminists from the Action Coalition youth leaders, the Generation Equality Youth Task Force (YTF), young feminists from the global Civil Society Advisory Group (CSAG), Mexican CSAG and the National Gender Youth Activists (NGYAs) and being used across feminist spaces in Generation Equality Forum, UN Women and beyond.
During this event we will also take a look at how the Young Feminist Manifesto can be a relevant and important tool for youth advocacy and leadership beyond GEF and how its recommendations can be implemented and integrated into strategic and programmatic work. We are also excited to launch the Manifesto translations in more languages.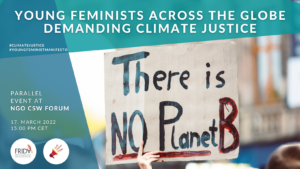 Thursday 17 March at 10:00am – 12:00pm EST / 3:00pm – 5:00pm CET
with simultaneous interpretation to French and Spanish.
With the urgency of the climate crisis, we have seen how young feminists and youth movements are pushing their governments and the private sector to take critical action. We believe it is critical to create space to hear the demands and perspectives of youth in relation to the environmental and climate crises that the globe is facing.
YFE and FRIDA | The Young Feminist Fund, will co-host this session where different young feminists from across the globe who are advocating for climate justice and leading critical climate action and other intersecting systemic crises, will come together to share their demands and perspectives, but also to strengthen solidarity across movements. Building from the Young Feminist Manifesto, we hope to bring forward complementary ideas that can contribute to strengthening the eco-feminist perspective of the manifesto.
Young Feminist Hub
Are you a young feminist not older than 35?
Do you want to join an inclusive and participatory online platform and a global community of young feminist activists?
YES?!
We are hosting a variety of spaces like collective care and healing sessions, community check-ins, events, advocacy and influencing opportunities and possibilities to connect.
Do you have an event, session, an initiative, a campaign, or something else planned and want to share it or host it on the hub? Send us a mail.