28th January 2021 - 19:00
In order to set our intentions for 2021, YFE is organising an online workshop together with Women MAKE Stories, open to all self-identifying women.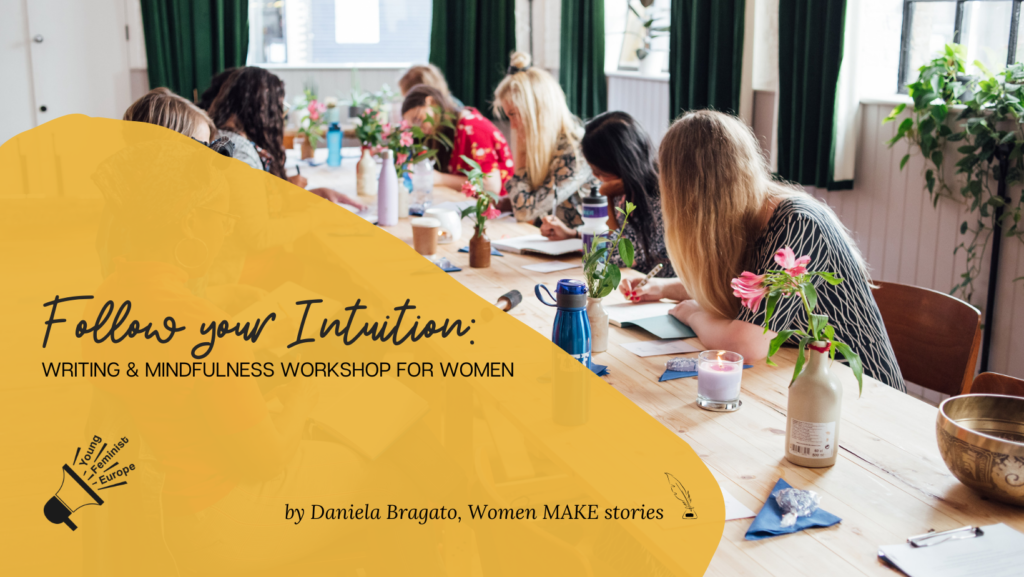 ---
FORMAT
Introduction and ways of working together

Explanation of the topic, structure of the workshops and brief talk about mindfulness

1st meditation

1st writing exercise – freewriting

2nd writing exercise

2nd meditation

Short Break (if people want to)

3rd Meditation

3rd writing exercise

Poem

Questions and reflections
---
PRACTICAL INFORMATION
WHEN: Thursday 28. January 
TIME: 19:00 – 21:00 (Brussels Time)
REGISTRATION: via Google Form 
NOTE: All self-identifying women and gender non-conforming people are welcome to join
*Young Feminist Europe is a volunteer-led platform and operates on a non-profit basis. The price for participating in this workshop helps pay towards the facilitation fees and webinar hosting service. As we want to make this an inclusive space for all, a limited number of participation fees can be waived for exceptional cases via an email request. Thank you for understanding!
Bio:
Daniela is a Writer, a Mindfulness Teacher and the Founder of Women MAKE Stories, a purpose-led business that offers writing and mindfulness workshops to women and one to one sessions. Inspired by Virginia Woolf's book A Room of One's Own, Daniela decided to combine her passion for writing and mindfulness and create a room (virtually for now) where women can write with encouragement and enthusiasm, reconnect with their body and mind through meditations and meet other like-minded women. She's Italian but has been living in London for the past 9 years. She loves pizza, matcha green tea, the sea and dogs – not necessarily in this particular order. Her biggest dream is to publish the novel she's writing.