Read Time:
6 Minute, 43 Second
A few months ago, Croatian singer and right-wing politician wannabe, Miroslav Škoro said that "a raped woman who falls pregnant has to consult with her family on what to do."
Many pro-choice Croatian women and men didn't like Mr. Škoro's misogynistic declaration. But the politician and the deputy mayor of Osijek, a big city in the East of Croatia, Žana Gamoš, had the best reaction. She lifted her middle finger to Mr. Škoro and posted it on her social media. Along with her photo, she wrote: "My dear, here is a lady-like answer to the gentlemanly thinking of geniuses, who have advice on what a raped woman should do. So consult!".
Gamoš's reaction sparked admiration among many women and men who believe in women's right to choose, who also lifted their middle fingers on social media for Mr. Škoro.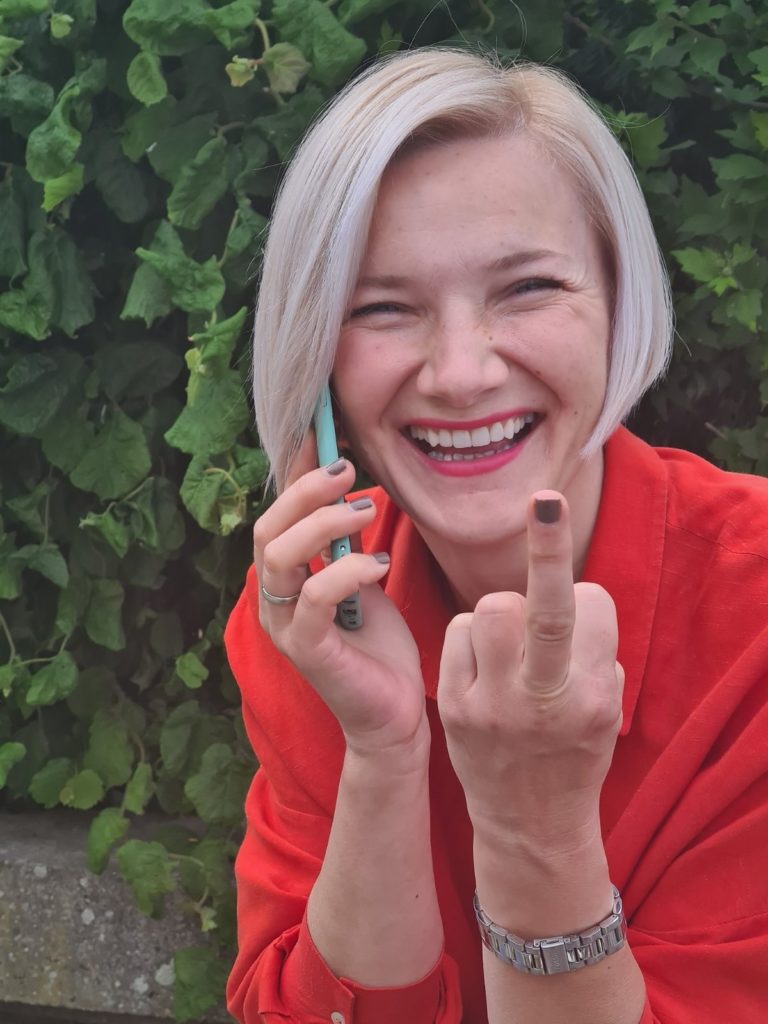 Žana Gamoš is a Croatian politician and the deputy mayor of Osijek. She was born and raised in Osijek, where she went to school and achieved a Law degree. Gamoš was a journalist on radio stations HRT Radio Osijek and Radio Plus Osijek. After that, she worked at the Regional Wholesale Market, and she has been the deputy mayor from 2017.
I wanted to know more about her, so we bring you an interview with Žana.
– Would you call yourself a feminist?
I have no problem saying that I'm a feminist. But the truth is, now that you ask, I rarely point that out. Not because of denial or hiding, but because my sphere of action is much broader in terms of equal rights, equality, respect, and appreciation in all areas of our daily lives and community life.
– Why do you think so many politicians, both women and men, don't usually want to claim they are "feminists"? Why do you think the word is that word so burdensome?
Unfortunately, I am aware that a number of "uninformed and superficial" members of society refuse to understand what feminism stands for, and they still experience and describe the movement using words that are contrary to the themes and attitudes it (feminism) advocates for.
According to these people, numerous problems that feminism seeks to solve are considered exaggerations not so present in today's society. Contrary to such views, feminism is still extremely important. Especially, in recent times when long-acquired women's rights have been questioned so lightly.
– Why did you decide on a career in politics? Have you faced any challenges?
Uh, I still don't like to call myself a politician, nor do I feel that way. I love working and I enjoy my job. I am happy to have the opportunity to make my city better every day, to give my humble contribution to a more advanced society and local community.
I am an idealist and a positivist by nature and despite the negative connotations of just mentioning the word politics, I still believe that, through it, many good things can be done to build and create a better and happier future, both for the present and future generations.
– What are the biggest challenges for feminist politicians nowadays?
When it comes to feminism in politics – and society in general – the biggest challenge today are extreme conservative attitudes. Unfortunately, these have gained more and more space in public life recently.
Due to the rise of such conservative opinions in Croatia, but also in Europe, topics surrounding women's rights are in the spotlight again. The long-acquired rights of women and the general achievements of civilization are now called into question.
I am particularly sad and worried by the growing number of young people who, without any critical reflection, accept extreme attitudes and ardently defend and promote them without shame.
– Do women need better representation in politics, and why?
Who will represent women if not women themselves?
But even if we move away from feminism, the most successful countries and societies have a large share of women in politics. At least, women in leading positions. Women are great leaders who, with wisdom, social skills, and empathy can achieve top results. We are patient and know how to get the best out of co-workers.
The most recent example is the management of the coronavirus pandemic. Governments led by women have proven to be the most successful at tackling the health crisis.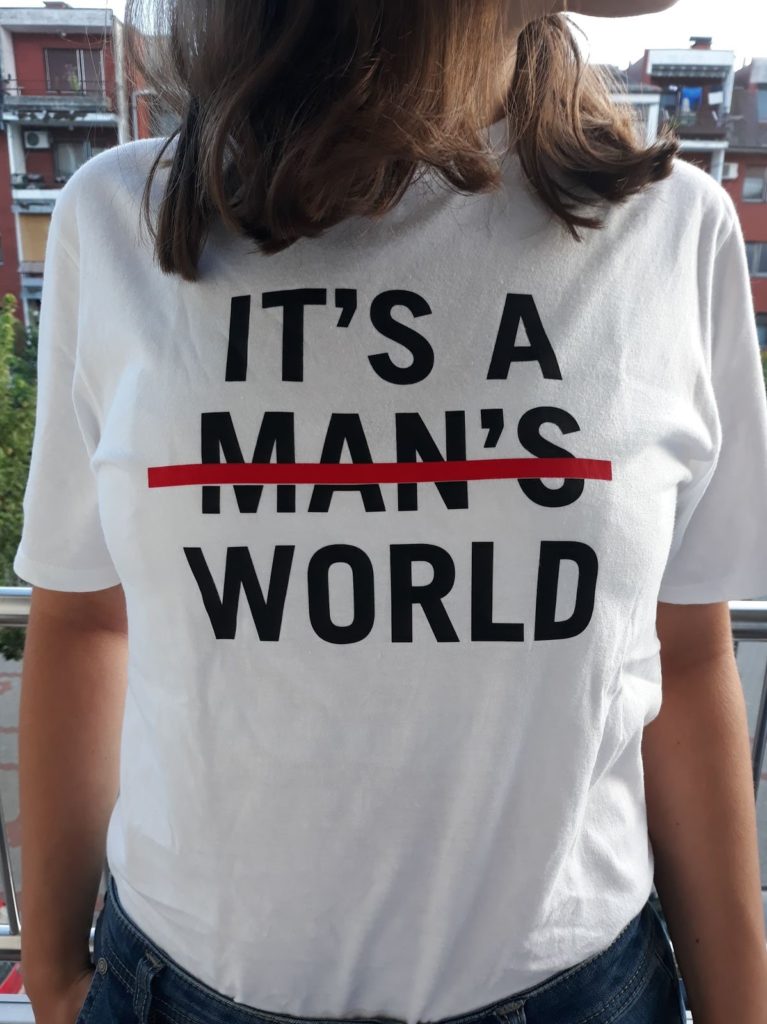 – How much support and opportunities do families, especially women, have for a proper family-work life conciliation in Croatia?
I can only talk about my experience, and it is very positive. It would be difficult to reconcile all my commitments without the great support of my husband and grandmothers, who have been by my side since the very first day. The lack of this primary family support is the most common reason for the small number of women in politics, and on more demanding, and responsible job positions.
– Why the middle finger? How did that gesture come to your mind?
Instinctively, without thinking. This episode took place in the days of the parliamentary election campaign when public figures, who otherwise had no contact with women's rights and dignity, decided to question intimate and emotional women's decisions about their bodies for the purpose of gathering cheap political votes.
The casualness with which this topic began to be talked about provoked me, and at that moment when you realize that all the words of the world will not convey the right message and anger, the middle finger came of its own accord. And hit. On the nose.
– Were you worried about the potential negative comments? Did you expect so many people to raise their middle finger?
No. At that time, I did not think to consider any further sequence of events at all. But the great support that followed encouraged me and proved that there is a quiet majority of decent people in our society, who can say "Enough!" loud and clear when things get out of hand.
– What is the reality of women's reproductive rights and the availability of abortion in Croatia?
The (too) long waiting list – of about a year – for the procedure of medically assisted fertilization in public institutions speak enough about women's reproductive rights.
The availability of abortion is another huge problem. Despite being legal, "conscientious objection" makes an even bigger problem, exposing women to additional health risks.
– Croatia has high rates of gender-based violence and femicide. How can we influence violent men and how can we help women more?
The problem of violence is ubiquitous throughout society. But certain social elements make it even more pronounced. For instance, financially dependent women, often need financial help from the community, to get away from the abuser and start a new future.
In the difficult situations and traumas that women, and often children, go through, a shrouded society in its micro-ideal communities is not even aware of the frequency of this problem. Sometimes a big help and support is a warm word, understanding, and trust.
As a society, we have an obligation to protect the victims of abuse, provide them with security, and sanction abusers. Gender-based violence is not just a women's problem but of the community as a whole.
Unfortunately, in smaller communities, abuse often remains within four walls due to the victim's sense of shame, which is further humiliating and discouraging.
I do not believe that we can "reset" abusers," but I do believe in the power of education, upbringing, and education of new generations.
– What would you say to young women in Europe whose goal is to make the world more feminist?
Always loud and clear, without calculations, reflections, or hesitations. Politics can make society better, step by step, day by day. Bravely forward, always argumentative and confident. And yes, everything is much easier and more beautiful with a positive attitude.