Read Time:
3 Minute, 0 Second
Between 3-6 September 2015, the European Women's Lobby organised the AGORA in Brussels, the first ever young feminist summer school in Europe!
What was the programme?
The goal was to set up a space that would enable participants to exchange ideas, inspire each other and hone their skills. Therefore participants could actively shape the programme both before and during the AGORA. The application forms served as a means of identifying the participants' main skills as well as their main interests.
The main skills indicated were media and communication training, lobbying and campaigning (including online campaigning), public speaking and dealing with critique, networking and facilitation.
The main issues were migrants and women from minorities (Roma, refugees, …); intersectionality (anti-racism, LGBTQI, engaging men); violence against women (sexual violence, street harassment,), sexism in culture and the media / using arts and culture as a tool for advancing feminism; women in power (women in politics, in decision-making, parity, pay gap); sexual and reproductive health and rights.
The AGORA took place in Amazone, a center supporting women's organisations in Brussels, and was facilitated by the EWL team as well as two experienced consultants – Maria Cristina Temmink and Maaike Boumans.
On Thursday 3 September, participants got to know each other, while discovering how their peers were fighting inequality across Europe. They also jointly drew up the programme of the summer school according to their expectations and needs. They had the chance to visit the European Parliament and to meet two MEPs, Ulrike Lunacek, Green Party, Vice President of the EP, and Marie Arena, S&D, member of the FEMM Committee. This first day ended with a welcome and fundraising evening at the bar "Bravo".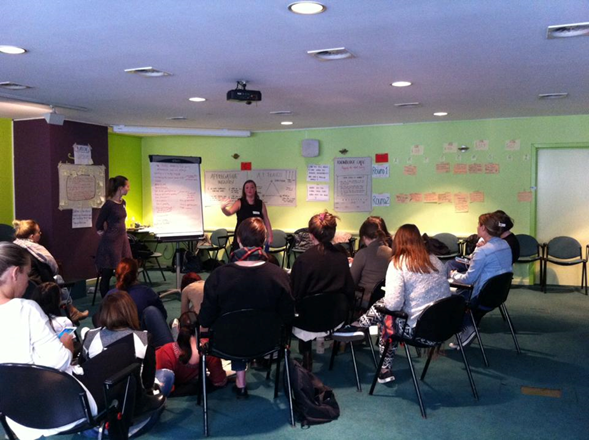 On Friday 4 September, participants hosted a range of workshops and the rest of the group chose which sessions to attend. The choice of workshops was extremely diverse:
Public speaking and winning the argument
How to deal with verbal attacks during a feminist discussion?
Campaign about self-esteem and body confidence
Street action on the refugee crisis
Inclusive feminism: bridging the gap between theory and practice
How to defend reproductive rights in a conservative context?
Women and Lesbian Trans Inter Queer in the refugee crisis in Europe
How to integrate anti-racism into our feminism?
Online Campaigning
Telling stories with images (women's body in photography)
Blog for young European feminists
Legal obligation to eradicate gender stereotypes in international treaties
Domestic violence and violence against women
Women under ISIS captivity
Violence against women: testimonials
Women's political participation
How to engage men in gender equality?
Feminism & poetry and history: writing and giving a voice to women
On Saturday 5 September, the AGORA welcomed two external trainers: Laura Shields who proposed a media training and Elisabeth Gehrke who ran a workshop called "master suppression techniques". The day ended with a feminist party in the EWL secretariat office!
Finally, on Sunday the 6th, the group gathered a last time to debrief on the previous days, summarised the initiatives that started in the AGORA and made recommendations to the EWL.
After these 4 days many projects were launched, spanning a website on European feminists supporting refugees, a photo-project with participants' portraits and … this blog!
Besides, participants were asked what main recommendations they could make in order to improve potential future AGORAs. One thing is for sure: we all wish to have a 2016 edition!
This is a shortened and slightly adapted version of the original post on the EWL's website, made available by courtesy of Julie Chrétiennot.