Read Time:
13 Minute, 35 Second
Croatian women have had the right to have an abortion since 1978. But the new government might put this right at risk.
The right to abortion in Croatia was adopted by law in 1978 in the former state of the Socialist Federal Republic of Yugoslavia. The law survived the collapse of the state – abortions can be performed up to the tenth week from the date of conception.
One of the oldest and vigorous debates in our society is about a woman's right to abortion. From a position of a pro-choice defender, the worst thing in such discussions is to be drawn into a question about when life begins. It is not important if this is the case by birth or by merging reproductive cells – the focus should be on women's rights. What is important is that the person who supports this right argues that it is the woman's decision, the result of a struggle and that abortion should be legal, accessible and free. Abortion in Croatia hardly fulfills all of these three conditions.
Inhibition does not solve the problem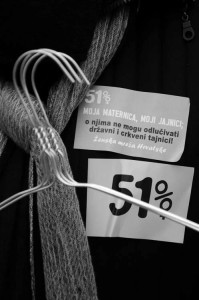 Abortion is one of the fundamental human rights of women as it is about women's autonomy over their own bodies and the right to choose and control their sexual and reproductive rights. If an abortion is prohibited, restricted or completely taken away from women, we must understand that we will not eliminate abortions. Inhibition of legal abortion services in health institutions does not solve the problem. It only moves the problem from the public to the private spectrum – more specifically from the field of legal to illegal. History has taught us (or at least some of us) that the prohibition of abortion does not prevent or reduce the total number of performed abortions. An equal or greater number of abortions happen behind "closed" doors.
It is hardly understandable for a country which is characterized by democratic principles, or at least is trying to be, that it attempts to limit abortions or supports groups that want to abolish the right to abortion. It has been said that often it is more difficult to fight for the retention of existing rights than to fight for new ones – this statement perfectly illustrates the struggle in Croatia in recent years. We are facing constant right-wing, conservative and/ or religious groups that in a so called 'peaceful' way want to prohibit women and girls' right to abortion. We can say that we are in a maelstrom.
So-called "Pro-life" activism is growing in Croatia. Since 2014, volunteers of an initiative called 40 Days for Life are praying in front of hospitals across the country against abortions taking place. There are a range of other conservative organisations and initiatives such as Clinic for Abortion, Croatian Association for Life CRO-VITA, Vigilare, In the Name of Family and "I was an Embryo". As a result, hostility towards the right to access abortion is growing. This problem is unfortunately not unique to Croatia, as demonstrated by the expansion of similar conservative initiatives throughout Europe.
Arguments against abortion in Croatia
Arguments against abortion are numerous: the right to life, concerns about a decreased birth rate, and the fact that a high number of young people emigrate from the country every year in search of work abroad due to economic crisis in Croatia. The last-mentioned developments decrease the number of citizens, so "Pro-life" activist argue that abortions should be stopped, which, acoording to them, will in turn increase the Croatian population. Of course we should strive to increase the birth rate and retain young people in Croatia, but prohibiting abortion will not achieve this. What should be done is to create jobs and provide economic and social stability for young people.
Another argument is the idea that abortion is used as a contraceptive, and that it is most often performed by young women. However, 93% of women in Croatia who abort are older than 20 years, and 78% are already mothers. To have an abortion or to carry to term should be an informed decision, based on emotional stability and in full knowledge of the available options and consequences.
During 2013, the total number of reported abortions was 8,922 (where by definition, each pregnancy that does not end in childbirth is considered as interruption of pregnancy). There were only 3,816 abortions at the request of women which represents 35% of the total reported abortions. The remaining 65% are preformed due to malformations in the offspring and so on.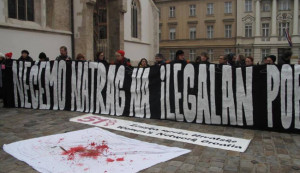 The lack of debate on abortion
Even though abortion is legal in Croatia, access to it is sometimes difficult. In some regions, there are no hospitals that are willing to perform abortions as a result of the right to conscientious objection. For some women, the price is simply too high (ranging from approximately 100 euros to 3,000 euros), so many women cannot afford it. Therefore, we need to strive for free abortions in all hospitals and for binding regulations in the cases of conscientious objections to ensure referral to another doctor that will end the pregnancy.
Croatian society is characterised by the absence of public debate and education about responsible sexual behaviour. Lack of systematic education in schools about sexual and reproductive health leads to a general stigma of women who decide to have an abortion. We then find it difficult to accept that abortions in Croatia take place. They are carried out, there are girls and women who decide it is the right thing for them, and that is the reality of the situation. This reality will not go away if we stop talking about it, present false statistics or close our eyes from it.
To counteract the conservative undercurrent, an activist movement made up of many organisations protecting women's rights has raised to its feet in Croatia, with numerous media appearances, public events and actions for raising public awareness on why the right to abortion is necessary. The 'Women's Network Croatia' organised a major public protest in front of the Croatian Government Building, under the phrase 'Not going back to an illegal abortion' at the end of 2014. The goal of the protest was to highlight the drastic violations of women's reproductive rights in the licensed public health institutions across the country, as for example in the towns of Knin or Pakrac where patients have to go through a commitee for permission, and the refusal to perform abortions at the request of the patient. The network asked the government to ensure the enforcement of laws and the protection of women from the systematic erosion of their human rights.
Abortion rights in Croatia: Future potential dangers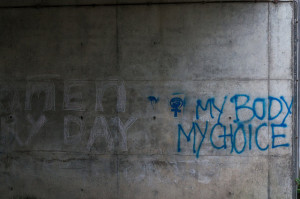 Parliamentary elections were held in late 2015 in which the right-wing coalition won. One of the first thing that the potential future health minister announced is the change of the law which includes the right to abortion. The 'Women's Network Croatia' again reacted and the same action took place in December 2015, again in front of the Croatian Govenment Building. Further efforts are being prepared in order to prevent the erosion of the right to abortion, because in this case it opens up the additional problems, in addition to the existing ones, with which a Croatian woman will face.
So what is the conclusion? The issue of abortion rights is now an open topic in Croatian society. New research on public opinion has been published and the law continues to be protected as a result of women's organizations who also advocate for improving the availability of abortion in public hospitals. But from a pro-choice position it can be argued that the possibility of prohibition of the right to access abortion is a real threat for Croatian women. It is a woman's right to decide what to do with her own body and the erosion or complete withdrawal of the right to abortion violates this. The absence of abortion rights, a direct reflection of patriarchy, deprives women of their autonomy, limits and controls them and makes them incapable of deciding on their own. That is why it is important to respect fundamental women's human rights and this is why we, as women will always have the strength, the will and the desire to over and over again fight for the preservation of our rights, including the right to abortion.
Iako žene u Hrvatskoj imaju pravo na pobačaj od 1978. godine, nova Vlada Republike Hrvatske ovo pravo može dovesti u rizik
Pravo na pobačaj omogućeno je u Hrvatskoj zakonom koji nije mijenjan već jako dugo vremena (Zakonom o zdravstvenim mjerama za ostvarivanje prava na slobodno odlučivanje o rađanju djece (NN 614/78)), usvojen 1978. godine u vrijeme bivše države Socijalističke Federativne Republike Jugoslavije (SFRJ). Nasljeđe iz Socijalističke Jugoslavije žene su nastavile koristiti i nakon raspada države te je prema ovom zakonu prekid trudnoće moguće izvršiti do isteka desetog tjedana od dana začeća.
Jedna od starijih i žustrijih raprava koje se mogu voditi u našem društvu su one o pravu na pobačaj. Jedna od gorih stvari u takvim raspravama koje se mogu napraviti, ako polazite iz pozicije branitelja/ice prava na pobačaj (pro-choice), dopustiti je da vas uvuku u raspravu o tome kada započinje život. Da li rođenjem ili spajanjem stanica, fokus treba biti na pravima žena. Ono što je važno za osobu koja podupire pravo na pobačaj je argumentiranje da je to stečevina žena, njihov rezultat borbe i da pobačaj treba biti legalan, dostupan i besplatan. On otežano ispunjava sva ova tri uvijeka u Hrvatskoj.
Zabrana prava na pobačaj ne rješava problem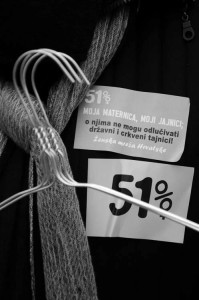 Pravo na pobačaj je jedno od temeljnih ženskih ljudskih prava i ono predstavlja autonomiju žena nad vlastitim tijelom, predstavlja pravo na izbor i kontrolu svojih seksualnih i reproduktivnih prava. Ukoliko se zabrani, ograniči ili u potpunosti oduzme ovo pravo ženama, moramo shvatiti da ga nećemo i ukiniti. Zabranjivanjem legalnog izvođenja pobačaj u zdravstvenim ustanovama ne rješava se nikakav problem, nego se samo premješta iz spektra javnog u privatno – točnije rečeno iz područja legalnog u ilegalno. Povijest nas je naučila (ili barem neke od nas) da se zabranjivanjem prava na pobačaj ne smanjuje ili dovodi do nule broj obavljenih pobačaja, nego se on i dalje u jednakom ili većem broju događa iza "zatvorenih" vrata.
Teško je shvatljivo za jedno zemlju koju karakterizira demokracija, ili se barem tako trudimo, da pokušava ograničiti ili podržava frakcije koje žele ukinuti pravo na pobačaj. Kaže se da je teže boriti se za zadržavanje nekih prava nego izboriti se za nova u današnje vrijeme. Ova konstatacija savršeno oslikava Hrvatsku u posljednjih nekoliko godina jer sagledavši konstantne desničarske, konzervativne i/ili vjerske grupacije koje putem žele zabraniti ženama ovo pravo, uviđamo da smo u takvom vrtlogu. Pro-life aktivizam sve je jači u Hrvatskoj. Od od 2014. godine volonteri/ke inicijative "40 dana za život" mole ispred bolnica diljem zemlje kako bi spriječili izvođenje pobačaja. Tu su naravno i druge konzervativne udruge i inicijative kao što su "Klinika za pobačaje", Hrvatski savez za život "CRO-VITA", "Vigilare", "U ime obitelji" te "I ja sam bio embrij". Rezultat je porast neprijateljstva spram prava na pobačaj. Ovaj problem nažalost nije svojstven samo Hrvatskoj što demonstrira ekspanzija sližnih konzervatnih struja diljem Europe.
Argumentacije protiv prava na pobačaj
Argumentacije su mnoge – pad nataliteta, odljev mozgova, pravo na život, i tako dalje. Naravno da se trebamo boriti za rast nataliteta i zadržavati mlade ljude u zemlji. No upitno je koliko će zabrana pobačaja pomoći u ovome. Korijen ovoga leži u vjerovanju da bi svaka trudnoća trebala završiti rođenjem kako bi se podigao natalitet zemlje. Argumentacija je i da se pravo na pobačaj koristi kao kontracepcijsko sredstvo te da ga najčešće izvode mlade žene i djevojke. No čak 93% žena u Hrvatskoj koje pobace su starije od 20 godina, a 78% njih su već majke[1]. Pobaciti ili zadržati dijete je odluka koju valja donijeti na temelju informacija, osjećaja i u skladu s mogućnostima i posljedicama. Podaci također pokazuju da primjerice tijekom 2013. godine od ukupnog broja prijavljenih prekida trudnoće 8.922 (pri čemu se prema definiciji svaka trudnoća koja ne završi porodom, smatra prekidom trudnoće), bilo svega 3.816 namjernih prekida trudnoće (odnosno na zahtjev žene), što predstavlja svega 35% od ukupno prijavljenih pobačaja.
Iako je pobačaj u Hrvatskoj legalan, pristup njemu je katkad otežan. U nekim regijama zemlje ne postoje bolnice koje žele izvršiti prekid trudnoće usljed prava na priziv savjesti. Ili je za neke žene cijena previsoka (cijene se kreću od 700,00 kn do preko 3.000,00 kn) da bi si ga mogle priuštiti. Iz ovih razloga je potrebno da pobačaj bude besplatan i dostupan, te da se osigura obavezna praksa za liječnike/ce koji koriste pravo na priziv savjeti da u to slučaju omoguće drugog liječnika/cu koji će izvršiti prekid trudnoće.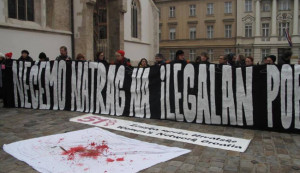 Manjak javne rasprave
Uz sve navedeno, hrvatsko društvo karakterizira i izostanak javnih rasprava te edukacije o odgovornom spolnom ponašanju. Manjak sustavne edukacije u školama na temu seksualnog i reproduktivnog zdravlja nedostaje što dovodi do sveopće stigme žena koje se odluče za pobačaj, neodstatak kreiranja kritičnog mišljenja u svrhu prevencije i odgovornog spolnog ponašanja. I onda nam je teško prihvatiti da se pobačaji u Hrvatskog obavljaju. Oni se izvode, postoje djevojke i žene koje se odlučuju za njega i to je realno stanje stvari. Ta realnost neće nestati ako mi prestanemo pričati o tome, lažiramo podatke ili zatvorimo oči od nje.
Uslijed sve jačih napora zabrane ili ograničavanja prava na pobačaj, aktivistički pokret koji čine mnoge feminističke i srodne organizacije za zaštitu ženskih ljudskih prava, dignut je na noge. Istaknula bih, osim medijskih istupanja, organiziranja javnih događanja i osvještavanja šireg društva zašto je pravo na pobačaj važno i nužno, zadnji veći javni protest Ženske mreže Hrvatska. Protest je održan ispred Vlade Republike Hrvatske, pod nazivom "Nećemo natrag na ilegalan pobačaj!". Protestom se ukazalo na drastično kršenje reproduktivnih prava žena u licenciranim javnim zdravstvenim ustanovama diljem Hrvatske, kao na primjer u Kninu ili u Pakraci gdje osoba mora proći komisiju2, te na odbijanje obavljanja prekida trudnoće na zahtjev pacijentica. Zahtjevalo se od Vlade da osigura provedbu zakona i zaštiti žene od sustavnog urušavanje ženskih ljudskih prava.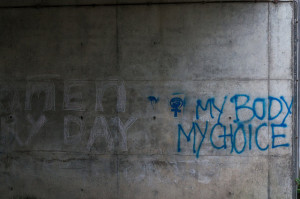 Parlamentarni izbori su održani krajem 2015 godine na kojima je desna koalicija pobijedila, i jedna od prvih stvari koju je mogući budući ministar zdravlja najavio je mijenjanje zakona koji uključuje pravu na pobačaj. Ženska mreža Hrvatske sa svim istomišljenim građankama i građanima opet je reagirala i ista akcija je opet održana ispred Vlade Republike Hrvatske u prosincu, 2015. Daljnji napori se pripremaju kako se ne bi ostvarila redukcija prava na pobačaj jer u tom slučaju se otvara prostor dodatnih problemima, uz već postojeće, s kojima će se hrvatske žene susretati.
Koji je zaključak svega? Pitanje prava na abortus ponovno je otvorena tema u hrvatskom društvu. Nova istraživanja o javnom mijenju se provede, zakon se i dalje šiti te se i dalje zagovara za što veću dostupnost. No, iz pozicije pro-choice može se tvrditi da zabrana prava na abortus ništa dobroga neće donijeti. Umanjujući ili potpunim oduzimajući pravo na pobačaj kontrolira se i ženino pravo na odlučivanje vlastitim tijelom. Oduzima se vlastita autonomija i opet iznova patrijarhalnim stegama ograničava i kontrolira žene kao bića nesposobna za samostalno odlučivanje. Zato je važno da se poštuju temeljna ljudska prava žena i zato ćemo uvijek imati snage, volje i želje da se uvijek i iznova borimo za očuvanje naših prava, pa tako i prava na pobačaj.