Read Time:
5 Minute, 27 Second
Emma Rainey attended the fourth edition of the AGORA 2018 Young Feminist Summer Camp after being selected from amongst 250+ applications. Organised by the European Women's Lobby (EWL), 40 young feminists from across Europe gathered for five days in Brussels (29 Aug – 2 Sept.) for participant-led activities that aimed to reconnect and reinforce young feminist activism. Together with EWL, we'll be re-blogging Emma's experience during the summer camp.
Growing up in West-Belfast in Northern Ireland, a place that has known conflict, injustice and segregation, as part of the Irish Nationalist community, I know what oppression can feel like as a minority. Although Northern Ireland tends to have a very male face due to the Troubles, women were not passive actors in the making of its recent history. I was lucky enough to grow up surrounded by strong women who were committed to grassroots activism and developing community support networks when times got tough. This of course helped shape my own early version of feminism – Irish, unconsciously white and radically anti-establishment but the sentiments for solidarity with other marginalised groups was always there.
Fast forward to 2018 and I have been living in Brussels for over six years. It was in this environment that enabled me to develop my feminist perspective in a more holistic, in-depth and intersectional way. I am now involved at various levels of feminist activism from lobbying the EU for gender budgeting in development aid as a Youth Ambassador for the ONE Campaign, to grassroots activities with Young Feminist Europe, as well as campaigning for reproductive rights for the island of Ireland with Brussels Repeal.
However, the more that I delved into feminist theory and the contrasting perspectives, the more I became aware of the internal divisions within the feminist movement.
Feminism is essentially an ideology with the goal of achieving gender equality by eradicating the structural dimensions of the patriarchy. This of course is a very simplistic way to put it, but I personally do see it as the ultimate objective. Therefore, with factions and in-house fighting, I cannot help but feel anxious because when you grow up in a society that only knows division, you know that it only serves those who would seek to undermine your cause.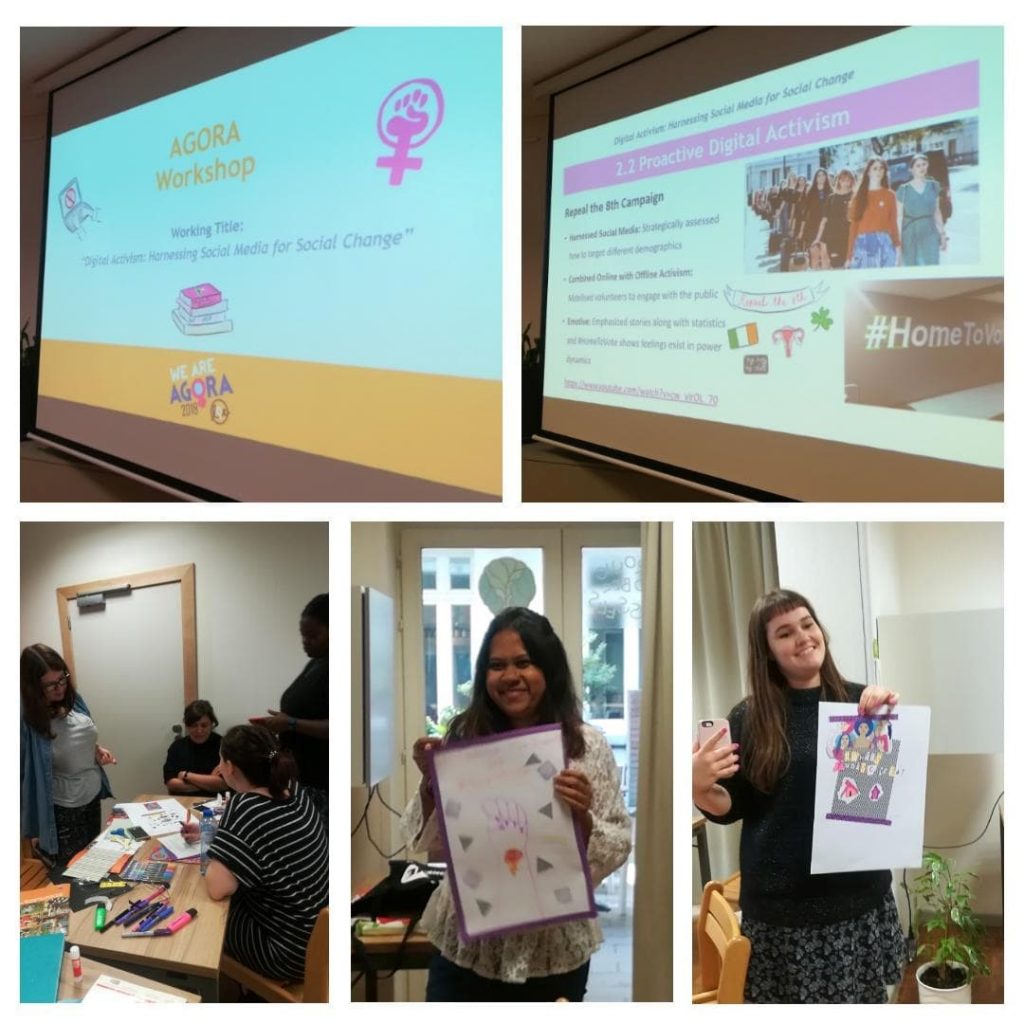 Therefore, when I saw that the applications were open for EWL's AGORA 2018, I knew it would be a welcome opportunity to engage with other young feminists to discuss such matters. It also was a way to boost my self-esteem as I told myself "you're good enough – apply Emma!" and I was thrilled to be selected. After submitting a proposal, I was chosen to co-host a workshop on digital activism with the wonderful Eline Van Hooydonck, where we had the opportunity to combine and develop our perspectives on feminism in the digital sphere prior to the beginning of the summer camp.
My expectations for AGORA 2018 could have been divided into three parts: 1) Given that AGORA derives from the Greek word marketplace/forum, it was my hope that we would have discussions on topics that are often considered divisive within the feminist movement as well as develop ideas on how we can unite on a collective front. 2) Bridging the gap between the theory of feminism to real life activism by developing practical and strategic skills. 3) Gaining new perspectives by being part of such a diverse group of young women and making lifelong friends and allies.
For the most part, the summer camp succeeded in meeting these expectations by providing knowledge-based workshops with EWL staff and experts on selective topics such as women's political participation in the upcoming EU elections, the 'Purple Economy', sexuality and bodily autonomy, and combating violence against women through the Istanbul Convention. From this point on is when AGORA really started to peak, as successive activities mainly led by participants in the 'open space' were a highlight along with our own workshop discussions.
What was pleasantly surprising was that during the small group storytelling exercise, I seen myself in a different light by being mirrored by a fellow young feminist who used the phrase 'radical kindness' to describe my story. Furthermore, when discussing our 'limiting beliefs' in the turnaround method, I was also surprised to find that I subconsciously have a 'bad feminist/super woman' complex in that I feel frustrated with the lack of progress in my own feminist work and I try to compensate that by taking on more voluntary roles and duties.
What I learnt from these two exercises is that it is OK to be vulnerable, that feminism doesn't have one ideal, and how we deal with negative experiences and energies really does matter.
During the 'pro-action café', we were all feeling inspired to develop our own projects and campaigns, and the energy in the room was electric. Leading on from my participation in the workshop on sexuality and bodily autonomy led by Catriona Graham, the use of 'language' in developing our social perceptions had subsequently inspired the phrase 'What Do You Call Yours?' when discussing our vaginas. Inequalities of the female orgasm, and the social conditioning of silence and stigma surrounding menstrual and gynaecological health was a favourite topic amongst us, so much so, that I've made it my personal commitment to create a campaign to combat these issues. So watch this space…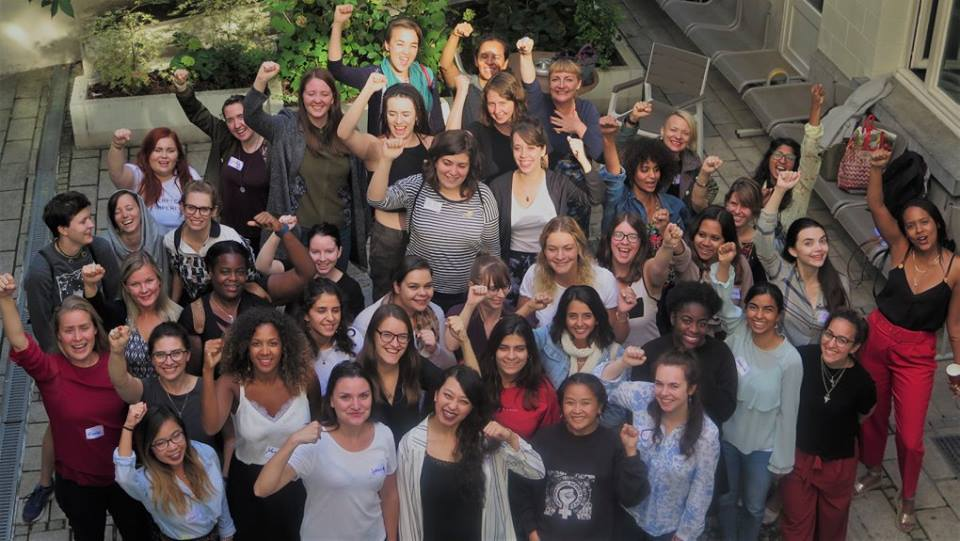 Looking back at our time during those five days, what stood out the most was the group itself. We all came from a place of positivity, an eagerness to learn from one another and a shared a willingness to listen with open hearts and minds. Behind the feminist theory, the small interactions, the sharing of stories and ideas, the laughter and poetry – that was the making of the AGORA 2018 sisterhood.
I started this blog by telling you how I began my feminist journey. It was one of limited perspectives but the 'spark' that ignited that fire for social change came from there. As I expanded my world view, I slowly grew confident within myself, within my ideals and hopes for the future. Each journey within feminism differs and each of our stories should be heard. What AGORA 2018 shows is that when a group of young badass feminists get together, we're capable of building a movement that does exactly that.