Read Time:
3 Minute, 51 Second
In September, the first summer school for young feminists from 18 to 30 years old took place, with more than 50 participants from over 20 European countries, representatives of a new generation of feminists in Europe. The summer school was organised by the European Women's Lobby (EWL) in the Amazone building – a center supporting women's organisations in Brussels.
The participants not only had the opportunity to visit the European Parliament, but also to meet and talk with two MEPs who are fighting for women's rights and gender equality. One was Ulrike Lunacek, vice-president of the European Parliament, and the other one Marie Arena, member of the Committee on Women's Rights and Gender Equality. They both agreed that as feminist activists we do not need to be aggressive, but sometimes it is more than necessary to be radical.
We exchanged our diverse skills and knowledge through workshops and debates. Some of the topics were: political participation of women, online campaigning, international legislation on women's rights, refugees in Europe, how to include an anti-racist perspective in feminism, women under ISIS, women's bodies in photography, feminist literature, sexual violence, sexual harassment, violence against women, family violence … and much more.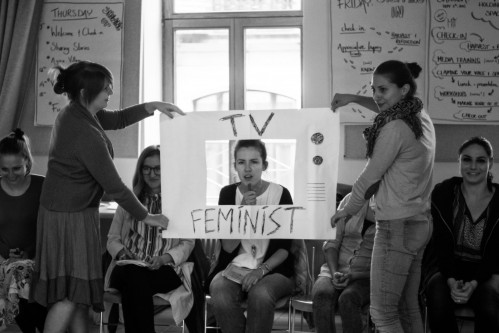 The activist Elisabeth Gehrke offered training in "Master Suppression Techniques" and the journalist and trainer Laura Shields held a media workshop. Furthermore, we had the opportunity to meet EWL president Viviane Teitelbaum, who told us that she thinks that the basis of the fourth wave of feminism lies in communication.
During the breaks and in the evenings we were building bridges and discovering each other's worlds. These were beautiful days filled with ideas, inspiration, talks and laughter and they ended up in friendships based on many memories and stories. We will stay in touch for sure – and have together launched this blog!
Unfortunately, the idea that feminism is about hating men, as well as other similar misconceptions, prevails. The Agora was one approach to overthrow this and other stereotypes, and proved that feminism is the fight for the rights of everybody – women, men and others.
For this unforgettable experience I would like to thank the Slovenian Women's Lobby and the European Women's Lobby.
The original post was made available by courtesy of Katja Matko

Z uvodno večerjo v sredo, 2. septembra 2015 se je začela prva poletna šola za mlade feministke od 18. do 30. leta starosti. Več kot 50 udeleženk, iz več kot 20. evropskih držav je pokazalo, da ima feminizem podmladek in na zametke novega vala feminizma v Evropi. Poletno šolo je organiziral Evropski ženski lobi (EWL) v Bruslju v stavbi Amazone, ki je za potek šole niso izbrali brez razloga.
Udeleženke smo imele priložnost, ne samo obiskati Evropski Parlament, ampak tudi izmenjati mnenja in izkušnje z dvema evropskima poslankama, ki se borita za pravice žensk in enakost med spoloma. Ena je bila podpredsednica Evropskega parlamenta Ulrike Lunacek, druga pa Marie Arena. Strinjali sta se, da nam kot feministkam ni treba biti agresivne, lahko pa smo radikalne, kar je včasih več kot potrebno.
Udeleženke smo si preko delavnic in razprav izmenjale svoje izkušnje in znanja, ki so bila zelo raznolika in bogata. Tako se je govorilo o javnem nastopanju, političnem udejstvovanju žensk, načrtovanju kampanj (na internetu), mednarodnih dokumentih o pravicah žensk, begunkah in beguncih v Evropi, kako vključiti protirasistično perspektivo v feminizem, ženskah pod ISIS, feministični literaturi, kulturi in predstavitvi žensk, spolnem nasilju, spolnem nadlegovanju na ulicah, nasilju nad ženskami in nasilju v družini …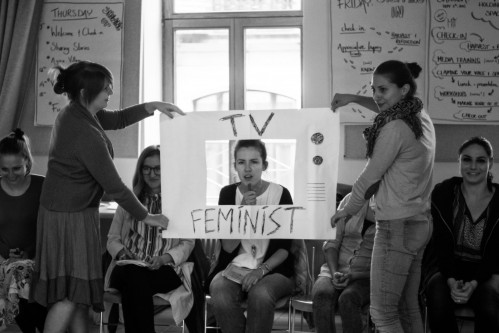 Elisabeth Gehrke nam je predstavila t.i. »Master suppression techniques« in kako se boriti proti njim. Imele smo priložnost srečati predsednico EWL Viviane Teitelbaum, ki nas je nagovorila in med drugim poudarila, da je po njenem bistvo četrtega vala feminizma v komunikaciji.
Med odmori in ob večerih smo gradile mostove in odkrivale svetove drugih. Bili so čudoviti dnevi napolnjeni z idejami, inspiracijami, pogovori, smehom in končali so se v prijateljstvih popopranih z drobnimi spomini in anekdotami. V stiku bomo vsekakor ostale. Skupaj bomo tudi soustvarjale feministični blog.
Prevladuje mišljenje, da je feminizem sovraštvo do moških in podobne zmote, vsekakor smo, združene iz različnih okolij, zrušite ta stereotip in dokazale, da je feminizem boj za pravice vseh – žensk, moških in drugih.
Za nepozabno izkušnjo je najlepše zahvaljujem Ženskemu lobiju Slovenije in Evropskemu ženskemu lobiju.
Teks je bil prvotno objavljen na spletni strani Društva SOS telefon, napisala ga je udeleženka Poletne šole Katja Matko.[:]