Read Time:
3 Minute, 25 Second
Rio Olympics 2016 was one of the biggest events this summer that captured the world's attention. What we saw is a competition between countries that win more medals, but inside every sport and country has a different story. One such story is about a young Lithuanian swimmer, Ruta Meilutyte, who won all possible champions in the world, but at the end of the Rio Olympics surprisingly returned to Lithuania without a single medal.
Becoming a star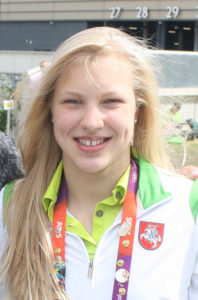 Most of us have heard about the 15 year old little blonde girl from Lithuania who won the gold medal in London Olympics 2012 for the women's 100-metre breaststroke swimming race. All the headlines in the newspapers and on the Internet  were alternative of the following: ''Lithuanian 15-year-old Ruta Meilutyte wins shock gold'' (BBC Sport), ''London 2012 Olympics: Ruta Meilutyte's rise from Little Fish to Plymouth school hero and Lithuania's golden girl'' (Telegraph), ''London 2012: Golden Ruta Meilutyte is new princess of the pool'' (Sport 3600) etc. She transformed from an ordinary girl to an extraordinary swimming athlete, appreciated and respected by everyone, overnight. However, before London Olympics no one expected such a good result from her, as she was not only very young, but it was also her first Olympic games. However, after London Olympics 2012 general opinion about Ruta Meilutyte shifted, and society started to classify her as an adult.
What happens in Rio, stays in Rio
Ruta went to Rio as a London Olympics, World and European champions' medals winner. Moreover, she had also achieved many swimming records – 8 European records and 3 World records. Expectations before her swims in Rio were high, in some ways too high. She swam in the finals with the best 8 swimmers. She did not win any medal – she came  7th in the women's 100-metre breaststroke swimming ranking.
The current situation
The post Rio reaction involved lots of criticism and negative emotions – everyone was expecting Ruta to win a medal, and not just any medal, but a gold. Despite the fact that after her swim Ruta was full of anger, despair and tears of resentment, she was interviewed by a Lithuanian journalist who asked questions such as  ''What was the most difficult for you today?'', ''How do you evaluate your swimming time?'', ''Is this the biggest disappointment of your life?''. Former Lithuanian swimmer Arvydas Juozaitis, whose best result was bronze in the Montreal Olympics 1976, said during an interview that the peak of Ruta's career is over as she has not improved since London Olympics 2012.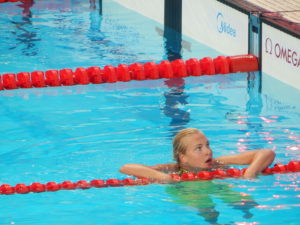 He commented that you could see physiological changes on Ruta's body – her figure now is more feminine, muscular and heavier. Many experts say that it influenced why with every swim she became slower and slower. Then the comments took a sexist turn: Juozaitis told the interviewer that he wishes for Ruta to get an education, have a family and kids; if she wants to continue her career she should come back as a trainer, not as a professional swimmer.
It is doubtful that he had ever said such a thing about a male swimmer. Ruta, after all, is only nineteen years and still has all her life, and probably most of her career, before her – think about the 50 metre freestyle Bronze Medal winner Aliaksandra Herasimenia who is nearly 31 years old. Of course, Ruta Meilutyte could become a mum; yes, she could get an academic qualification – but aren't Juozaitis' comments emblematic for a society which still sees female successes as a threat and rather would like reduce them to their stereotypical role as wives and mothers? In this situation – why should we not wish for Ruta to become stronger and faster and win a gold medal at the Olympics 2020 in Tokyo?