Read Time:
2 Minute, 44 Second
Period Poverty in Europe
As part of our work on period poverty and menstrual hygiene, this Summer we gathered information on European initiatives and projects fighting period poverty and focusing on menstrual hygiene to:
Raise awareness among youth / the general population / journalists / influencers around the issue of period poverty in Europe 

Connect and create synergies with other young European and intersectional activists working on period poverty / menstrual hygiene products to share experiences and knowledge and highlight grassroots local initiatives around this

Collect data/research/information from different countries on period poverty / taxes on menstrual hygiene products in European countries

Build European young feminist movement (since this is an issue that highly affects young women) around ending #tampontax and #periodpoverty to tackle this issue in our region / respective countries (through creating a European campaign + advocacy demands)
The youth led activists/ associations/ organisations that replied to our call are: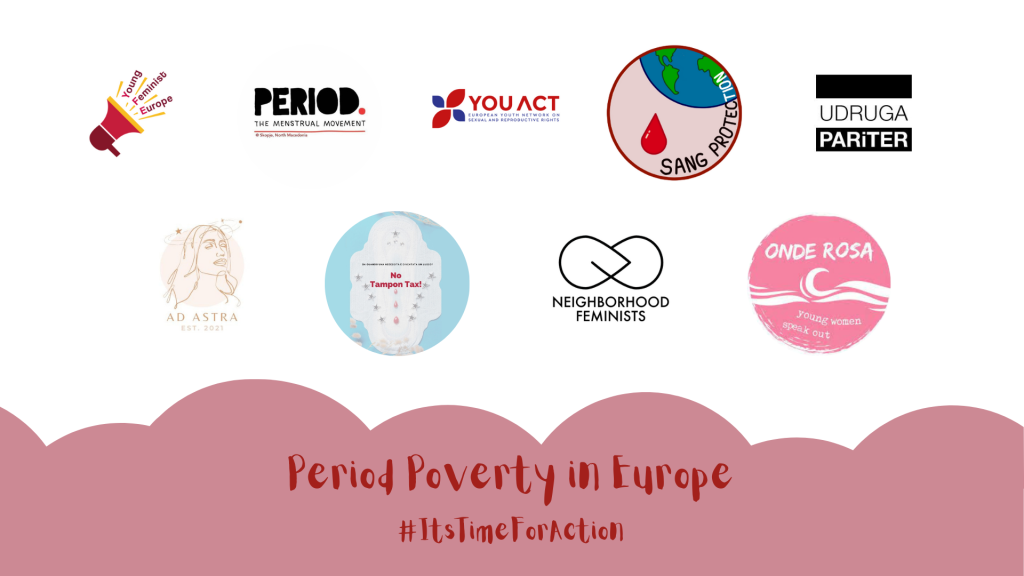 Neighborhood Feminists, Onde Rosa, No Tampon Tax Italia, IHelp, el reto empieza en ti,  Period. The Menstrual Movement Skopje, Sang Protection, Udruga PaRiter & Ad Astra.
On June 2. YFE organised, together with the other European youth partners, the joint event "Period poverty in Europe #ItsTimeForAction"
Our main objective was to:
showcase diverse initiatives highlighting the importance of menstrual care

share good practices

raise awareness around what is done and could be done in Europe to fight period poverty.
A total of 98 people participated in the event between Zoom and the Facebook feed. You can re-watch the event on Youtube
After the event…
We collectively started working on 3 key pillars:
1.      INCREASED RESEARCH:
More funding for data and research on period poverty, particularly taking an intersectional lens
2.      ADEQUATE POLICIES:
Menstrual health policies (including ensuring free menstrual products) in the workplace and gender-neutral facilities to be able to access period products   

Recognition that menstrual products as necessary as a key point to move forward with the reduction/elimination of the tampon tax
3.      DE-STIGMATISATION THROUGH EDUCATION:
De-stigmatise menstrual health in schools and in the workplace to create more normalised dialogue on period   

Comprehensive sexuality education (beyond STIs and contraception and also looking at period), with the aim of fostering healthier discussions around menstruation, and eradicating the stigma.
YFE has been invited to participate in an event on Period Poverty in Europe organised by the European Students Think Tank on 18 June and we have showcased your amazing work and our starting collaboration around a potential European campaign on the subject as well as brought our collective key asks (to be further defined of course, but at least those that came from our joint event). You can watch the recording of the event
Victory in the European Parliament!
On 24 June the European Parliament has adopted a resolution on the situation of Sexual and Reproductive Health and Rights in the EU, which was promoted by the Croatian MEP Fred Matic (Pariter had already shared some information about the report in May when we had our first joint call). It is a very progressive report and the first in almost 10 years to be adopted, and it has very good language specifically on menstrual health and period poverty, eliminating the tampon tax. You can find the test here.