Read Time:
4 Minute, 38 Second
Travelling to the UK for domestic work can be a means of survival for many women from abroad. But current visa conditions facilitate modern slavery.
It is incredibly important for every state to respect and guarantee human rights through combatting violations and discrimination and by promoting everyone's rights to equality. Vulnerable members of society are more at risk of having their human rights violated and this can particularly affect women and girls and those with multiple identities. In the context of globalisation and increased migration flows, the violations of human rights in the case of migrant, asylum-seeking, refugee and undocumented women and girls have increased. Additionally, migrant women and girls are overrepresented in prostitution and are at highest risk of being trafficked for sexual labour or domestic work.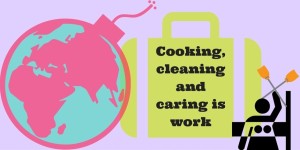 In this article I am going to look into migrant domestic workers in the United Kingdom, to examine how and why some of these women come to be trafficked and their level of access to justice if they do have their human rights violated. Around 16,000 visas are issued to migrant domestic workers to accompany employers to the UK each year and 85% of them are women (Roberts, 2015). Those who arrive are usually desperate to send money back home and are forced to work in terrible conditions for very little money and the visa conditions in place in the UK have a lot to do with this, as can be seen below.
The facts
Since April 2012 there have been changes to the UK immigration law:
A domestic worker in a private household overseas is able to apply for a visa to come to the UK with the family as their worker.
People entering on the Overseas Domestic Worker Visa are on a 6 month visa and are tied to their employer. The name of the employer is written on the visa and they cannot leave them.
After 6 months the worker is supposed to return to their home country, but this often does not happen and the worker becomes illegal and undocumented.
Domestic workers include: cleaners, chauffeurs, cooks, those providing personal care for the employer and their family and nannies
The reality
For many, travelling to the UK for domestic work can be a means of survival and a necessary support to their family back home. Many women leave their own children at home to come and care for other children, often well beyond the hours and workload for the amount of money they receive. There are also many reports of women being trapped in homes, their passports taken away and basic freedoms such as leisure time and days off removed.
Case Study: Kalayaan


– A small charity established in 1987 which campaigns for workers' rights and justice for migrant domestic workers, especially those who are undocumented- 200 new workers each year come to Kalayaan and around half of them are trafficked
– 74% of the workers who are tied have their passports taken away from them
– Kalayaan offers individual advice and support to migrant domestic workers in the UK as well as using this experience to produce data and briefings on the situation of migrant domestic workers in the UK
– They use this data to feed into policy and to push for improvements of the rights of migrant domestic workers
For more info visit their website and follow them on twitter
Domestic workers and others are campaigning for a reversal of the immigration rules which are very restrictive and do not allow workers the freedom to move employer if they are being taken of or to extend their stay legally. This means that those who are trapped and made to stay against their will, become undocumented and at further risk, through no fault of their own. The law does not take these realities into consideration and therefore restrict the rights of these workers. Domestic workers state that the visa change has worsened their position and Dr. Virginia Mantouvalou explains that, "If they escape their exploitative employers, they become undocumented. These are modern-day slaves" (Sloan, 2015).
The new UK Modern Slavery Act, introduced in March 2015, does not address tied workers and there is no recourse to public funds. In Section 53 there is a tokenistic policy where those identified as 'trafficked' under the National Referral Mechanism (NRM), can apply for a 6 month visa. The NRM was set up after the Council of Europe Convention on Action against Trafficking in Human Beings in 2009 to identify and support potential and actual victims of human trafficking or modern slavery (National Crime Agency, 2015). However, being identified as a victim of trafficking under NRM does little in practice apart from attach a label to a person's situation.
5 Key Recommendations
Domestic work should be included in national labour law, so that it is recognised as work and legislated as such.
The law should also be strengthened for those suffering from multiple discrimination as they need more support and protection, especially if they do not have family or friends in the UK.
Greater awareness raising of domestic work as work and decent working conditions should be conducted to inform those who abuse their workers that what they are doing amounts to modern-day slavery.
It is crucial to provide safe migration and departure training for those who do migrate before they find themselves in difficult situations.
Finally, it is essential that women in very vulnerable situations are given information and access to justice to enable them to free themselves from these circumstances.