Read Time:
5 Minute, 2 Second
The feminist group INSOMNIA took a remarkable action in Paris on the occasion of the International Day for the Elimination of Violence against Women.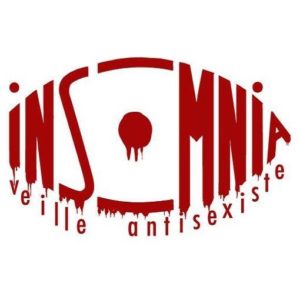 In France a woman is murdered by a man they know every 2.5 days. Lea G. aged 18, Fabienne S. aged 56 and Maryvonne G. aged 73 were all murdered in France this year at the hands of men. This year alone 100 women have been murdered in France.
Parisians woke up on the 25th of November to witness a feminist intervention on 100 billboards scattered around Paris. INSOMNIA, a feminist squad based in Paris, took over the streets during the night of 24th November for a subversive collective action. They replaced 100 billboards on the major boulevards of Paris, with posters of the 100 women who were victims of femicide. Each poster detailed the name of one of the women, their age, and who killed them. They were murdered by their husbands, partners, ex-partners, fathers or brothers, men who were close to them. INSOMNIA declared that their motivation is to give a name and an identity to these women whilst emphasising their cause of death: femicide!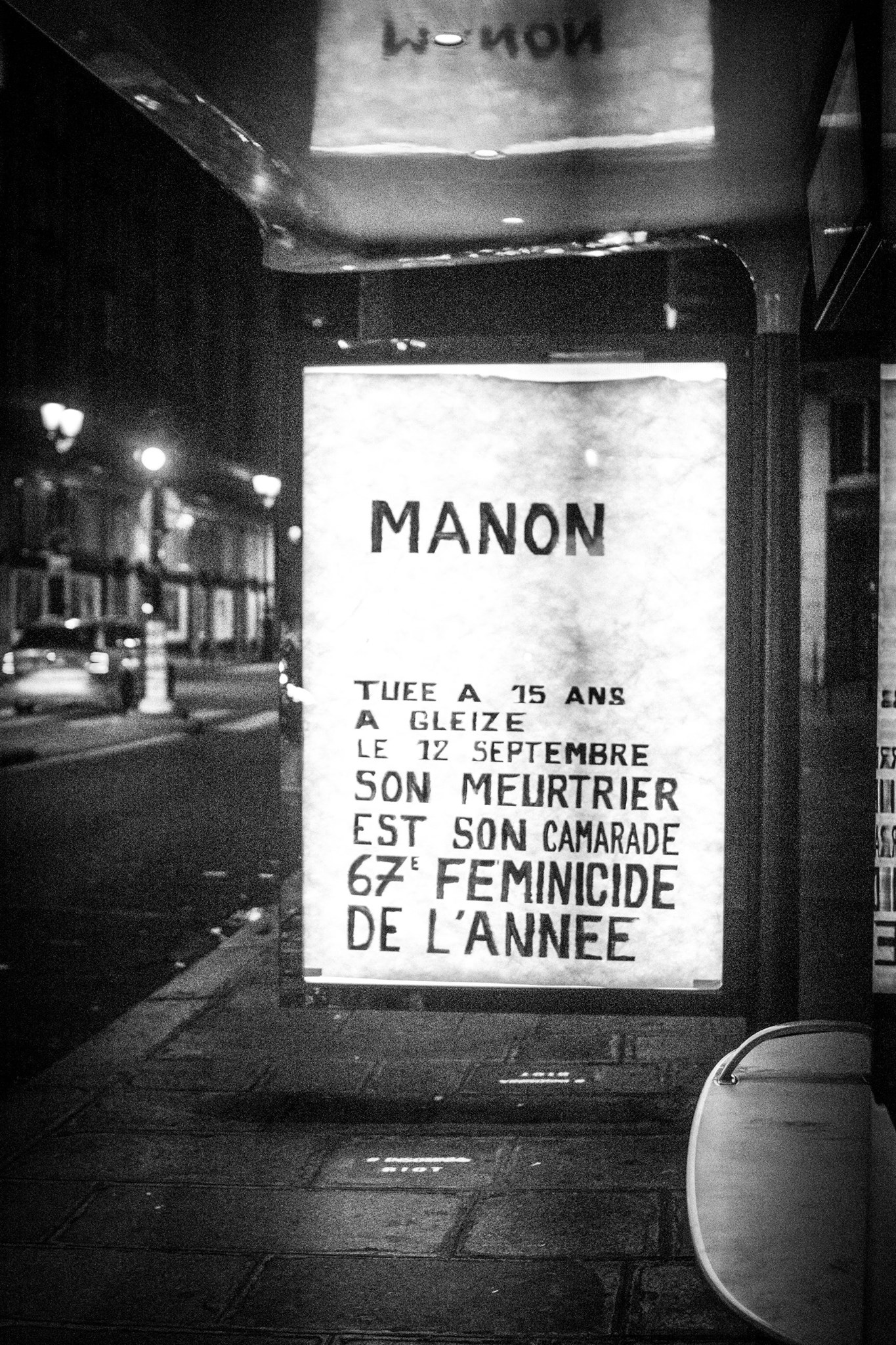 INSOMNIA declared that their aim was to influence the French Government to recognize femicide as a crime, like it is recognized by Italy, Spain and seven countries in South America. Currently, the French Government is discussing a new law proposal called: "Equality and Citizenship" where the sex of the victim would be considered as an aggravating factor. INSOMNIA are demanding that this new law is passed and once it's in place, it should be applied by jurisdiction.
Femicide is not a common crime, it is not a private family matter, and it is definitley not a passion crime. The media, by not naming the victims and perpetrators, demonstrates their ignorance towards male dominance in society and contributes to the normalization of these crimes. INSOMNIA calls for the media to portray femicide with the proper and correct acknowledgments when publishing news stories on femicide.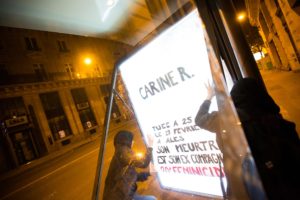 INSOMNIA is a new feminist squad formed in Paris who combat sexism with subversive street action at night. Their first action took place this summer, they covered the windows of a bagel shop, Bagelstein, in Paris due to a sexist advertisement they displayed. This summer, Denis Baupin, the former deputy speaker of the French Parliament was accused of sexual assault by his colleagues. Bagelstein used this sexual assault story as "humour" to adversite their bagels. The advertisment posters were pulled down quickly after the action and changed by "le jury de la déontologie publicitaire" the French governing body who make judgements on advertisment ethics.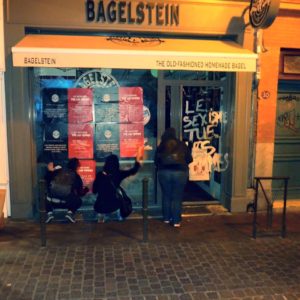 Today, on the International Day for the Elimination of Violence against Women INSOMNIA took the streets once again to revolt for the all the women who are victims of femicide and victims of male violence! They call for proper action to take place in order to end femicide![:or]Aujourd'hui, la violence masculine est la première cause de mortalité pour les femmes de 16 à 44 ans dans le monde. C'est pour ça que la nuit du 24 novembre, le groupe féministe INSOMNIA a mené une action symbolique d'ampleur en mettant 100 affiches dans les espaces publicitaires des abribus le long des grands boulevards parisiens.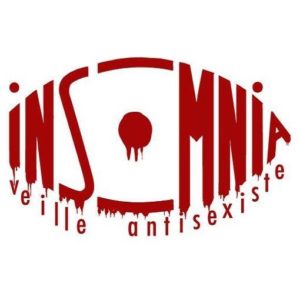 Les actes de violence à l'égard des femmes sont de nature très diverse, pouvant aller du harcèlement verbal et d'autres formes de maltraitance psychologique, aux violences physiques ou sexuelles quotidiennes. Au terme de ce continuum de violence, se trouve la forme la plus extrême : le féminicide, c'est-à-dire le meurtre d'une femme parce qu'elle est femme.
En France, une femme est tuée par son conjoint ou ex tous les deux jours et demi en moyenne.
Elles s'appellent Lea G, Fabienne S, Maryvonne G. Elles avaient 18 ans, 56 ans, 73 ans. Comme elles, 100 femmes ont été tuées cette année par un conjoint, un ex-conjoint ou un compagnon.
La nuit du 24 novembre, le groupe féministe INSOMNIA a mené une action symbolique d'ampleur en mettant 100 affiches dans les espaces publicitaires des abribus le long des grands boulevards parisiens. Sur chaque affiche figure l'identité d'une femme tuée par un compagnon, un mari, un frère, un père… Leur rendre un nom, une identité, mettre le mot « féminicide » sur le meurtre dont elles ont été victimes : telle est notre ambition.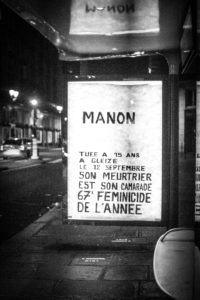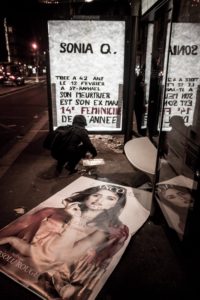 Avec cette action d'affichage massif, INSOMNIA porte deux revendications :
– Car pour combattre le féminicide il faut commencer par le nommer, nous militons pour la reconnaissance du féminicide en France et son inscription dans le code pénal, comme c'est déjà le cas en Italie, Espagne et 7 pays d'Amérique Latine. Les féminicides ne sont ni des crimes comme les autres ni de simples affaires privées. Nous soutenons le projet de loi "Égalité et citoyenneté", actuellement en nouvelle lecture à l'Assemblée Nationale, qui crée une circonstance aggravante pour les meurtres commis en raison du sexe de la victime. Nous demandons que la loi, une fois entrée en vigueur, soit véritablement mise en application par les juridictions.
– Ces crimes ne sont ni des « faits divers » ni des « drames familiaux » et encore moins des « crimes passionnels ». En ne nommant pas clairement meurtriers et victimes, les médias démontrent leur méconnaissance du système de domination masculine et encouragent sa banalisation. Un traitement médiatique approprié des féminicides est nécessaire.
Aujourd'hui, 25 novembre, Journée internationale de lutte contre les violences faites aux femmes, nous nous élevons pour et avec toutes les femmes victimes de violences masculines. Mettons fin au féminicide.