Read Time:
12 Minute, 57 Second
During the European Week of Action for Girls (EWAG),

Emma

and

Gail

from Young Feminist Europe (YFE) had the opportunity to have a chat with Mercy (21) from Kenya and Maya (19) from Sweden, two youth advocates who were in Brussels to speak out to EU leaders on what matters most to them!
During their talk, they discussed what equal rights for girls and young women means to them and what drives them as advocates – everything from SRHR (sexual and reproductive rights and health), education to decision-making! As this year's theme for

International Human Rights Day

is 'Youth Standing Up for Human Rights', we want to look back at a successful EWAG edition because the rights of young women and girls are human rights!
Mercy, can you tell us a little about yourself and how you became an advocate for SRHR with Deutsche Stiftung Weltbevölkerung (DSW)?
I am a 21 year old student from Moy University in Uasin Gishu county, Kenya. I study Community Health Nursing, Education and Research and through my classes, I would meet young people coming to the hospital to deliver, and this became quite painful for me. Seeing someone my age, or younger than me going through all the labour pains – as you can imagine! Having seen this, I was introduced by a friend to DSW, and learning about what they did to help young people regarding their reproductive health issues I decided to get involved. So I became a youth champion in reproductive health issues, gender equality and generally all issues concerning women and girls!
Maya, can you please tell us a little about yourself and how you became an advocate for girls' rights with Plan International?
I'm a 19-year-old girl from Sweden. I have been involved in Plan International Sweden since 2015 and started being involved in children's rights. Then the organisation moved more towards working on girls' rights and that's why I became more active to advance girls' rights.
This week, 15 youth advocates from different parts of the world who are representing a coalition of NGOs have gathered in Brussels to address EU leaders about the barriers girls and young women face. Can you tell us why this meeting is important and what your demands will be, Maya?
I think it's important for EU leaders to see that young girls can talk and decide as much as much as anyone else. It's important that they see our perspective on things, as we are usually not included to speak up in decision-making spaces. I want to tell them to make a good environment for young girls to be involved in decision-making. Without this environment for girls' and young people, we won't be able to make a change.

It seems like you have been involved in some of the activities this week and talking to several EU leaders, have you found that it's a conducive environment where you could feel safe and easy to share your opinions?
Yes, but in the beginning I often felt like I didn't really understand, especially with all the different documents and the way these adults speak. This is also one thing I really want to change: if you're going to work with young people and young girls, you need to make an effort to get us on board. You cannot just speak like you would to an adult, you need to speak to a young girl and have in mind that we don't have the same background.
So, our next question goes to Mercy – Africa has the fastest-growing and most youthful population in the world. Over 40% are under the age of 15 while 20% are between the ages of 15-24. How can long-term financing from the EU contribute to family planning to harness the potential of this generation? And why is this type of financial support necessary in supporting gender equality?
I'd like to start by giving in example of what we are doing in Kenya as DSW youth champions. We try as much as we can to ensure that young people, especially girls get information about sexual and reproductive health. We understand the importance of education. That once someone is educated about something, they have the energy, and they know their right to make choices relating to their sexual and reproductive health. It is great to see that the EU is one of the largest donors and I hope that continues. It would be great to see more funding go towards family planning services – because when they do this, they're giving young people, especially girls, the chance to go to school, to become economically empowered, politically empowered, and when all this is brought together, I am confident that Kenya will become one of best countries for girls and young people.   
On that note, we're going to move on to the Sustainable Development Goals (SDGs) and how they're all interlinked – just how eradicating poverty and hunger is intrinsically linked to education. Mercy, can you tell us how SRHR needs to go hand-in-hand with the goal of education and why holistic approaches are crucial to development?
As DSW youth champions, we go into schools; primary schools, secondary schools and even institutions of higher learning, and we try as much as we can to educate young people on how they can better their sexual and reproductive health. And this way, we are bringing the aspect of SDG3, which is about good health and well-being together with SDG5, which is about gender equality together. We also bring in the aspect of men's involvement, as we can not achieve gender equality if we do not bring men along with us. We also work with other organisations, such as those working on menstrual health and through that we are working towards SDG17, which is about partnerships. I don't believe we can achieve all of the goals if we miss out one goal.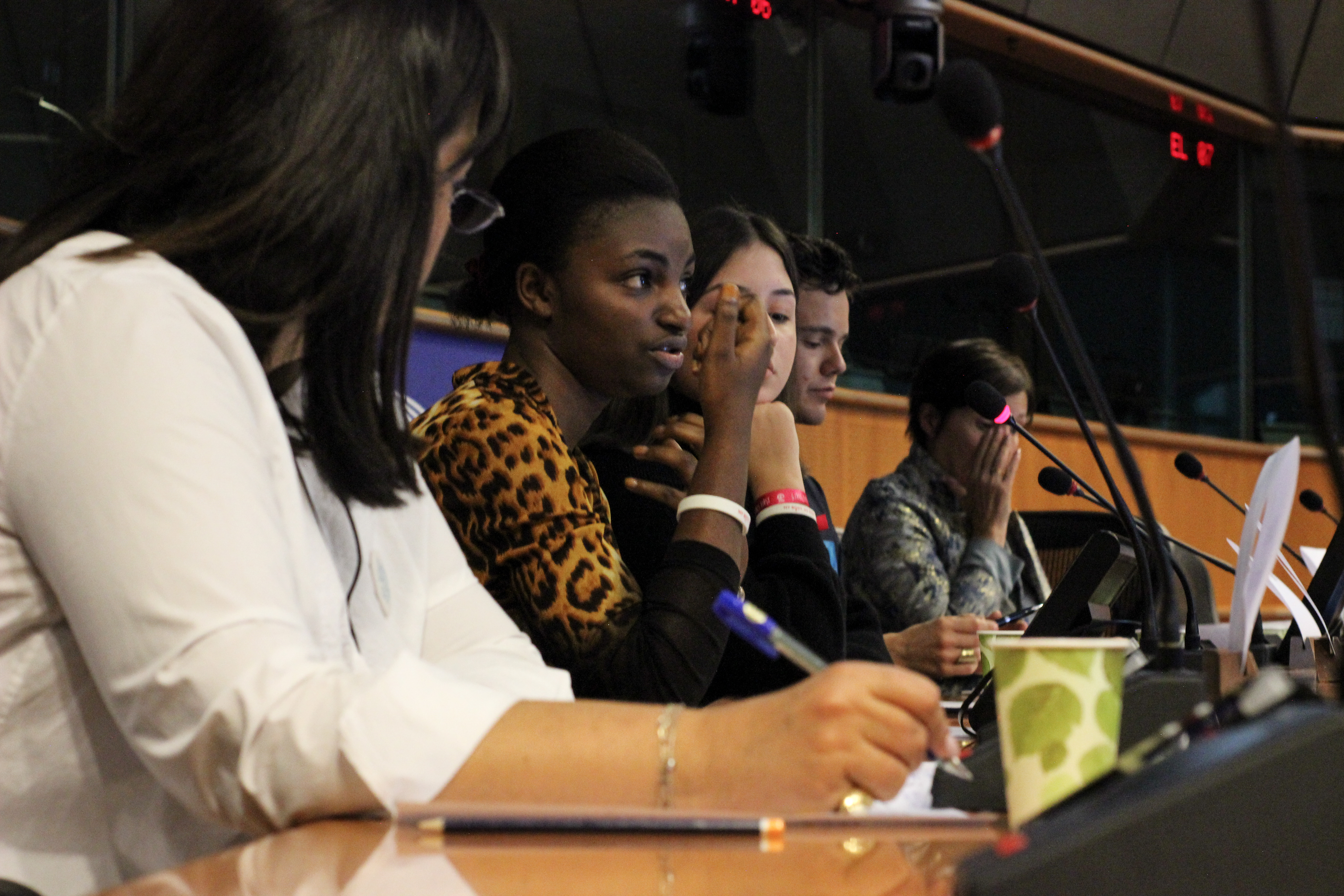 It makes me wonder, what does these kinds of campaigns in schools look like? What do your activities look like when you're taking to kids about SRHR?
We meet with policy makers, and take part in decision making processes and highlight our key priority areas. For example, we've lately been working on creating a more youth friendly service point, because we realised most young people really fear going to hospitals because they may meet someone their Mum's age for example, who might start condemning them when they try to access reproductive health services. We've also been engaging with Youth Hubs where we deliver comprehensive sexuality education and also SRHR education, and to get young people to this place, we use some form of entertainment. For example, we have salsa, bachata and kizomba dance classes. So we use that to get young people to come to the training, and we somewhat steal that training, get them to sit down and we talk to them about specific issues. But also, we use the opportunity to learn about the challenges they're facing, and then we can present those to the policy makers. We also use social media, with short, fun videos that attract people to watch and learn more.
Maya, one of the recommendations towards the European Parliament was the promotion of gender sensitive education. Could you describe what that would look and why do you think that is important for educational institutions and curriculum to make this inclusive shift?
When we are talking about gender-sensitive education, we are not only talking about ensuring that girls get access to school, but also that girls get all the rights that boys get. You need to make sure they have their toilets adapted for when girls have their periods and that they have equal chances to express their feelings and opinions in the same way as boys are offered those chances. I can give an example from Sweden: when we we're having sex education, they divided us into two groups, one for boys and another for girls – so we didn't have the same information on SRHR. Of course, I am not sure what the boys were discussing, but among the girls we were talking about how to have sex, pregnancy and your period. We didn't talk about sexual consent and I think we should also be learning this in school, especially since boys and girls get different lessons from society.
I feel like when we talk about sexual consent, and other topics in sex education, it doesn't help this de-mystification that boys have towards what girls' needs are, the responsibility of contraception, our periods, our reproductive systems, …
Girls can now go to school, but they don't go because of the inconvenient toilets or unsafety and violence at school. These are the things we're not aware of so we really need to have gender-sensitive education.
I was at the Girls Speak Out event today at the European Parliament. There was a mention on period poverty and how periods impact girls' attendance to school. I know in overall, girls can miss on average 145 days of school in their total life span compared to her male peers. What do you think, Maya?
I think it's a lack of information as you don't know what a period does to a girl: it's often taboo. Society thinks in a boy perspective all the time. We build a toilet to build a toilet, not considering the specific needs of girls such as: more space, more available toilets and the possibility to lock the door. These are things we don't think about, because girls are not part of decision-making.
This year YFE ran a campaign on the EU elections to encourage young women's participation in political spaces. I know you are quite passionate about this topic Maya, what do you think the EU could do to support girls' participation and political empowerment in the EU and beyond?
I was talking about this during today's debate in the European Parliament – it's difficult to be a young person in this society and it's even worse to be a girl. We need to create an environment where we can involve all young people from the beginning, for example by making documents more understandable for youth! We need to explain how to work with young people because there are many adults who don't know how to do that which means they're missing out on the thing's youth can say. Just because you invite a young person to a meeting doesn't mean you're involving youth. We need to focus on creating a better environment for young people to be really involved in decision-making. Also, many girls from different countries put themselves at risk when expressing their opinions and we need to ensure that they can do so safely.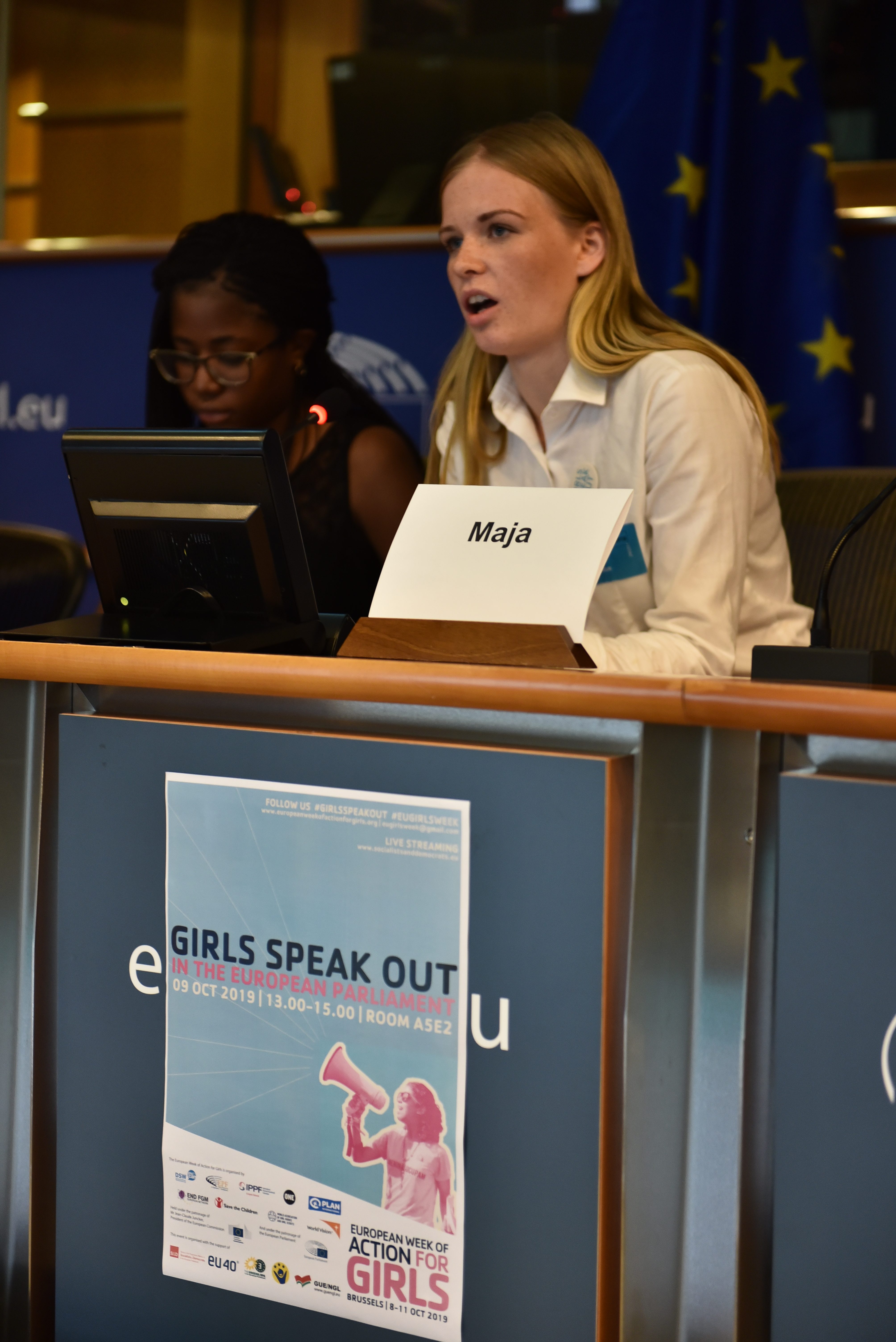 Now, within the NGO space we are talking a lot about child- and youth participation, but we are not thinking about how that participation can be done in a way that you are just not tokenising girls but really including and involving them in the right way.
You should be aware of different cultural backgrounds, not everywhere it is equally safe to express opinions. I am from Sweden, where we are in a safe environment to express our opinions. But this is not always the case for everyone. So for example, when someone doesn't speak up, it might have something to do with their cultural background and we should try to empower them and make them feel safe to share.
It's the intersectional lens we should apply to this. Some of the things you have said are just so common sense, like engaging with youth, cutting out the jargon, creating a document that is much more readable and less policy heavy.
The first step can be to decide to include me in a meeting, but you should give me a document which I understand. It's a problem if young people don't understand what you are doing. We are half of the population that don't understand what you are doing. So, you should change the structure and way you are doing things.
Now, I want to talk a little bit more Maya, about your involvement with the Swedish Youth Council of Plan International. How do you harness your position to combat gender norms and advocate for girls in decision-making?
So, what I have been doing right now is focussing more on being engaged within the organisation such as making the organisation more relevant for children, young people and young girls. So, I have been in different meetings, talking about how it can be of more relevance for youth. Also, in the board I have an influence on the budget in terms of planning and spending.
Which is exactly what you should do: include youth right from the beginning so that they can help you to make the right types of plan and strategies!
Yes! I am speaking for my country, but I also want to make sure that other girls from other countries can decide on things for themselves too. I don't want to talk for anyone else, so, if they ask me if there is a question from the young girls in Kenya, I tell them that they shouldn't ask me but ask them. In this way, I am trying to engage all young people and girls.
Our second last question and its one for each of you. Can you give us one tangible action that you think can make the feminist movement stronger to realise gender equality for all?
I believe the best way to strengthen the feminist movement is by learning about the challenges people face. An example from Kenya I can give is that we meet the Barazas – a group of men that act as wise men for the chiefs in that area. They're really respected for what they do. So as DSW youth champions, we try to work with them to really understand the challenges at the grassroots level. And if we understand the challenges they face, which differ between religions and tribes, we can look for solutions to help them overcome their own challenges.
Maya: I think we should change the norm about how we see boys and girls. I don't have a solution for this but that's the main action I would like to see, that we would change the norms.
We now arrive to our final question and this again goes to both of you. What is your all-time favourite feminist quote?
Mercy: "A decision for a woman, without the woman, is a decision against the woman.''
Maya: "Men are afraid that women will laugh at them, women are afraid that men will kill them."
Thank you so much for speaking with us Maya and Mercy! It's wonderful to hear you speak about your activism and what you are passionate about. Keep up the great work as you are both a great example of how young women really are today's changemakers.