Read Time:
4 Minute, 55 Second
We, Gaitho and Miriam, are two Black radical feminist researchers living in Europe. We met during the 2021 Black Europe Summer School (BESS) in Amsterdam which interrogates citizenship, race, and ethnic relations. For us, BESS offered a two-week opportunity to share our experiences as Black academics, activists and community organizers living in Europe – an opportunity to live Black joy, resistance and solidarity like our ancestors have taught us to.
In the weeks leading up to the 2021 edition of the BESS in Amsterdam, we couldn't picture what the space and the experience held in store for attendees coming together in the aftermath of 2020, the year of 'racial reckoning' and a raging global pandemic. So, we gave up the exercise altogether. We hoped that if nothing else, BESS would provide respite from the incessant maelstrom that is existing while Black.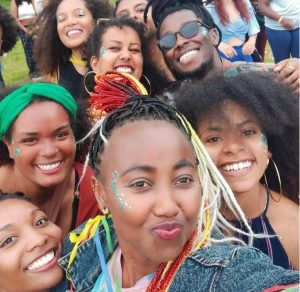 Why do we need BESS as Black academics?
As the summer school unfolded, so did all the parts of us that had been carefully put away- like special china reserved for guests. Emotive intellectualism, joyful resistance, playful adulting, organic yet strategic movement building, became the threads that wove the fabric of our reality. For two weeks, Blackness, our colorful, kaleidoscope of multi-faceted experiences, clashed, reflected off each other, melded into each other, and glowed brighter than it had in a long time for most of us, shifting and expanding our personhood.
"

As a Black African queer woman navigating the ivory tower in white Europe, I reflected daily on the impact of BESS beyond being a powerful intellectual exercise in interrogating race, ethnicity, citizenship and belonging in Europe. And in the period since, a growing awareness has stalked me, demanding acknowledgement." Gaitho
For us, BESS is an experience in space as revolution. Revolution as an expansive, intricate experience of healing and replenishment, an interrogation of solidarity in resistance, an experiment in syncing expertise and critical thinking, and a broad -eccentric even- imagination of our social movements, both present and future. Space as in not just the possibility and safety of gathering in a physical space, but the radical coming together of individuals deeply committed to learning about and sharing their Black experience. And what was evident was the necessity for spaces like these: social movements are nothing without oases in the desert of oppression.
"BESS allowed me to imagine what Afrofuturism in Europe could look like. Our lived experiences as Black people were put at the centre, I was surrounded by all shades of Blackness. Within these two weeks, I understood what Afrofuturism could actually feel like." Miriam
What does the programme look like? 
In the first week, Rokhaya Diallo presented France's  strand of anti-Black racism, while Mitchell Esajas detailed the struggle for a more racially equal and conscious Dutch society. But in the same breath, Pawlet Brookes charmed us with a history course on dance as liberation, and resistance in the UK, while Jennifer Tosch took us on a Black Heritage Amsterdam tour that concluded at the Slave monument- a site of memory, pain, struggle, and not-quite emancipation. In the second week, Philomena Essed explored healing as a form of activism, while Camilla Hawthorne dissected Black Italia, challenging the lens through which we study Europe as an entity, disconnected from its colonial and imperial past and present. Other lectures such as that of David Theo Goldberg focused on a global perspective on racial neoliberalism, nonracialism, post racialism and anti-racism. In turn, Kwame Nimako, the program founder and its current director, drew upon history, geopolitics, economics and race studies to present his 5000-year worlds theory, etching the current construction and dynamics of race and racial relations in the arc of the world's history, present and future.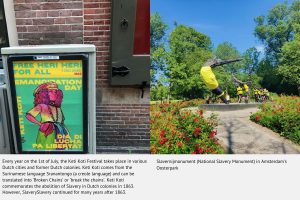 Threading through both weeks was the crucial emphasis of participants as knowledge resources and experts in their own right, with BESS as an affirming space for the dissemination of said knowledge. Along that vein, the summer school featured a symposium where participants presented their academic and activist work: race- Blackness in particular- was contextualized in diverse fields and experiences including sports geography, art and language, movement building and organizing across different contexts, foreign policy and international human rights law. In a brilliant conclusion to a transformative two weeks, BESS participants were treated to a powerful theatrical performance, a call to action to 'invoke the voices of remembrance,' by the Sites of Memory Foundation. Throughout the summer school, significant moments of Black cognition called to our identity as Black folks- for example Keti Koti, the annual 1st July celebration of the emancipation of Suriname from Dutch colonial rule. This brief snapshot cannot capture the breadth of activities, experiences and knowledge gleaned from BESS, but rather provide a roadmap of possibility.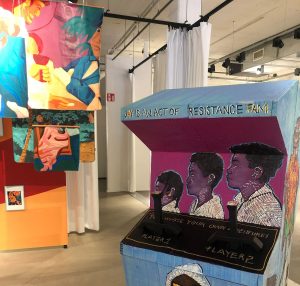 How does BESS contribute to an afro-centric future?
The aftershocks of BESS, unlike an earthquake's, are ones that you welcome wholly as tectonic plates shift to birth you a new world. These aftershocks, by way of collaborative projects such as this one, career support groups via various platforms, physical meet-ups, and brainstorming sessions over video chat, can be felt all over the globe: from Copenhagen to Abu-Dhabi, from Nairobi to Oslo, from Florida to Frankfurt, from Chicago to Shonaland. While these after-shocks may not register on the Richter scale, their existence is evidence of the power of spatial revolution, and in turn, its inherent power to change the world. So, apply for the next rounds of BESS!