Read Time:
22 Minute, 44 Second
In Serbia, prejudice regards the abilities of women in high positions within the working sphere and politics continue to exist, reflecting traditional views of women's role in society. There are systematic obstacles that limit women's self-fulfillment and professional success, despite their access to higher education and active presence in the labour market. Although today a greater number of women than men obtain university degrees, they still constitute a majority of the illiterate population, are less employed than men, commit less to their careers, receive lower salaries for the same work, and face gender-based discrimination in job application processes. Consequently, there are less women in high positions regards all sectors and in entrepreneurship.
Women bossing around and meddling in politics? What is the world coming to?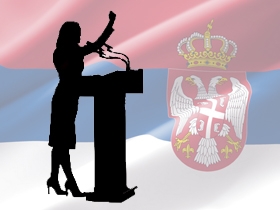 Whenever someone asks the question: "Who make better bosses, men or women?", or a woman appears in a position that before belonged exclusively to men, a wave of strong reactions is sparked. The controversy of this issue implies that women are expected to be essentially different to men, and therefore constrained by stereotypically "female" traits, whether positive or negative, useful or irrelevant for the work in question. Women in high positions are expected to be either caring, gentle, patient, fragile, full of understanding and empathic, or, too strict, aggressive, frustrated and heartless. According to this stereotyping, we are to believe that those traits, which are not considered individual but typical for "a woman", will surely bring something new to the "male" job. In this light, we tend to expect something either extremely good or extremely bad and opposing to men's work. This excess focus on the successes and failures of women in such positions thus irrevocably influences the judgement of the capacities of nearly all women. This line of thought explains why we may panic on entering the airplane of a woman pilot, or perhaps cheer when a woman appears in the scene of some failed company, hoping that she will make wonders with her female superpowers and sort out those irresponsible and careless men.
When it comes to political engagement, we notice outcry and hostility among citizens regarding mandatory quotas of women in parliament, supported by the argument that MP's should be selected based purely on their abilities as opposed to their sex. It seems that men are automatically considered more adequate and qualified, and that the 30% of women in parliament who steal their positions, thanks only to quotas, are destined for disaster. So, Serbia is letting women become MP's only if we ensure their contribution and abilities in advance, whilst men are only dismissed and disqualified if they "mess things up" and turn out to be inadequate. Of course, we will not connect their failures to their gender, but to their individual acts, mistakes and characteristics. Yet, when we want to sabotage a female politician, we shall attack her on social networks with comments such as: "Go back to kitchen where you belong, let go of politics".
The Ministry of Labour, Employment and Social Issues conducted research in 2014 based on the views of 1,204 people about gender equality. Regards political life, one question asked whether an interviewee would select a male or female candidate as an MP if they shared the same qualifications. 18% would choose a man and 16% a woman, the rest wouldn't choose based on gender. Those who selected men mostly justified their choice by "men's superior abilities", i.e. stronger character, determination and the fact that it is a man's job. The group who would choose a woman claimed that women possess qualities of understanding and humanity, are more responsible, fair and that they should prove what they can do. Moreover, in the responses as to whether these jobs should be performed by men or women (President, Prime Minister, leader of a political party, prosecutor, judge, minister, MP), men outnumbered women in all positions. In which case, surely women must prove themselves as better than men in order to be considered adequate for equal roles.
You'll work more and I'll pay you less!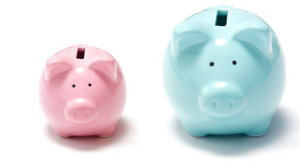 Women face a "glass ceiling" within many sectors of the labour market where there is stronger competition with men. They face "invisible" obstacles that they have to overcome in the demands to surpass average results, so their work can be valued equally to that of men, and rewarded with a promotion or a raise. The gender pay gap in Serbia speaks for itself. According to the data published by Foundation for Development of Economic Sciences, even though the gap exists in all European countries, and the average gap on EU level is 17.5%, in Serbia the unadjusted gap is 3.3%, but when adjusted it rises to 11%, showing an opposite trend in comparison with EU countries where the adjusted gap tends to fall. The unadjusted pay gap is partially interpreted as a pay gap existing due to women being more present in sectors with lower salaries. The gap of 3.3% actually disguises the real gap since low educated and unqualified women are employed in small numbers, and so when we calculate the gap where women would have the same characteristics in labour markets as employed men, it rises to 11%. The gap is bigger in the private sector than the public one, and the biggest gap remains in insurance companies, where women's average pay sits at around 90.144 and men's at 120.518 dinars. Furthermore, over the years we have noticed a gradual drop in average pay in those areas where women are beginning to dominate: education, administration, commerce, finance; revealing even at first glance the lower social evaluation of women's labour force, regardless of the types jobs they do.
All women have to put up with it sometimes, if it bothers you – don't work!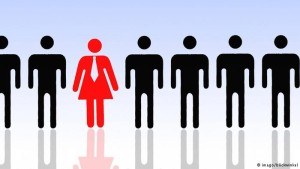 According to recent data published by the Serbian Republic Institute for Statistics for the third quarter of 2015, the employment and activity rate of women is far lower than that of men. The employment rate for women aged 15-64 is 45.8% and for men 60.6%, whilst the activity rate for women is 56.1% and for men 72.5%. That we encourage women to get education and graduate in universities, when they are less likely to secure a job and cash their diploma than men, is a little ironic.
According to research done by the Victimology Society of Serbia in 2012, more women face gender-based discrimination in private sectors over public sectors, as well as women who didn't sign the employment contract and those who had a temporary job. In the process of candidate selection, the most frequent forms of gender-based discrimination were: asking for a photograph when applying for a job, asking questions about marital status and whether the woman is planning on having a child, demanding certain types of appearance, and age limits. In the workplace, women mostly complained about poor working conditions – unpaid overtime, no safety at work, avoiding to pay for social, health and pension insurance, doing work that is not connected to the job title (e.g. cleaning, making coffee etc.), and gender based insults. These factors are followed by sexual harassment, psychological violence, determining lower pay in comparison with male colleagues, the impossibility of reaching a better position, discrimination because of pregnancy and motherhood, and discrimination when firing and determining severance pay. The perpetrators of sexual and psychological violence were mostly bosses and supervisors.
If I am my own boss, at least no one will harass me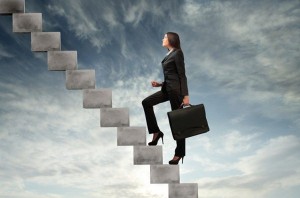 Women are becoming more active in the business sector, although they usually enter in to business as there are no other options once they lose their job, and seldom because they have ambitious and original business ideas. They mostly work in a local market in the service sector. According to data from 2014, women own 26% of shares in all companies, and women's companies take up 31.7% of all companies. Entrepreneurial potential exists among many women who are unpaid family workers, farmers, work in the black market, or live in rural areas. Problems that women entrepreneurs face affect all businesses, for instance, a lack of cheap financial sources, difficulties in the collection of receivables, strong competition, the weak position of small companies on the market, insufficient demand for products and services, high costs, etc. However, women are specifically limited by the lack of family support and the harder obtainment of start-up capital. That is why the state is obligated to create training programmes for unemployed women and loans for women entrepreneurs, following the recommendations of CEDAW. Economic empowerment and support for women in business is one of the crucial goals of the National Strategy and Action Plan for Gender Equality for the period 2016-2020. Results in this field over the next five years remain to be seen.
                                       You're a mum and you work full-time?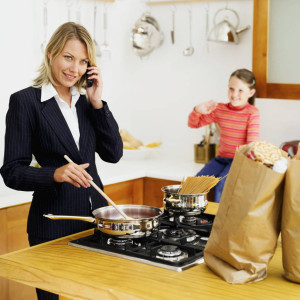 Since the father-breadwinner remains an ideal in Serbian society, the man who earns less than his wife is ridiculed and disrespected. Meanwhile, motherhood and the pursuit of a brilliant career remain in conflict. Both viewpoints are rooted in a traditional culture where a woman is expected to be fully committed to housework and childcare whilst a man must provide for the entire family. There is still widespread thought that a woman must choose, and when we hear about a woman who is performing very well at her job and making good money whilst having a family, we ask if the kids suffer, and if she is single – is she really happy?
This explains why women may feel guilty if they pursue their career dreams and become very successful at their jobs, since this success is linked to selfishness. In a research study about single parents, other types of families and informal employment, 78% of interviewees think that a woman is not fulfilled in her life if she does not have children, 73% think that women are happier when they are married because they have a natural need to form a family, and 61% think women should change their name when they marry. That is why unmarried women are "spinsters" and divorced women are "grass widows", right? Yet, out of 116,349 single parents, women make up 80%  and they file for divorce a lot more frequently than men. The conclusion is that it is not easy to be a woman in Serbia either in private or public sphere, since they are forced to endlessly juggle between career and family, whilst men are not expected to contribute more in housework and childcare so that both partners could reach an equilibrium in both fields. As the cherry on top – violence against women is an everyday occurrence and every year we note a few dozen women who were killed by men (in 2015, 34 women were killed, accordingly only to media). So much for marital bliss.
Gold diggers don't play fair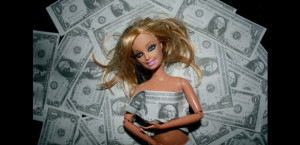 On the other hand, when a woman decides to follow the model of a woman depending on a man and clearly states that she only wants to get married and find a partner who will provide for her, we name her selfish and exploitative. If she becomes too spoiled in pursuit of her wishes – she is thus deemed a gold digger. We don't like the idea of a woman who can, using the very same model that society places before her, make best of her options and get an access so easily to wealth that we mortals work so hard for. Yet, we will not criticise and shame wealthy men who go out with them. We perceive them as powerful because they can afford to get themselves a gold digger, which is viewed as a luxury item. Great hatred is also directed towards young women who reach high positions which we think they are not qualified for, and we automatically suppose that they must have slept with someone in order to get there. If we make a parallel with corruption, we have learned to judge the bribe taker, but not the user of sexual service.  An idea of women using that kind of "weapon" is quite repelling because we don't like it when women have full control over their own sexuality and use it to get what they want, and, on the other hand, we are not discussing the imposition of men that creates the possibility (quite often a condition). This is reminiscent of prostitution, where we constantly humiliate and judge women, but don not punish the men, who actually create the market with their demand.
Reading between the lines – messages that we subtly send to women are: educate yourself but don't take the maximum out of that diploma, make money but not more than a man, get married but don't get too rich, work but not too much (for the sake of your children). Instead of supporting both men and women in professional life, advising equal division of housework, improving institutional conditions which would realise the harmonisation of career and family life, women are systematically undermined, limited, conditioned and undervalued in their work. Finally, when someone questions where the women are in positions of power and responsible jobs, we will answer that they are not trying too hard anyway.
Jednakost žena i muškaraca nije moguće ostvariti bez promena uslovljenih mentaliteta i običaja koji vladaju između muškaraca i žena – Flora Tristan, "Radnička unija", 1843.
U Srbiji i danas postoje velike predrasude o sposobnostima žena na rukovodećim pozicijama i visokim funkcijama u poslovnoj sferi ili u politici koje odražavaju tradicionalna shvatanja uloge žene u društvu. Ako govorimo o ženskoj karijeri uopšte, postoje sistemske prepreke koje ograničavaju njihovu samoaktuelizaciju i profesionalni uspeh, iako se sticanje visokog obrazovanja i aktivno učešće na tržištu rada za žene podrazumeva. Mada danas veći broj žena nego muškaraca završava fakultete (prema podacima RZS iz 2012, među upisanim studentima žena je bilo 56% a među diplomiranim 58%[i]), opet su žene daleko brojnije među nepismenim stanovništvom, manje ih je zaposleno nego muškaraca, manje se posvećuju karijeri, manje su plaćene za isti posao i trpe diskriminaciju na osnovu pola u procesu zapošljavanja i  na radnom mestu. Samim tim postoji i manja zastupljenost žena na rukovodećim pozicijama u svim sektorima kao i u preduzetništvu.
Kuda ide ovaj svet kad žene šefuju i vode politiku?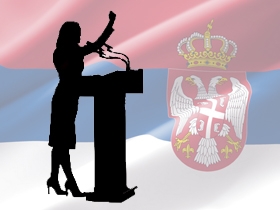 Primećuje se da kada se postavi pitanje "Ko su bolji šefovi, muškarci ili žene?", ili se pojavi žena na nekoj funkciji koja je do sada "pripadala" muškarcima, nastane čitav spektar burnih reakcija koje ukazuju na to da se od žena uvek očekuje da budu esencijalno drugačije od muškaraca, i da prilikom obavljanja posla neizostavno demonstriraju neke stereotipno "ženske" osobine, bile one shvaćene kao pozitivne ili negativne, korisne ili nekorisne za konkretan posao. Tako od žena na pozicijama odlučivanja najčešće očekujemo da u jednoj krajnosti budu brižne, ljubazne, strpljive, pune razumevanja i empatične ili u drugoj suviše stroge, agresivne, isfrustrirane i bezosećajne, i verujemo da će te karakterne osobine koje nećemo smatrati individualnim već tipičnim za "ženu", sigurno doneti nešto drugačije u tom "muškom" poslu. Od žena se uvek očekuje nešto ekstremno dobro ili ekstremno loše i suprotno u odnosu na dosadašnji rad muškaraca, a uspesi ili neuspesi koje budu ostvarile će neopozivo uticati na sud o sposobnostima bezmalo čitavog ženskog roda.
Kada je u pitanju angažovanje u politici, kod građana nailazimo na opšte negodovanje i odbojnost prema obaveznim kvotama zastupljenosti žena u parlamentu, a kao objašnjenje se navodi da ljudi za rad u parlamentu treba da budu izabrani na osnovu sposobnosti. To implicira da se muškarci samo zbog toga što su muškarci automatski već smatraju sposobnijima i kvalifikovanijima i da 30% učešća žena u parlamentu oduzima mesto tim a priori sposobnijim muškarcima, kao i da smo sasvim ubeđeni da žene koje dolaze zahvaljujući kvotama najavljuju katastrofu. Dakle, mi dopuštamo ženama da uđu u ovu sferu pod uslovom da se unapred osigura njihov doprinos i sposobnost, dok se muškarci sankcionišu i diskvalifikuju tek onda kada pokažu neuspeh. Naravno, neuspeh nećemo pripisati njihovom polu nego njihovim individualnim karakteristikama, postupcima i greškama. Sa druge strane, kada neku političarku hoćemo da sabotiramo, često ćemo je na društvenim mrežama ispratiti komentarima: "Vrati se u kuhinju gde ti je i mesto, mani se politike".
Ministarstvo za rad, zapošljavanje, boračka i socijalna pitanja je 2014. na 1204 ispitanika sprovelo anketu o rodnoj o ravnopravnosti[ii], i kada je reč o političkom životu, postavljeno je pitanje da li bi trebalo izabrati muškarca ili ženu kada se bira između poslanika istih kvalifikacija. Naime, 18% se opredeljuje za muškarca, 16% za ženu a ostatak ne bira na osnovu pola. Oni koji biraju muškarca u najvećem broju navode da je izbor uslovljen muškom sposobnošču (opet tom a priori sposobnošću), snažnijim karakterom, odlučnošću i borbenošću i da je to posao za njih. Grupa koja se opredeljuje za žene smatra da one imaju više razumevanja i humanosti, da su odgovornije, pravičnije i da treba da pokažu šta mogu. Takođe, prilikom odgovaranja na pitanje da li određene poslove treba da obavljaju muškarci ili žene (predsednik/ca države, Vlade, političke partije, opštine, tužilac, sudija, ministar/ka, poslanik/ca itd), muškarci prednjače na svim pozicijama. Dakle, očigledno je da od žena očekujemo da se posebno dokazuju i nadmašuju muškarce da bismo ih smatrali adekvatnim za obavljanje poslova kojima su muškarci oduvek imali pristup.
Radićeš više i platiću te manje!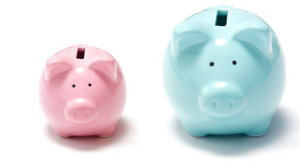 Sa ovim "staklenim plafonom" se tokom svog radnog veka žene suočavaju na tržištu rada u mnogim sektorima u kojima postoji veća konkurencija sa muškarcima. Radi se o nevidljivim preprekama koje žena mora savladati i zahtevima da postiže natprosečne rezultate da bi njen rad bio nagrađen i vrednovan jednako kao rad muškarca, povišicom ili unapređenjem. O tome govori i rodni jaz u platama u Srbiji. Prema podacima Fondacije za razvoj ekonomske nauke, iako jaz postoji u svim zemljama Evrope i u Evropskoj uniji prosečno iznosi 17,5%, u Srbiji nekorigovani jaz iznosi 3,3% a korigovani 11%, što pokazuje suprotnu tendenciju od zemalja EU gde se korigovani jaz smanjuje u odnosu na nekorigovani.[iii] Nekorigovani jaz se jednim delom objašnjava kao razlika u platama koja postoji zbog toga što su žene većinom prisutne u slabije plaćenim zanimanjima. Ovaj jaz od 3,3% zapravo prikriva stvarni jaz jer su žene niskog obrazovanja i niskih kvalifikacija u Srbiji u malom broju uopšte zaposlene, a kada se izračuna nivo jaza u situaciji u kojoj bi zaposlene žene u proseku imale iste karakteristike na tržištu rada kao i zaposleni muškarci, on zapravo raste na 11%, dok se u zemljama EU smanjuje. Jaz je veći u privatnom nego u javnom sektoru, a najveći jaz postoji u oblasti osiguranja, gde je prosečna plata žene 91.144, a muškarca 120.518 dinara. Osim toga, tokom godina se primećuje i postepeno smanjivanje prosečne zarade u onim delatnostima u kojima žene postaju sve brojnije u odnosu na muškarce –  u prosveti, administraciji, trgovini, zdravstvu, ugostiteljstvu, finansijama… To i na prvi pogled otkriva fenomen manjeg društvenog vrednovanja ženske radne snage, ma kojim poslom se one bavile.
Sve žene trpe ponekad, ako ti smeta-nemoj da radiš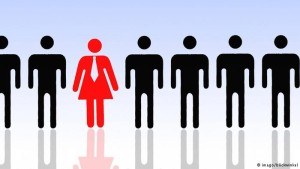 Prema poslednjim podacima Republičkog zavoda za statistiku iz trećeg kvartala 2015[iv], vidi se da je stopa zaposlenosti i stopa aktivnosti žena u odnosu  na muškarce mnogo manja: stopa zaposlenosti žena od 15 do 64 godine iznosi 45,8%, a muškaraca 60,6%, dok je stopa aktivnosti žena 56,1% a muškaraca 72,5%. Pomalo je ironično to što se s jedne strane devojke podstiču da se obrazuju i završavaju fakultete, a sa druge strane su im šanse za zaposlenje i unovčenje diploma koje dobiju dosta manje nego muškarcima. To se ogleda, osim u jazu u platama, u diskriminaciji prilikom zapošljavanja i na radu.
Prema rezultatima istraživanja Viktimološkog društva Srbije iz 2012[v], diskriminaciji na radnom mestu su više bile izložene radnice u privatnom nego u državnom sektoru, žene koje nisu imale potpisan ugovor u radu  i koje su radile na određeno vreme. Prilikom selekcije kandidata, najčešći vid neposredne diskriminacije žena je zahtevanje fotografije  prilikom slanja biografije, postavljanje pitanja o bračnom i porodičnom statusu ili pitanja o tome da li kandidatkinja namerava da uskoro osnuje porodicu, postavljanje zahteva o izgledu i broju godina. Na radu, ispitanice su se najviše žalile na loše uslove – neplaćeni prekovremeni rad, odsustvo zaštite na radu, izbegavanje plaćanja doprinosa za socijalno, penzijsko i zdravstveno osiguranje, obavljanje poslova koji nisu u opisu radnog mesta (kuvanje kafe, čišćenje i slično), omalovažavanje zbog pripadnosti ženskom polu. Slede seksualno uznemiravanje i psihičko nasilje, određivanje manjih zarada u odnosu na muške kolege, nemogućnost napredovanja, diskriminacija zbog trudnoće i materinstva i diskriminacija prilikom dobijanja otkaza i isplate otpremnine. Najčešće su počinioci seksualnog i psihičkog nasilja bili rukovodioci i nadređeni.
Ako šefujem sama sebi, bar me niko neće maltretirati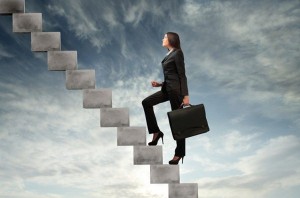 U biznis sektoru žene postaju aktivnije ali se preduzetništvom uglavnom bave iz nužde, nakon što ostanu bez posla, a dosta ređe zbog lične strasti i želje da realizuju neke ambiciozne, originalne poslovne ideje. Takođe, većinom posluju na lokalnom tržištu i u uslužnim delatnostima. Prema podacima iz 2014.[vi] žene poseduju 26% udela u svim privrednim društvima, a preduzeća žena čine 31,7% od ukupnog broja preduzeća. Preduzetnički potencijal se ogleda u velikom broju žena koje spadaju u grupu neplaćenih pomažućih članova domaćinstva, poljoprivrednica, žena koje rade u "sivoj" ekonomiji i žena koje žive u ruralnim područjima.
Prepreke sa kojima se preduzetnice suočavaju u Srbiji su one koje pogađaju sve – nedostatak povoljnih izvora finansiranja, teškoće u naplati potraživanja, preoštra konkurencija, nepovoljan položaj malih kompanija na tržištu, nedovoljna tražnja za proizvodima i uslugama, visoka cena poslovnog prostora, opreme, materijala itd.  Međutim, žene koje se odluče za sopstveni biznis posebno pogađa odsustvo podrške u porodici i teže obezbeđivanje početnog kapitala. Zato je država dužna da prema preporukama Komiteta Ujedinjenih nacija za eliminaciju diskriminacije žena (CEDAW) obezbedi programe prekvalifikacije i obuke nezaposlenih žena, kao i kredite za preduzetnice. Ekonomsko osnaživanje i podsticanje žena u preduzetništvu predstavlja jedan od najvažnih stubova Nacionalne strategije i Akcionog plana za rodnu ravnopravnost koji su doneti za period od 2016. do 2020, tako da još ostaje da vidimo kakvi rezultati će se postići na ovom području u narednih pet godina.
Kako to majka, a ceo dan na poslu?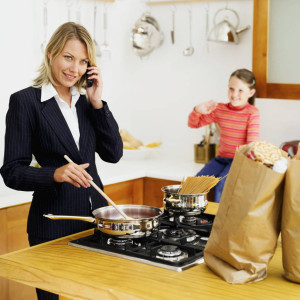 Pošto u srpskom društvu i dalje postoji ideal oca kao hranitelja porodice, na muškarca koji zarađuje manje od svoje žene se gleda sa nipodaštavanjem. Sa druge strane, kod žena su majčinstvo i briljantna karijera i dalje međusobno isključive kategorije. Oba gledišta svoje uporište imaju u tradicionalnom shvatanju prema kom je žena ostvarena ako je maksimalno posvećena kući i deci, a muškarac ako svojom platom može da izdržava celu porodicu. I dalje vlada mišljenje da žena mora da bira, i kada čujemo da se neka žena izuzetno ističe na poslu i dobro zarađuje, ako ima porodicu pitamo se da li deca trpe, a ako je sama da li je zaista srećna? Ovde se zgodno uklapa i citat Simon de Bovoar: "Da li je domaćica srećnija od radnice? Tačno značenje reči sreća nije utvrđeno, a još manje se zna kakve vrednosti ona obuhvata. Ne postoji nikakva mogućnost da se meri tuđa sreća, a uvek je lako proglasiti srećnom situaciju koja želi da se nametne nekome." Ovo doprinosi tome da se žene osećaju krivim ako neguju svoje ambicije i ostvaruju veliki uspeh na poslovnom planu jer se on izjednačava sa sebičlukom.
U istraživanju o samohranim roditeljima, drugim tipovima porodica i neformalnoj zaposlenosti[vii], 78% ispitanika smatra da žena nije ostvarena u životu ako nije majka, 73% smatra da su žene srećnije ako su udate jer imaju prirodnu potrebu da zasnuju porodicu, 61% smatra da žena treba da promeni prezime pri stupanju u brak. Zato su neudate žene "usedelice", a razvedene "raspuštenice", zar ne? Međutim, od 116.349 samohranih roditelja, 80% su žene, i one su mnogo češće te koje podižu zahtev za razvod. Može se zaključiti da u Srbiji nije lako biti žena ni u javnoj ni u privatnoj sferi i da su žene prinuđene da večito vagaju između porodice i karijere dok se od muškaraca ne očekuje da više doprinesu u kućnim i porodičnim obavezama da bi se uspostavila ravnoteža na oba polja kod oba partnera. Kao šlag na torti, nasilje nad ženama je svakodnevna pojava i godišnje beležimo po nekoliko desetina žena koje muškarci ubiju u porodično-partnerskom odnosu (u 2015. 34 žene, i ta cifra je zabeležena samo na osnovu izveštavanja medija). Toliko o snovima o udaji i bračnoj idili.
Sponzoruše ne igraju pošteno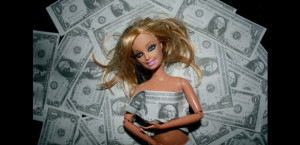 Opet, kada žena samostalno odluči da dosledno sledi model žene koja zavisi od muškarca i jasno stavi do znanja da jednostavno želi da se uda i pronađe partnera koji će je potpuno obezbediti, reći ćemo joj da je koristoljubiva, i ako je u svojim zahtevima razmaženija – sponzoruša. Ne dopada nam se ideja da žena rukovodeći se modelom koji smo joj sami nametnuli iz njega izvuče za sebe što više može i lako dođe do izobilja za koje se mi smrtnici toliko mučimo. Sa druge strane, imućne muškarce koji sa tim sponzorušama izlaze nećemo kritikovati i sramiti jer su sa njima, percipiramo ih kao moćne jer mogu sebi da priušte te iste sponzoruše koje postaju luksuzna roba. Veliki prezir je takođe usmeren prema mladim ženama koje dođu na neku dobru poziciju za koju smatramo da nisu kvalifikovane i automatski polazimo od pretpostavke da su do nje došle "preko kreveta". Ako napravimo paralelu sa korupcijom, naučili smo da oštro osuđujemo primaoca mita, ali primaoca seksualne usluge ne, već sasvim obratno. Pomisao da žene mogu koristiti takvo "oružje" je prilično odbojna jer inače ne volimo kada žene samostalno upravljaju svojom seksualnošću, a kamoli kada je koriste da bi dobile ono što žele, a sa druge strane se uopšte ne bavimo ponašanjem muškaraca koji pred njih tu mogućnost, (a vrlo često-uslov) i postavljaju. To se preliva i na područje prostitucije u kojoj ponižavamo i osuđujemo žene, a muškarce koji svojom tražnjom takvo tržište zapravo formiraju ne kažnjavamo.
Čitajmo između redova – poruke koje se ženama suptilno šalju su: obrazuj se ali nemoj izvući maksimum iz te diplome, zarađuj ali ne više od muškarca, obavezno se udaj ali ne baš bogato, radi ali ne previše, da deca ne trpe. Umesto da se oba pola jednako podstiču u profesionalnom životu, da se u porodici ravnomerno dele kućne obaveze, da se unapređuju institucionalni uslovi pod kojima će se karijera i porodični život uskladiti, žene su te koje se sistematski sputavaju, ograničavaju, uslovljavaju i u radu potcenjuju. Naposletku, kada se postavi pitanje gde su žene na rukovodećim pozicijama i u odgovornim poslovima, mi ćemo odgovoriti da se ionako ne trude previše.
[i] http://pod2.stat.gov.rs/ObjavljenePublikacije/G2014/pdf/G20146008.pdf
[ii] http://www.mc.rs/upload/documents/istrazivanje/2014/09-25-14-Rodna-ravnopravnost.pdf
[iii] http://www.fren.org.rs/node/282
[iv] http://webrzs.stat.gov.rs/WebSite/repository/documents/00/01/94/64/RS10_321_srb-III_kvartal_2015_izmena.pdf
[v] http://www.mc.rs/upload/documents/saopstenja_izvestaji/2012/09262012-Diskriminacija-zena-na-trzistu-rada-u-Srbiji.pdf
[vi] http://www.mc.rs/upload/documents/istrazivanje/2014/09-25-14-Polozaj-zena-u-biznis-sektoru-u-Srbiji.pdf
[vii] http://www.mc.rs/upload/documents/istrazivanje/2014/09-25-14-Istrazivanje-osamohranim-roditeljima.pdf