Read Time:
8 Minute, 28 Second
Dalia Grybauskaitė has been twice elected as Lithuania's president and has been hailed as an influential female leader. A discussion of her career and achievements.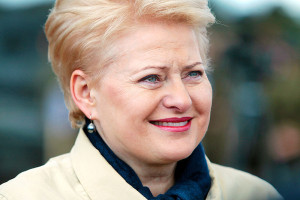 Women are taking up top job positions more and more and are succeeding as leaders. In particular, women have made strides in the political arena, especially considering it wasn't so long ago that women couldn't vote and now they are becoming successful political leaders. However, the transition to leadership positions does not come easily, with many women having to far out-perform men in order to be taken seriously and to be promoted.
Since independence was reinstated in Lithuania, women have become more involved in politics and in 2002, women began participating in presidential elections. Four women have campaigned in the elections and one woman was successful. On the 12th July 2009, Dalia Grybauskaitė was sworn in as President of Lithuania – the first female President in the history of the country. She received 69% of the votes, the highest on record in independent Lithuania. Her support was grounded in the fact that she had a proven track record as Vice-Minister of Foreign Affairs, Finance Minister and European Commissioner for Financial Programming & Budgeting. Due to the financial crisis of the time, Dalia focused on helping the economy, taking mesaures to increase exports, reduce taxes for small businesses and maximize the use of EU aid. In 2014, she was re-elected by 58% of the votes.
Dalia never had dreamt of becoming president, but rather pursued her career to the highest possible level, working hard at every opportunity. She studied internationally and worked as a lecturer, minister and commissioner, proving that she has a broad range of skills and competencies. Her determination led her to run for presidency and seemed at the time to be the natural progression of her career.
Today, Dalia is a modern leader and maintains a strong connection with the Lithuanian people through social media interaction, sharing her news, schedule and ideas. Some people gossip about her being lesbian, but there is not enough information to "prove" that it is true.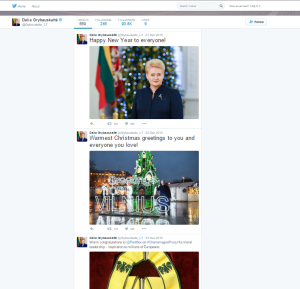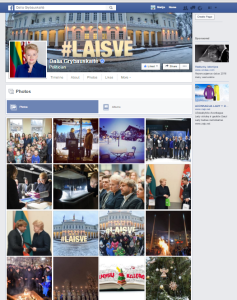 There are some measures in the fight against corruption which the Lithuanian President has taken and which have been crowned with success:
• Illegal enrichment has become a crime. Individuals who have
high-value assets and cannot justify them by their legal income are prosecuted.
• In the fight against corruption, there are no longer people who are "untouchable". The list of the persons prosecuted for illegal enrichment included politicians.
• Guaranteed security and anonymity for people who inform about illegal activities.
• Details about public procurement contracts need to be published.
• The general public has access to information about public sector employees.
• The fines for smuggling and other economic and financial crimes were increased by the factor 5.
These measures had a real effect on the political system. Within three years, more than 150 cases of corrupt or careless officials were detected. Public Procurement offenses have decreased by half. Also, the fight against the misuse of EU funds was a success: It was found that some project operators attempted illegally to put aside about 157 million litas (around 47 million €) of EU funds.
Lithuania made progress in controlling large-scale corruption (although small-scale corruption still remains a problem). According to the Corruption Perceptions Index, Lithuania rose to 43rd place out of 177 countries (More: Dalia fights against corruption).
In addition to these compliments in the fight against corruption, Dalia has also negotiated a 10% increase of EU funds for Lithuania for the period 2014-2020, compared to the previous period.
She moreover has tried to limit Lithuania's relationship with Russia, aspiring to reduce the country's reliance on Russia for energy. Currently all the electric power sources come from Sweden and Poland, but Lithuania continues to depend on Russia for gas. Dalia is also developing Lithuania's own source of energy, a tank ship has been installed named "Independence" which provides liquefied natural gas.
Dalia has received international recognition in a wide range of outlets praising her for her ambition and resolve. The American magazine "Glamour" in 2010 recognized her as "Woman of the Year" in the category of "Female Heads of State: The Chosen Ones". She has been nicknamed "Lithuanian Obama", "Iron Lady" or "Steel Magnolia". She was also chosen to feature in the BBC film "The Power of Women", which focused on the most influential women in the world and detailed how she became president of Lithuania. The producer of the film described her as the leader of Europe. In 2013 she boycotted the Sochi Winter Olympics, supporting Ukraine. For that reason in 2015 she was elected a "Person of the year" in Ukraine. In 2014 she was elected as chair of the Council of Women World Leaders which unites the most powerful women in the world. As the Secretary-General of the United Nations Ban Ki-moon states "Women have a fresh outlook on our most difficult problems." 
To conclude, it is interesting what Dalia will do and achieve till 2019 when the term of office will expire, but we can definitely say that what she has done is a revolution for women in Lithuanian policy making. Perhaps she is one of the reasons why lately, more women have been running for positions in policy making in Lithuania.
Dukart išrinkta Lietuvos Respublikos prezidente ir buvo įvertinta kaip politinė lyderė. Trumpa diskusija apie jos karjerą ir darbus.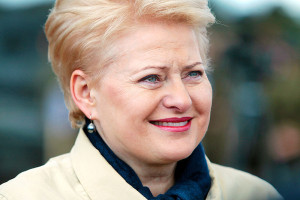 Vis daugiau moterų užima TOP pozicijas darbe ir yra sėkmingos kaip lyderės. Moterys taip pat tampa  geresnės politinėje arenoje. Žvelgiant į istoriją, ne taip seniai moterys net neturėjo teisės balsuoti, o dabar jos tampa politinėmis lyderėmis. Tačiau šis perėjimas nėra lengvas, kadangi moterys turi ,,perspjauti'' vyrus, kad būtų tinkamai įvertintos ir skatinamos.
Nuo tada, kai Lietuva tapo nepriklausoma moterys pradėjo aktyviau dalyvauti politikoje, o 2002 metais dalyvauti prezidento rinkimuose. Šiuose rinkimuose kandidatavo keturios moterys ir vienai iš jų jie buvo sėkmingi. 2009 metų liepos 12 dieną Dalia Grybauskaitė tapo Lietuvos Respublikos prezidente. Surinkusi rekordinį rinkėjų balsų skaičių – net 69% balsų. Laimėjimas buvo pagrįstas pastoviu geru darbu būnant užsienio ministro pavaduotoja, finansų ministre, bei Europos sąjungos komisare (atsakinga už finansus). Finansinės krizės metu Dalia susitelkė ties eksporto didinimu, mažesniais mokesčiais smulkiajam verslui ir kuo didesne parama iš Europos Sąjungos. Toks ekonomikos gerinimas buvo viena iš priežasčių perrinkti Dalią antrai kadencijai, taigi 2014 metais 58% rinkėjų tai padarė.
Būti Lietuvos Respublikos prezidente nebuvo Dalios Grybauskaitės siekis ar svajonė. Tiesiog jos atkaklus darbas pasiekė aukščiausią galimą įvertinimą. Dalios įgūdžiai ir kompetencijos grindžiamos jos studijomis ir dėstymu užsienyje, patirtimi dirbant ministre, bei komisare. Dėl šių priežasčių jos dalyvavimas Prezidento rinkimuose atrodė visiškai natūralus procesas. Negano to, Dalia yra šiuolaikiška ir socialinių tinklų pagalba palaiko ryšį su žmonėmis, dalinasi nuotraukomis ir mintimis. Sklinda gandai , kad galbūt ji yra lesbietė, tačiau nėra pakankamai tai patvirtinančios informacijos.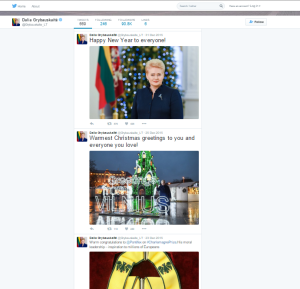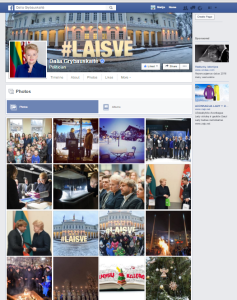 Apžvelkime gerus Dalios veiksmus kovojant su korupcija:
• Neteisėtas praturtėjimas tapo nusikaltimu. Nuo 2010 metų baudžiamojon atsakomybėn traukiami didelės vertės turtu disponuojantys asmenys, negalintys įgyto turto pagrįsti teisėtomis pajamomis.
• Nusikalstamais būdais sukaupto turto negalės išgelbėti nei draugai, nei giminės. Įteisintas išplėstinis turto konfiskavimas.
• Kovoje su korupcija neliko neliečiamųjų.Į asmenų tikrinamų dėl neteisėto praturtėjimo, sąrašą įtraukti ir politikai.
• Prasidėjo realus apsivalymas policijos sistemoje. Per trejus metus išaiškinta per 150 korumpuotų ar aplaidžiai dirbančių pareigūnų.
• Užtikrinta apsauga ir anonimiškumas apie korupciją ir kitas neteisėtas veikas pranešusiems asmenims.
• Stabdomas ES lėšų savinimasis. Nustatyta, kad projektų vykdytojai pasikėsino neteisėtai gauti apie 157 mln. litų ES paramos lėšų.
• Viešųjų pirkimų pažeidimų sumažėjo dvigubai. Nuo šiol privaloma viešai skelbti informaciją apie visus be išimties viešuosius pirkimus, jų laimėtojus ir sudaromas sutartis.
• Visuomenei suteikta teisė gauti informaciją apie viešajame sektoriuje dirbančius asmenis.
• Sukčiauti tampa nepelninga. Penkiskart padidintos piniginės baudos už kontrabandą ir kitus ekonominius, finansinius nusikaltimus.
• Lietuvos pažengė suvaldant stambaus masto korupciją. Smulkioji korupcija kol kas dar išlieka problema. Kovoje su korupcija – pirmieji žingsniai pažangos link. Už korupcinius nusikaltimus pernai teismai skyrė beveik 1 mln. litų baudų. Pagal korupcijos suvokimo indeksą Lietuva pakilo į 43 vietą iš 177 valstybių. (Daugiau: "Dalia Grybauskaitė išvardijo nuveiktus darbus: kovoje su korupcija neliko neliečiamųjų, neteisėtas praturtėjimas tapo nusikaltimu, Lietuvos žmonės yra saugūs").
Taip pat, 2014-2020 metams ji išsiderėjo 4 mlrd. didesnę paramą nei ankščiau. Tobulėjimo sulaukė ir vidutinis užmokestis, bei jaunimo įsidarbinimas – abu išaugo. Prezidentė palaiko kuo silpnesnius ryšius su Rusija, nes siekia kuo mažesnės prilausomybės dėl energijos. Nepaisaint, kad elektra gaunama iš Švedijos ar Lenkijos, tačiau dujos atkeliauja iš Rusijos. Dalios planuose yra nuosava Lietuvos energija, to įžanga galime vadinti į Klaipėdą atvykusį tanklaivį ,,Indepence" tiekiantį suskystintas gamtines dujas.
Dalia sulaukia ir tarptautinių pripažinimų. Amerikiečių žurnalas ,,Glamour'' išrinko ją metų moterimi, kuriame buvo nominuota ne viena svarbi šalies vadovė. Neveltui dėl savo tvirto charakterio Dalia Grybauskaitė yra vadinama ,,Lietuvos Obama'', ,, Geležine ledi'' ar ,,Plienine Magnolija''. Britų kanalo ,,BBC'' režisieriai pasirinko Dalią dokumentiniam filmui ,,Moterų galia''. Šiame filme bus rodomos įtakingiausios pasaulio moterys, taip pat jame bus parodytas Dalios kelias iki prezidentės posto. Dalia Grybauskaitė matoma kaip viena iš Europos lyderių. 2013 metais ji palaikė Ukrainą boikotuojant Sočio žiemos olimpines žaidynes. Dėl to, 2015 metais Ukrainoje ji tapo metų žmogumi. 2014 metais tapo Pasaulio moterų lyderių tarybos pirmininke. Ši taryba vienija galingiausias pasaulio moteris. Kaip Jungtinių Tautų (JT) generalinis sekretorius Ban Ki-moon išsireiškė: ,,Moterys turi naują požiūrį į mūsų senas sunkias problemas''. Vis daugiau moterų užima TOP pozicijas ir tampa lyderėmis, pagaliau  tinkamas laikas mums, nes rinka tampa vis atviresnė moterims.
Baigiant, įdomu ką Dalia dar padarys per savo likusią kadenciją iki 2019 metų. Tačiau galime  teigti , kad jos dėka moterų įsitraukimas į savivaldybes, ministerijas ir parlamentą didėja.