Read Time:
9 Minute, 35 Second
Last year's parliamentary elections introduced a record number of women to the Polish Parliament, as well as the third female Prime Minister. However the Polish political scene still remains dominated by men, and the idea of female politicians as "puppets" is widely talked about.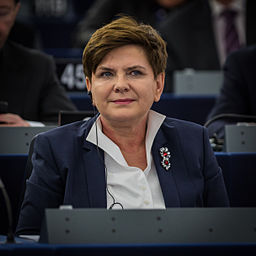 When Beata Szydlo of the conservative "Law and Justice" (PiS) party became the Polish Prime Minister in November 2015, she followed two women who had held the post before her: Hanna Suchocka and Ewa Kopacz. In contrast to other European countries, women serving as prime ministers are therefore no big news anymore on the Polish political scene. In addition, more women than ever before entered the Polish Parliament with last autumn's elections. However, Polish politics is far from being an equal space for women.
The number of female MPs: increasing, but not sufficient
The number of women who got elected into the Sejm (the lower chamber of the Polish Parliament) rose to 27% with the last elections, attaining a total of 125 seats. While still not being equal, this is a big improvement in comparison to the previous situation with 24% of female MPs. Part of this success is due to a quota law adopted in Poland in 2011. For example after the last parliamentary elections before introducing quota law (2007) there was only 21% of women in the Sejm. The quota law requires an electoral list to have no less than 35% women and 35% men in order to be registered. The law explicitly states both genders. Nevertheless, the men on the electoral lists have never been in the minority, just as the women have never had the majority.  The effect of the law can also be seen when comparing the Sejm with the situation in the Senate (upper chamber), where no such rules apply. Here only 13 of 100 senators are women. Still, the quota law is not a patent remedy – change is happening, but not fast enough. One of reasons is a deeply rooted social belief that women are "not fit to govern" which means that they are not taken seriously enough from the outset. Therefore, many do not take the quota seriously. Women rarely occupy the leading positions on the lists, and some parties either put women on the lists only as a matter of necessity – most frequently in last position – or fill the list with female members of their own families or celebrities with no political experience.
Appearance isn't everything
The effect of the prejudice against female politicians can also be seen in other aspects. As in other countries, in Polish modern society public figures are constantly being judged and rated regardless of their gender. Unfortunately, women in addition are still assessed in terms of their appearance and the clothes they wear. For example, there are Polish websites which rank female politicians according to their supposed level of beauty, track the changes in their appearance over the years or read about their fashion "slip-ups".[1] This situation is harmful for women's careers in politics, given that thereby gender stereotypes impact the way women are constructed in the media even before they are given a chance to put forward their policies. Apart from all of these traps, a woman's sexuality is also often used against her, in order to challenge her authority or question her professionalism. In the most recent presidential elections a young female candidate, Magdalena Ogorek, had her appearance widely commented on in both Polish and foreign media. Regardless of the content of her election program or her public speeches, comments on her beauty or speculations about her private life went far beyond acceptable limits.
Women politicians as "puppets"?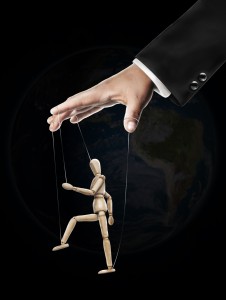 Qualities such as sensitivity and protectiveness, which are stereotypically assigned to women, are often used by political parties to improve their public image. This also happened in Poland during last parliamentary and presidential elections. Smiling young women appeared on the electoral meetings, rallies and promoted parties on the Internet. Nevertheless they are rarely given a chance to speak out. The concept of a female politician as a "puppet" is discussed in Poland. Current political situation is also one of the reasons for that. During the parliamentary elections there were many opinions voiced that Beata Szydlo was named as a prime ministerial candidate solely to increase the chances of the PiS to win the election. The President of the party Jaroslaw Kaczynski, though much more recognizable, provoked a range of emotions amongst the voters who did not see him as fit for leadership. After the victory of the PiS it was highly debated as to whether Szydlo would actually take office. Nevertheless, she became the prime minister of the party and succeeded to quickly become the most recognizable and visible woman of Polish politics. But the power and authority that Jaroslaw Kaczynski holds in the party remains undeniable: Both Polish and foreign public opinion suggest that President Kaczynski remains the main decision-maker, and Beata Szydlo simply acts as the front for the party.[2] Undoubtedly, women have achieved a lot in polish politics. They occupy high positions and make important decisions about Polish future. Nevertheless, social changes are essential for female politicians to be judged only on the basis of their competences and to be treated with respect they deserve. Teaching the society to look beyond prejudices as well as great examples of Polish female politicians are important. However, it is very difficult and hard to eradicate stereotypes.
It is a process lasting at least a couple of generations. In order to speed up those changes and not to waste women's potential strategies like quotas are necessary. Because of them Poles are able to quickly see with their own eyes that not only women are "fit to govern" but that they can do it perfectly.
[1] E.g.: "Najlepiej ubrane kobiety w polskiej polityce", "Najgorsze wpadki modowe w świecie polityki", "Polityka zmienia kobiety"  
[2] E.g.: "Jaroslaw Kaczynski: Poland's kingmaker", "Zakon PC. Najwierniejsi z wiernych biorą władzę",  "Polska na jednym zdjęciu. Prezes PiS przywołuje Szydło, ta grzecznie do niego schodzi…" 
Zeszłoroczne wybory parlamentarne wprowadziły do polskiego Parlamentu rekordową liczbę kobiet. Trzecia w historii kobieta zajęła stanowisko Premiery. Scena polityczna pozostaje jednak zdominowana przez mężczyzn, a polityczki niejednokrotnie przedstawiane są w debacie publicznej jako ,,marionetki.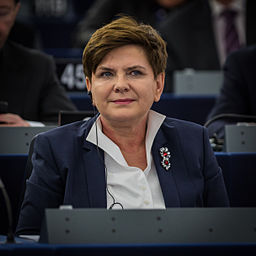 Beata Szydło obejmując urząd w listopadzie 2015 r. miała dwie poprzedniczki: Hannę Suchocką i Ewę Kopacz. W przeciwieństwie do wielu europejskich krajów, kobieta na stanowisku szefowej rządu nikogo już dziś w Polsce nie dziwi. Ponadto zeszłoroczne wybory parlamentarne wprowadziły do polskiego Parlamentu rekordową liczbę kobiet. Podział sceny politycznej zdecydowanie nie jest jednak równy.
ą to scena polityczna zdominowana pozostaje przez mężczyzn. Bez względu na różne instrumenty mające zwiększyć udział pań we władzy, podział ten pozostaje drastycznie nierówny. Kobiety, którym udaje się trudna sztuka przedostania się do najwyższych politycznych stanowisk muszą liczyć się z tym, iż społeczeństwo, ich polityczni oponenci, a nawet zwolennicy nie pozostawią faktu płci bez znaczenia. Płeć wciąż wykorzystywana jest by obalać autorytet, kwestionować profesjonalizm czy podważać racje.
Ilość kobiet w polskim Parlamencie stale się zwiększa, to jednak zbyt mało.
Kobiety uzyskały 27% wszystkich mandatów poselskich, czyli 125. Choć sytuacja nie jest idealna, jest to duża poprawa w porównaniu z 24% z poprzednich wyborów. Przyczyną tego sukcesu jest w dużej mierze tzw. ustawa kwotowa uchwalona w Polsce w 2011 r. W wyborach parlamentarnych w 2007 r. (a więc ostatnich przed wprowadzeniem kwot) kobiety uzyskały jedynie 21% miejsc w sejmie. Zgodnie z ustawą kwotową, aby lista wyborcza została zarejestrowana musi znajdować się na niej nie mniej niż 35% kobiet i 35% mężczyzn. Prawo mówi o przedstawicielach każdej płci, a nie kobietach, ale mężczyźni na listach nigdy nie byli w mniejszości, tak jak kobiety nigdy nie miały większości.
Skuteczność ustawy może zostać ukazana w zestawieniu z sytuacją w Senacie. W wyborach do Senatu nie obowiązują żadne regulacje wyrównujące szanse kobiet. Senatorek mamy zaledwie 13 na 100 miejsc. Widać zatem, że ustanowienie kwoty przynosi zmiany, następują one jednak stanowczo zbyt wolno. Dużą rolę odgrywa tutaj mocno zakorzenione przekonanie społeczne, że kobiety ,,nie nadają się do rządzenia". W związku z tym, nie jest tajemnicą, że niektóre ugrupowania nie traktują wprowadzonych ustawą kwotową nakazów poważnie i umieszczają kobiety na ostatnich miejscach wyłącznie ,,dla formalności". Zapełniają listy członkiniami własnych rodzin czy celebrytkami bez żadnego politycznego zaplecza.
Wygląd to nie wszystko.
Krzywdzące działanie uprzedzeń można przedstawić także na innym tle. Przedstawiciele władzy, bez względu na płeć, jako osoby publiczne są nieustannie oceniani. Niestety kobiety są wciąż postrzegane przez pryzmat swojej urody czy garderoby. W Internecie można znaleźć rankingi najładniejszych polskich polityczek, prześledzić opatrzone komentarzem ,,metamorfozy" oraz przeczytać o ich modowych wpadkach. [1] Sytuacja taka negatywnie wpływa na obraz polityczek. Stereotypy głoszone przez media kreują pewien wizerunek polityczki, nim dostanie ona szansę się w ogóle wypowiedzieć. płci deformują naszą ocenę. Seksualność kobiet także jest niejednokrotnie używana przeciw nim. Bez względu na to jakie zdanie miało się o programie wyborczym kandydatki Magdaleny Ogórek czy o jej publicznych wystąpieniach, komentarze dotyczące jej urody czy domysły na temat życia prywatnego znacznie przekraczały wszelkie dopuszczalne normy.
Polityczka ,,marionetką"?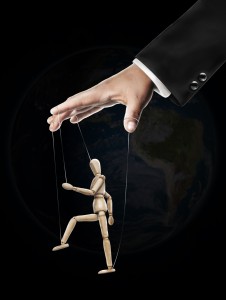 Stereotypowo przypisywane kobietom cechy, jak wrażliwość i opiekuńczość są wykorzystywane przez ugrupowania w celu ,,ocieplania" wizerunku. Zjawisko to można było zaobserwować podczas ostatnich wyborów prezydenckich i parlamentarnych. Uśmiechające się młode kobiety pojawiały się na spotkaniach wyborczych, wiecach, promowały partie w Internecie. Prawie nigdy jednak nie zabierały głosu.
Kategoria polityczki jako marionetki jest coraz częściej w Polsce dyskutowana. Także teraz, w kontekście aktualnej sytuacji politycznej. Już podczas wyborów parlamentarnych pojawiały się opinie, iż Beata Szydło kreowana jest jako kandydatka na premierę tylko po to, aby zwiększyć szanse Prawa i Sprawiedliwości na zwycięstwo. Prezes Jarosław Kaczyński, choć zdecydowanie bardziej rozpoznawalny, budził bowiem u wyborców skrajne emocje. Po zwycięstwie PiS zastanawiano się czy Szydło faktycznie obejmie stanowisko. Beata Szydło została jednak premierą. Odniosła duży sukces z osoby całkowicie anonimowej stając się najbardziej rozpoznawalną kobietą polskiej polityki. Autorytet Jarosława Kaczyńskiego w PiS pozostaje jednak niezaprzeczalny. A opinię publiczną, także zagraniczną, zastanawia fakt, czy to prezes Kaczyński nie pozostaje głównym decydentem, a Beata Szydło wykonuje po prostu powierzone jej zadania. [2]
Kobiety w polskiej polityce osiągnęły już bez wątpienia bardzo wiele. Zajmują wysokie stanowiska i podejmują poważne decyzje dotyczące przyszłości kraju. By jednak były oceniane jedynie na podstawie ich kompetencji, a także aby były traktowane z należnym im szacunkiem zmiany społeczne są niezbędne. Wspaniałe przykłady polskich polityczek oraz edukowanie Polaków, aby byli w stanie spoglądać ponad uprzedzeniami są istotnymi czynnikami. Stereotypy jest jednak bardzo trudno wyeliminować. Jest to proces trwający co najmniej kilka pokoleń. Aby przyspieszyć te zmiany i nie marnować potencjału kobiet, instrumenty jak suwak czy kwoty są niezbędne, aby Polacy mogli szybko i na własne oczy przekonać się, że kobiety nie tylko ,,nadają się do rządzenia", ale także że potrafią to robić doskonale.
[1] E.g.: "Najlepiej ubrane kobiety w polskiej polityce", "Najgorsze wpadki modowe w świecie polityki", "Polityka zmienia kobiety"  
[2] E.g.: "Jaroslaw Kaczynski: Poland's kingmaker", "Zakon PC. Najwierniejsi z wiernych biorą władzę",  "Polska na jednym zdjęciu. Prezes PiS przywołuje Szydło, ta grzecznie do niego schodzi…" [:]