Read Time:
9 Minute, 59 Second
Sexual violence against women is one of the most harmful forms of gender-based violence. In Croatia, it is the most problematic form of violence because it is one of the least recognised and least reported crimes.
"Protocol of Conduct in the Cases of Sexual Violence"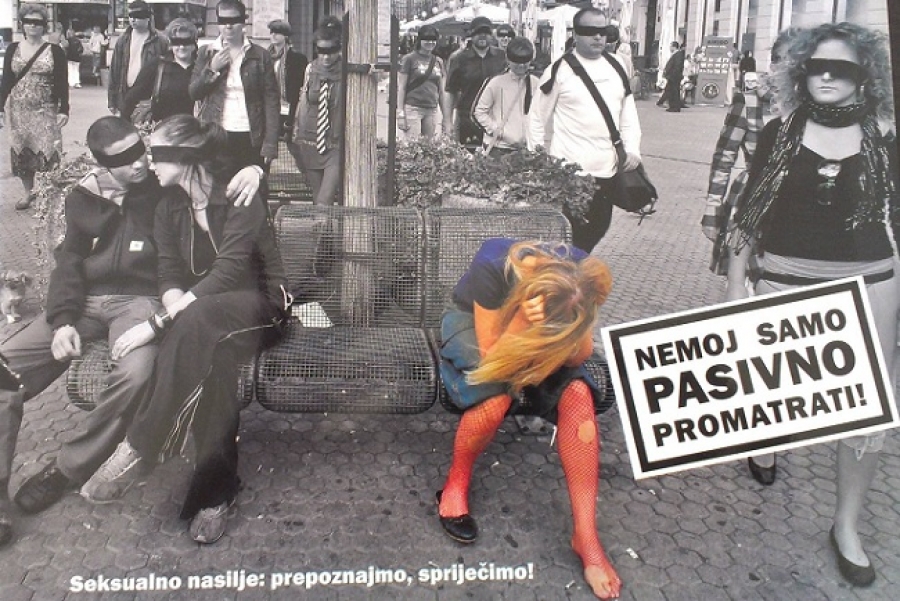 Sexual violence is a violation of women`s basic human rights and oppression against women created by  a patriarchal society. Sexual violence is omnipresent, regardless of age, race, class, religion, etc., and it is characterized by a continuum. Women and girls are persecuted throughout their day, on the street, at work and at home. Sexual violence is a continuum from sexual harassment and sexual abuse, right through to rape and incest as well as  trafficking in women for the purposes of forced prostitution or pornography.Other forms of sexual violence include ritual practice, punishment for gender transgression, rape as a weapon of war and female genital mutilation are also form of the sexual violence.
Approximately 1 in 4 women will experience intimate partner sexual violence in their lifetime and a third of girls will lose their virgnity through force (WHO, 2002). For every reported case of rape, it is estimated that another 15 to 20 cases of rape go unreported. Data from the Women's Room – Center for Sexual Rights  in Croatia shows that 17% of women have experienced attempted rape or rape. Of this 17% , only 5% reported such violence to the police and/or the State Attorney's Office (Women's Room, 2006). Women's Room – Center for Sexual Rights is a civil society organization in Croatia that runs the only counseling programme for survivors of sexual violence at their Center for Victims of Sexual Violence in Croatia.
Croatia is a small country with over 4 millions inhabitants; women make up 51% of the population. According to the recommendations from the Council of Europe's specialized group for combating violence against women, every country should have one centre for survivors of sexual violence per 200,000 women. With an estimated population of over 2 million women; the Center for Victims of Sexual Violence is the only one.
One of the biggest problems is that survivors of sexual violence are often stigmatized, viewed as persons who have made irresponsible choices and decisions that contributed to the violence they experienced. Society sees them as persons who are partially guilty because they share responsibility for the crime committed against them and, as a result, offers no systematic help and support. In addition to this problem, behaviour and treatment of the government institutions towards survivors of sexual violence in Croatia is also cause for concern. Lack of awareness, empathy and most of all, specialized knowledge and/or systematic trainings on how to work with survivors of sexual violence often manifest itself as a significant obstacle during processing of cases and providing protection. And the cherry on top, the minimum sentence for rape, for example, is one year in Croatia. Due to overcrowding in prisons and, I in my opinion  the generally accepting attitude toward this type the most hideous crime against women, the perpetrators serve just 2/3 of their sentences.  And lets not  forget that the criminal proceedings last from anywhere between 3 to 6 years.
Taking all this in mind, we can see that the path to truly preventing and ending sexual violence is long. However, one big step forward has been taken in the form of the "Protocol of Conduct in the Cases of Sexual Violence" (the Protocol) was adopted by the Croatian Parliament in 2012 after years and years of working on it and lobbying for it.[1] The Protocol is a Croatian national policy document which is mandatory reading for all government institutions/bodies  that work with survivors of sexual violence and  promotes a survivor-centered approach to care. The Protocol is based on laws and regulations and on the obligations prescribed by National Policy for Gender Equality 2011 – 2015, as well as on the Recommendation Rec(2002)5 of the Committee of Ministers to member states on the protection of women against violence, and the Explanatory Memorandum.
This document is important for survivors of sexual violence in Croatia because it proscribes current, compassion as well as gender and culturally sensitive and comprehensive help and support.This Protocol is obligatory reading for five government institutions: police, health services, judicial authorities, social welfare centers and educational institutions.
Since the survivors of sexual violence  are faced with the daunting task of reporting the crimes committed against them multiple times, cooperation between the relevant institutions is crucial. For this reason, and to prevent further victimization of survivors, the Protocol includes important aspects such as  cooperation between the competent bodies and other factors involved in identification and elimination of sexual violence and providing assistance and protection to persons who were exposed to sexual violence.
The process of reporting sexual violence must be as easy and comfortable as possible to avoid traumatizing survivors of sexual violence. We know that if we make this process easier, the number of reports of sexual crimes will increase. This is possible only if we ensure standardized and efficient procedures for survivors as outlined in the Protocol.
International Day for the Elimination of Violence against Women is  the only day out of the year when society stops and thinks about these violations of basic women. But oppresion, violence and discrimination is omnipersent, 24/7, in our homes, in our beds, in our places of work, in our schools and on the street.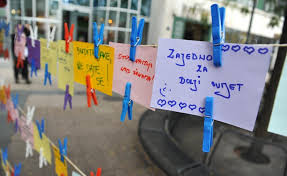 Sexual violence is one form of the violence that we should talk about more louder every day until it ends, until all women and girls feel free and safe, as of sexual violence, as well as from any other form of violence that we suffer because of our gender.
Women`s Room – Center for Sexual Rights
Republic of Croatia
_______________________
[1] Women`s Room – Center for Sexual Violence was the initiator and founder of the idea.
Seksualno nasilje jedan je od oblika nasilja nad ženama i ono je rodno uvjetovano nasilje. To je najproblematičniji oblik nasilja jer je jedan od najmanje prepoznatljivih te najmanje prijavljivani zločin u Republici Hrvatskoj, a i šire.
"Protokol o postupanju u slučaju seksualnog nasilja"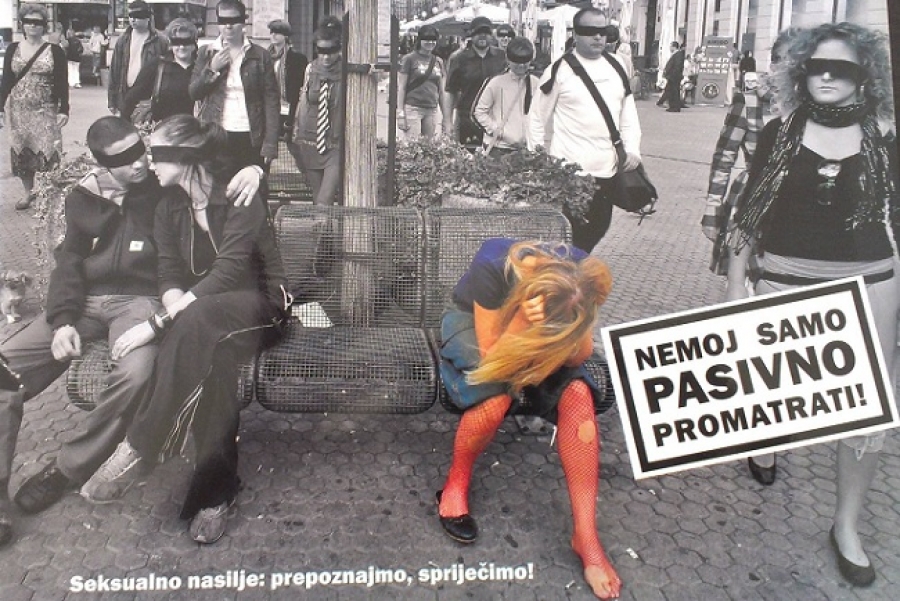 Seksualno nasilje je najozbiljniji oblik nasilja koji narušava osnovna ženska ljudska prava te je najgori oblik opresije protiv žena koji je patrijarhalno društvo moglo stvoriti. Seksualo nasilje je sveprisutno, bez obzira na dob, rasu, klasu, religiju, i tako dalje, te ga karakterizira kontinuum. Ono prati žene i djevojke od početka do kraja dana, na ulici, na radnom mjestu, u vlastitom domu. Seksualno nasilje je kontinuum od seksualnog uznemiravanja i seksualnog zlostavljanja, preko silovanja i incesta do trgovanja ženama u svrhu prisilne prostitucije ili pornografije. Ritualne prakse, kažnjavanje rodne transgresije, silovanje u vrijeme rata te genitalno sakaćenje žena su također oblici seksualnog nasilja.
U prosjeku 1 od 4 žene tijekom života preživi seksualno nasilje od strane partnera, dok je trećina djevojaka prisiljena na prvi spolni odnos (WHO, 2002). Na jedan slučaj prijavljenog silovanja policiji, dolazi 15 do 20 neprijavljenih slučajeva silovanja. Podaci Ženske sobe – Centra za seksualna prva pokazuju da je 17% žena doživjelo pokušaj silovanja ili silovanje. Svega 5% žena je, od ranije spomenutih 17%, prijavilo nasilje policiji i/ili državnom odvjetništvu (Ženska soba, 2006). Ženska soba – Centar za seksualna prava je organizacija civilnog društva u Hrvatskoj u okviru koje djeluje jedino savjetovalište Centar za žrtve seksualnog nasilja u Hrvatskoj.
Republika Hrvatska je mala zemlja s preko 4 milijuna stanovnica/ka. Žene u našoj zemlji čine 51% populacije. Prema preporukama Vijeća Europe i specijalne grupe za borbu protiv nasilja nad ženama, u svakoj državi bi na 200,000 žena trebao djelovati jedan centar za osobe koje su preživjele seksualno nasilje, dok u Hrvatskoj, na oko 2 milijuna žena, djeluje jedan jedini Centar za žrtve seksualnog nasilja.
Jedan od problema je taj da su osobe koje su preživjele seksualno nasilje često stigmatizirane kao one koje su pridonijele nasilju zbog svojih neodgovornih izbora i odluka.  Društvo ih vidi kao osobe koje su krive za zločin koji im se dogodio te im ne pruža nikakvu sustavnu pomoć i podršku. U nastavku ovih problema, ponašanje i postupanje državnih institucija i tijela prema osobama koje su proživjele seksualno nasilje u Hrvatskoj također je problematično. Manjak svijesti, empatije i ponajviše, specijaliziranog znanja i/ili sustavnih edukacija za rad za osobama koje su preživjele seksualno nasilje često se manifestiraju kao značajne prepreke tijekom procesuiranja slučajeva i pružanja zaštite. I kao šlag na vrhu torte, na primjeru prikazano, minimalna kazna za silovanje u Hrvatskoj iznosi samo jednu (1!) godinu. Zbog pretrpanih zatvora i, usudila bih se reći, sveopćeg stava prema ovom najodvratnijem zločinu protiv žena, počinitelji bivaju puštani na slobodu nakon odslužene 2/3 kazne. Nemojmo zaboraviti da postupak od prijave do konačne pravomoćne pravosudne presude u prosjeku traje od 3 do 6 godina.
Uzevši sve navedeno u obzir, vidimo da je dugačak put prevencije i okončanja seksualnog nasilja. Na ovom putu je jedan veliki korak naprijed učinjen.  Protokol o postupanju u slučaju seksualnog nasilja Hrvatski sabor usvojio je 2012. godine nakon godina i godina rada i zagovaranja. Protokol je dokument koji je obvezan za sve državne institucije i tijela koji rade sa osobama koje su preživjele seksualno nasilje te teži pružiti usmjerenu brigu prema osobi koja je preživjela seksualno nasilje. Protokol se temelji na zakonima i podzakonskim aktima te na sadržaju i obvezama propisanim Nacionalnom politikom za ravnopravnost spolova, za razdoblje od 2011. do 2015. godine koju je donio Hrvatski sabor 15. srpnja 2011. godine, kao i na Preporuci Rec(2002)5 Odbora ministara Vijeća Europe državama članicama o zaštiti žena od nasilja i Memorandumu s objašnjenjima.
Ovaj dokument je iznimno važan za osobe koje su preživjele seksualno nasilje u Hrvatskoj zato što propisuje trenutnu, suosjećajnu, rodno i kuturalno osjetljivu i cjelovitu pomoć i podršku. Protokol je obvezan za pet državnih institucija i tijela: policiju, zdravstvene ustavnove, pravosudna tijela, centre za socijalnu skrb i odgojno-obrazovne institucije.
S obzirom kako se osobe koje su preživjele seksualno nasilje ne suočavaju samo s jednom instancom prilikom prijave zločina, suradnja između relevantnih institucija i tijela je relevantna. Iz ovog razloga, te iz razloga izbjegavanja ponovne viktimizacije osoba, Protokol propisuje oblike, načine i iznimno važan sadržaj suradnje između relevantnih tijela te drugih čimbenika koji sudjeluju u otkrivanju i suzbijanju seksualnog nasilja te pružanju pomoći i zaštite osobama izloženim seksualno nasilju.
Proces prijave seksualnog nasilja mora biti što je moguće jednostavniji te manje stresan i traumatizirajući za osobu koja je preživjela seksualno nasilje. Ako ovaj postupak učinimo lakšim, broj prijava seksualnog nasilja bi porastao. A to je moguće jedno ako osiguramo standardiziranu i učinkovitu proceduru, kao što je Protokol o postupanju u slučaju seksualnog nasilja.
Međunarodni dan borbe protiv nasilja nad ženama je samo jedan dan u cijeloj godini kada društvo zastane i razmisli o ugrožavanju osnovnih ženskih ljudskih prava. Ali opresija, nasilje i diskriminacija su sveprisutni, 24/7, u našim domovima, krevetima, na radnim mjestima, u školi i na ulici.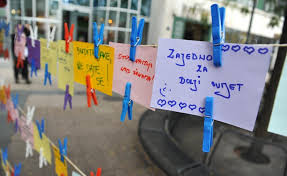 Seksualno nasilje je jedna od oblika nasilja o kojem moramo glasnije govoriti svaki dan do njegovog konačnog okončanja; dok se sve djevojke i žene ne budu osjećale slobodno i sigurno, kako od seksualnog nasilja, pa tako i od bilo kojeg drugog oblika nasilja kojeg trpimo zbog svog roda.
Ženska soba – Centar za seksualna prava
Republika Hrvatska