Read Time:
15 Minute, 9 Second
Germany has not yet ratified the Istanbul Convention but is reforming the law governing sexual offences following intense public pressure. However, it appears that the principle "No means no" will still not reign in Germany in the future.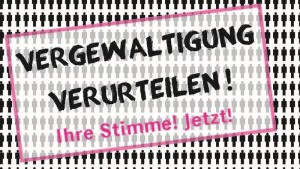 There is the case of a woman whose partner wants to sleep with her. She tells him that she does not want to. Thereupon he lifts her from the couch and pushes her into the bedroom, where she falls to the floor. As her boyfriend has been aggressive in the past, has pushed her multiple times, perpetrated violence against her pet (as well as other things that belong to her) – and she fears for her unborn child – she does not defend herself and "voluntarily" undresses herself upon his request. Subsequently, she endures him performing sexual acts on her during which she repeats several times that she does not want to have sex, is in pain and that he should stop. In order to convey this to him, she begs him and even shouts at him.[i]
There is the case of the 15-year old girl with whom a 31-year old man has sexual intercourse. Just before the act, he tells his partner and a prostitute, who is also present, to go to the cellar – an order they abide by without demanding explanations. This is because they know that he gets aggressive if someone refuses to comply with his wishes; on the same evening, the man abuses the prostitute. The girl says "No, I don't want to" once but does not defend herself physically and bears his actions.
There is the case of the woman whose husband demands anal sex from her. She refuses, but her husband, who has already beaten her several times, insists and penetrates her. He does not even let her go when she cries and squirms with pain. She does not defend herself as she is afraid that she will be beaten up. Moreover, she wants 'it' to be over as soon as possible and does not want the children sleeping next door to hear the assault.
Three clear cases of rape one would think. However, in each case the man was not convicted for this offence because both the German law on rape and previous legal interpretations in court proceedings have allowed for a very narrow interpretation of rape. As a result, there is a very narrow definition of rape, which leads to very few perpetrators being convicted for rape.[ii]
Statutory offence in Germany
Article 177 of the penal code states that a rape only occurs under specific circumstances, namely when violence is used against the victim, the perpetrator threatens the victim with physical violence or if the victim finds themselves in a so-called "defenceless situation".[iii] This term has been defined very narrowly by courts, which is why it does not apply in the above-mentioned and similar cases. If for example, neighbours had been present and had heard shouts for help, the victim is not considered to have been in a "defenceless" situation. The same applies for dark, deserted streets – in this case, the court will verify if there may have been passers-by, even if the victim had possibly not noticed them. This means that this definition, laid down by courts, is out of touch with reality. Still, the victim will be told in a lawsuit that they should have defended themselves or that they should have called for help. Victims of rape are often afraid that their resistance will worsen the situation and it is well documented that they often go into a state of shock – none of this is taken into consideration in the existing legislation. Neither is the fact that threats which are not directly violent can also be very powerful (e.g. if the perpetrator threatens to blacken the victim's name with their boss). This means that the principle, "No means no" unfortunately does not govern the German legislation on rape at present.
The Istanbul Convention and the reform of paragraph 177
Article 36 of the Council of Europe's Istanbul Convention, which Germany intends to ratify, states that
"1. Parties shall take the necessary legislative or other measures to ensure that the following intentional conducts are criminalised:
engaging in non-consensual vaginal, anal or oral penetration of a sexual nature of the body of another person with any bodily part or object;
engaging in other non-consensual acts of a sexual nature with a person;
…"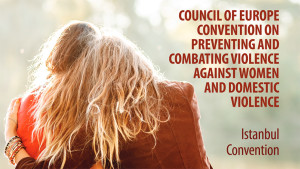 For a long time, the German Justice Minister Heiko Maas (of the Social Democrat Party) did not think it was necessary to change the criminal code of sexual offences and proposals put forward by female ministers were rejected. One year ago, the ministry did an about-face: it suddenly admitted that loopholes existed in the protection of victims and that a reform of the "rape paragraph" would be carried out. A variety of associations and organisations such as the German Women Lawyers' Association, the German Institute for Human Rights and the Federal Association of Rape Crisis Centres and Women's Counselling Centres in Germany played a leading role in this change. In May 2014, Terre des Femmes submitted a petition to the Parliamentary State Secretary for Justice, Christian Lange with 30 000 signatures regarding the reform of Article 177 (the petition is still open).
The first draft of the Federal Ministry of Justice, which refers to the Istanbul Convention, does however not mention a reform of Article 177. Only Article 179 on the "Sexual abuse of defenceless persons" shall be reformed. This is indeed an important change because from now on cases will also be covered in which
the persons affected do not defend themselves because the perpetrator takes them by surprise, or
victims, when defending themselves, would have suffered appreciable harm.
It is therefore possible that the three cases mentioned in the beginning would in future be classified as rape. However, implicitly victims are still expected to defend themselves and can only refrain from doing so if they fear the aforementioned appreciable harm. Especially in cases in which victims feel intimidated but have not suffered beforehand from violence perpetrated by the offender, it will be difficult to prove that they had reason to fear "appreciable harm" if they defended themselves. Furthermore, such reform would still not be in line with the Istanbul Convention because, as mentioned beforehand, the convention defines the lack of consent of a victim as decisive for the statutory offense, and not whether they defended themselves physically. The Istanbul Convention therefore demands "No means no" – but the German draft law only adopts this principle in a restricted way.
Criticism of the first draft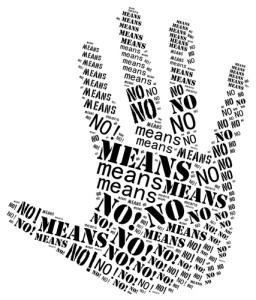 The draft has evoked fierce criticism from different parties for this very fact. Representatives of the Green Party for example, declared that the proposition "does not go far enough" (the Greens presented their own draft beforehand), and the Minister of Justice of the Land of Mecklenburg-Western Pomerania, Uta-Maria Kuder (CDU, Christian Democratic Union) criticised the draft for not fostering sexual self-determination. She furthermore pointed out that the federal justice ministry had already admitted in the draft's statement of reasons that the changes would not completely close the loopholes in penal liability.
It does not seem logical that the federal ministry will not consider more extensive reform despite realising the shortcomings of its current approach. Chances are that more is at stake, as an expert from the federal association of rape crisis centres and women's counselling centres in Germany explains, namely the "very foundations of gender relations, […] the question how sexuality is defined in [German] society."[iv] After all, it was only in 1998 that marital rape became punishable as rape (and not only as coercion) – Germany is nowhere near as progressive as people abroad might think.
The percentage of convictions vs. reports to the police for rape is falling in Germany: if there was a conviction in every fifth case twenty years ago, this was only true for every twelfth case in 2012. It needs to be mentioned that, according to research, 90-95% of rapes go unreported. In plain language: the chance of being sentenced for raping someone is extremely remote in Germany.
At present, it is doubtful that the intended reform of the criminal code of sexual offences will change this and bring perpetrators to justice.
[i] This paragraph is almost a literal account of the "Written opinion on the public hearing regarding the motion of Members of Parliament Ulle Schauws, Katja Keul, Katja Dörner and another MP, as well as the parliamentary group 'BÜNDNIS 90/DIE GRÜNEN' – 'Transposing article 36 of the Istanbul Convention – close existing loopholes regarding the criminal liability in cases of sexual violence and rape'" on 28 January 2015, Committee for Law and Consumer Protection in the German Bundestag (Lower House of Parliament)
[ii] Depending on the case, a sentence for coercion might be possible; however, for this offence the penalty is considerably lower.
[iii] § 179 defines that sexual abuse has also happened if the victim is physically helpless because of an illness, a disability or reduced consciousness (e.g. because of drinking too much alcohol). Other paragraphs define the sexual abuse of wards, prisoners, by taking advantage of an official position, a guardianship etc. These are however not the focus of this article.
[iv] Interview in German women's magazine "Brigitte"
Deutschland hat die Istanbul-Konvention noch nicht ratifiziert, jedoch nach heftigem öffentlichen Druck eine Reform des Sexualstrafrechts in Angriff genommen – doch bisher sieht es nicht so aus, als ob "Nein heißt nein" zukünftig tatsächlich überall gelten wird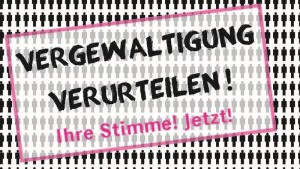 Da ist der Fall einer Frau, deren Freund mit ihr schlafen will. Sie gibt verbal eindeutig zu verstehen, dass sie dies nicht will. Daraufhin wird sie von ihm von der Couch hochgezogen und ins Schlafzimmer geschubst, woraufhin sie zu Boden fällt. Da ihr Freund in der Vergangenheit bereits aggressiv war, die schwangere Frau mehrfach geschubst und Gewalt gegen ihr Haustier und Gegenstände ausübte und sie Angst um ihr ungeborenes Kind hat, wehrt sie sich nicht und zieht sich, nachdem sie von ihm aufgefordert wird, 'freiwillig' aus, um anschließend sexuelle Handlungen über sich ergehen zu lassen. Währenddessen wiederholt sie mehrfach verbal, dass sie keinen Sex will, Schmerzen hat und er aufhören soll. Um deutlich zu machen, dass sie den Geschlechtsverkehr nicht möchte, fleht sie ihren Freund an, schreit ihn an.[i]
Da ist der Fall der 15-Jährigen, mit der ein 31-Jähriger den Geschlechtsverkehr vollzieht. Zuvor hat er seine Lebensgefährtin und eine ebenfalls anwesende Prostituierte in den Keller geschickt – einer Aufforderung, der die beiden Frauen ohne weitere Nachfrage nachkommen, weil sie wissen, dass der Mann aggressiv reagiert, wenn man sich ihm widersetzt (der Mann misshandelt am selben Abend die Prostituierte). Das Mädchen sagt zwar einmal "Nein, ich will das nicht", aber wehrt sich nicht körperlich und lässt alles über sich ergehen.
Da ist der Fall einer Frau, deren Ehemann Analsex von ihr verlangt. Sie weist ihn ab, aber ihr Mann, der sie öfters geschlagen hat, insistiert und dringt in sie ein. Er lässt auch dann nicht von ihr ab, als sie weint und sich vor Schmerzen krümmt. Aus Angst, dass er Gewalt anwendet, und damit "es" schnell vorbeigehe, wehrt sie sich nicht. Sie will zudem nicht, dass die nebenan schlafenden Kinder etwas bemerken.
Dreimal eindeutig eine Vergewaltigung, müsste man meinen. Und doch wurden die Männer in allen drei Fällen nicht wegen dieses Delikts verurteilt. Das liegt an der deutschen Gesetzgebung zum Thema Vergewaltigung und der bisherigen Auslegung bei Gerichtsverfahren. Diese beiden Faktoren haben dazu beigetragen, dass für den Straftatbestand der Vergewaltigung in Deutschland sehr enge Grenzen gesetzt sind – und die wenigsten Taten als solche verurteilt werden.[ii]
Der Straftatbestand in Deutschland
177 des Strafgesetzbuchs legt fest, dass eine Vergewaltigung nur unter bestimmten Bedingungen vorliegt, nämlich wenn Gewalt angewendet, mit physischer Gefahr gedroht oder eine "schutzlose Lage" des Opfers ausgenutzt wird.[iii] Genau diese "schutzlose Lage" wird von vielen Gerichten so eng interpretiert, dass sie in den drei erwähnten Beispielen und in vielen ähnlich gelagerten Fällen nicht zur Anwendung kommt. Wenn also z.B. Nachbarn hätten anwesend sein und Hilferufe hören können, ist die schutzlose Lage nicht gegeben, genauso wenig stellt eine einsame, dunkle Straße eine solche Lage dar – hier wird dann hinterher überprüft, ob es nicht doch Passanten gegeben hat, auch, wenn das Opfer diese unter Umständen gar nicht bemerkt hat. An der Realität geht diese durch Urteile festgeschriebene Definition also vorbei. Dennoch muss sich das Opfer in Gerichtsverfahren sagen lassen, dass es sich hätte zur Wehr setzen oder z.B. um Hilfe rufen müssen. Dass Opfer oft schlicht Angst haben, dass Gegenwehr alles nur noch schlimmer macht, dass sie in traumatisierenden Situationen häufig in eine Schockstarre verfallen, dass auch Drohungen, die nicht direkt mit Gewalt zu tun haben, sehr wirkmächtig sein können (z.B., wenn damit gedroht wird, das Opfer bei Vorgesetzten anzuschwärzen) – all das bleibt in der derzeitigen Gesetzgebung völlig unberücksichtigt. Daher muss daher leider festgestellt werden: "Nein heißt nein" gilt gegenwärtig in Deutschland nicht.
Die Istanbul-Konvention und die Reform des Paragraphen 177
Artikel 36 der Istanbul-Konvention des Europarates, die Deutschland ratifizieren will, definiert, dass "vorsätzliches nichteinverständliches, sexuell bestimmtes vaginales, anales oder orales Eindringen in den Körper einer anderen Person mit einem Körperteil oder Gegenstand sowie sonstige vorsätzliche nichteinverständliche, sexuell bestimmte Handlungen mit einer anderen Person" unter Strafe stehen.[iv]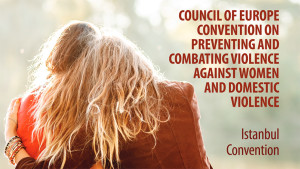 Lange Zeit sah Justizminister Heiko Maas (SPD) keinerlei Notwendigkeit zu einer Änderung des Sexualstrafrechts – entsprechende Vorstöße von Ministerinnen wurden abgelehnt. Vor einem Jahr dann die Kehrtwende: Nun wurden doch Schutzlücken eingestanden und eine Reform des Vergewaltigungsparagraphen angekündigt. Wesentlich dazu beigetragen haben dürfte der Druck verschiedener Verbände und Organisationen, wie dem Deutschen Juristinnenbund, dem Deutschen Institut für Menschenrechte oder dem Bundesverband der Frauenberatungsstellen und Frauennotrufe. Terre des Femmes übergab Anfang Mai 2014 dem Parlamentarischen Justizstaatssekretär Christian Lange eine Petition zur Reform des § 177 mit knapp 30 000 Unterschriften (die Petition läuft noch).
Im ersten Referentenentwurf, der sich u.a. auf die Istanbul-Konvention bezieht, ist jedoch von einer Reform des Paragraphen 177 keine Rede mehr. Lediglich der § 179 über den "Sexuellen Missbrauch widerstandsunfähiger Personen" soll reformiert werden. Dies ist zwar auch wichtig, damit in Zukunft z.B. Fälle abgedeckt sind, in denen
Betroffene keinen Widerstand leisten können, weil ein Überraschungsmoment ausgenutzt wird, oder
Betroffene, würden sie Widerstand leisten, ein empfindliches Übel befürchten müssen –
es wäre also möglich, dass die drei anfangs genannten Fälle zukünftig unter Strafe stehen. Jedoch wird nach wie vor implizit davon ausgegangen, dass das Opfer sich wehren muss und das nur unterlassen kann, wenn es das besagte empfindliche Übel fürchtet. Gerade in Fällen, in denen sich das Opfer eingeschüchtert fühlte, aber ihm vom Täter bisher noch keine Gewalt angetan wurde, wird schwierig zu beweisen sein, dass es Grund zur Angst hatte. Darüber hinaus würde eine solche Reform des Sexualstrafrechts immer noch hinter der Istanbul-Konvention zurückbleiben, denn dort ist, wie oben erwähnt, das mangelnde Einverständnis des Opfers ausschlaggebend für den Straftatbestand und nicht die Frage, ob körperlicher Widerstand geleistet wurde. Die Istanbul-Konvention fordert also "Nein heißt nein" – aber der Gesetzesentwurf setzt das nur sehr eingeschränkt um.
Kritik am Gesetzesentwurf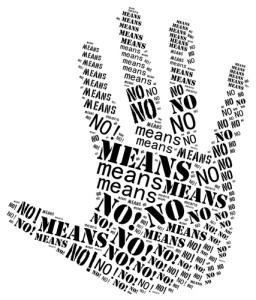 Entsprechend wurde der Entwurf bereits von verschiedenen Seiten beanstandet. So erklärten Vertreterinnen der Grünen, der Vorschlag greife "deutlich zu kurz" (die Grünen hatten einen eigenen Entwurf vorgelegt), und Mecklenburgs Justizministerin Uta-Maria Kuder (CDU) kritisierte, der Entwurf trage nicht zu einem wirklich besseren Schutz der sexuellen Selbstbestimmung bei. Sie wies zudem darauf hin, dass in der Begründung des Entwurfs bereits vom Ministerium selbst eingeräumt werde, dass die Änderungen die Strafbarkeitslücken nicht vollständig schließen würden.
Warum trotz dieser Erkenntnis nicht über eine umfangreichere Reform nachgedacht wird, ist nicht logisch nachvollziehbar. Gut möglich, dass um mehr geht, wie eine Expertin vom Bundesverband Frauenberatungsstellen und Frauennotrufe erklärt, nämlich um die "Grundfesten des Geschlechterverhältnisses, […] um die Frage, wie Sexualität in der [deutschen] Gesellschaft verhandelt wird."[v] Schließlich wurde erst im Jahr 1998 Vergewaltigung in der Ehe unter Strafe gestellt – Deutschland ist also längst nicht so fortschrittlich, wie man manchmal im Ausland glauben möchte.
Angezeigte Übergriffe werden in Deutschland immer seltener bestraft: Vor zwanzig Jahren wurde noch in jedem fünften Fall ein Täter verurteilt, 2012 nur noch in jedem zwölften. Hierbei muss beachtet werden, dass laut Dunkelfeldforschung je nach Studie zwischen 5-10% der Vergewaltigungen überhaupt angezeigt werden. Im Klartext: Die Wahrscheinlichkeit, nach einer Vergewaltigung verurteilt zu werden, ist in Deutschland verschwindend gering.
Dass sich das nach der Reform des Sexualstrafrechts ändern wird, ist derzeit mehr als fraglich.
[i] Text diese Abschnitts nahezu wörtlich übernommen aus der Schriftlichen Stellungnahme zur öffentlichen Anhörung zu dem Antrag der Abgeordneten Ulle Schauws, Katja Keul, Katja Dörner, weiterer Abgeordneter und der Fraktion BÜNDNIS 90/DIE GRÜNEN – "Artikel 36 der Istanbul-Konvention umsetzen – Bestehende Strafbarkeitslücken bei sexueller Gewalt und Vergewaltigung schließen" am 28. Januar 2015, Ausschuss für Recht und Verbraucherschutz des Deutschen Bundestags
[ii] Je nach Lage des Falls kommt eine Verurteilung wegen Nötigung infrage, für die das Strafmaß jedoch wesentlich geringer ist.
[iii] Im Paragraphen 179 wird festgelegt, dass auch dann ein sexueller Missbrauch vorliegt, wenn das Opfer wegen Krankheit, Behinderung oder einer Bewusstseinsstörung (z.B. aufgrund Alkoholkonsums) oder körperlich widerstandsunfähig ist. Ebenso regeln andere Paragraphen den sexuellen Missbrauch von Schutzbefohlenen, Gefangenen, unter Ausnutzung einer Amtsstellung oder eines Betreuungsverhältnisses usw. Diese sind jedoch nicht der Fokus dieses Artikels.
[iv] Lediglich die englische Fassung ist rechtlich bindend, die deutsche Übersetzung stammt vom Deutschen Juristinnenbund.
[v] Interview in der "Brigitte"