Read Time:
3 Minute, 21 Second
Young Feminist Europe is teaming up with Period.Brussels and Collecti.e.f 8 maars for the Women*s Strike 2019 in Belgium and the march in Brussels.
On the 8 March 2019, a collective of grassroots women*s organisations and trade unions will be calling on women to stop their paid and unpaid labour, and to remove themselves from the space they would normally occupy that day. The strike also includes a refusal to participate in economic consumption in protest of the poor working conditions in retail and service sectors that women face, the overuse of unnecessary plastic materials in goods, as well as the use of the 'pink tax' on hygiene products.
Here's your ultimate guide by Period.Brussels on how to participate and support the strike!
Strike: In principle, every individual has the right to strike from work according to Belgian case law. However, the Collective 8th March doesn't encourage women* to take risks at their workplace as there are many other ways on "how to strike" without leaving your workplace (e.g. not picking up the phone for a certain time, not doing the emotional labour, show your support by wearing something in purple, "Buy-Nothing"-Day…). Together with lawyers we compiled information on your rights to strike.
Political demands: The Collective 8th March collected a list of political demands. Keep in mind that the claims are by no means complete, the collective encourages you to adapt them to your most pressing issues and use these to inspire yours.
Actions: Meeting every Friday at "Le Steki", Rue Defnet 4-6, as of 18:30. There will be info sessions on actions, you can inform yourself and be creative in a safe space. Most importantly you can pick up material like the purple scarves, stickers and flyers to help the mobilisation. Young Feminist Europe will be co-hosting a DIY poster workshop with Period.Brussels and Collecti.e.f 8 maars on Friday 1 March where all self-identifying women and non-binary people are welcomed to create a feminist poster or banner with their favourite anti-patriarchy slogan. You can find out more information about the event here.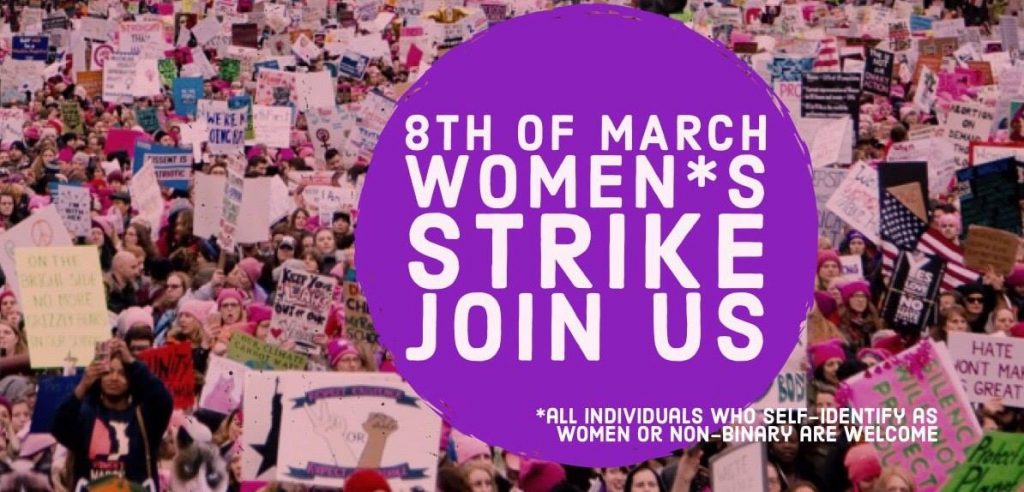 On the 8th March: The march will gather at 14:00 in front of Central Station and will begin at 17:00 by marching to Place Luxembourg outside the European Parliament. Both Period.Brussels and Young Feminist Europe will also be joining to form a bloc during the Brussels march. Find more information here.
What can I do? 
Donate° to support the movement (Quinoa ASBL – BE14 5230 4027 5283 – communication: "don 8 maars")

Inform your friends: Talk to at least 10 women* about the strike

Mobilise: Share and support the strike on social media and tag

#8maars



Add the women*s strike picture frame on FB

Print out some flyers and put it into the letterboxes of you neighbours


Join actions before the strike and on the strike day
Channel the outrage, get active, show solidarity and become part of the movement.
For more information about the political demands, strike methods, resources, etc. visit Collecti.e.f 8 maars website: https://8maars.wordpress.com/
You can follow both Period.Brussels and Collecti.e.f 8 maars on their social media channels below: 
Like, share and post about the Collecti.e.f 8 Maars and #8Maars
*All individuals who self-identify as woman and or are non-binary
°The Collecti·e·f 8 maars is a apolitical, so no funding from a political organization (party/youth party) will be accepted! If you do not wish your support to be made public, please let them know expressly.