Read Time:
15 Minute, 19 Second
The sexual assault of women on New Year's Eve in Cologne and other German cities has caused uproar in German society. In the subsequent nationwide discussion, however, concern was mixed with hypocrisy, racism and – sexism
"It was like running the gauntlet through groups of inebriated men" – this is how a police officer described the situation many women had to go through inside and outside of Cologne's main train station on New Year's Eve. After dispersing a crowd of around 1000 aggressive and partly very drunk men, some of whom had been throwing fireworks at people, the situation seemed to be under control. However, this was not the case. The full extent of what had happened afterwards was only made public days after New Year's Eve: Groups of men among the original crowd of 1000 had sexually assaulted and sometimes stolen from women (men were also robbed). Women's intimate parts were grabbed, they were insulted, and even three cases of rape were registered. Because of the sheer number of offenders, police could not help the majority of the victims. The state had lost control. It seems that similar events, albeit on a smaller scale, occurred in practically every German city or smaller town. For Cologne alone, over 650 criminal charges were brought against "Arab or North African looking " men, including people registered as refugees.[1]
Politicians' reactions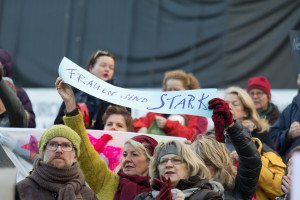 Politicians reacted in diverse ways. The main measures discussed to prevent similar attacks from happening in the future were:
Besides these official proposals, the mayor of Cologne, Henriette Reker, caused an outcry by suggesting women should try to "keep strangers at arm's length" to avoid sexual harassment – a victim-blaming approach which in addition would not have helped the women during the attacks.
Media reactions
Some media used the attacks for particularly sexist and racist covers: The magazine "Focus" showed a naked woman, covering her breasts and genitalia with her hands, with black fingerprints all over her body. The "Süddeutsche Zeitung" depicted a black-and white picture of a woman's legs, in between them a black arm (the editorial department later apologised). "Sex mob", "sex attacks" were the words often used by tabloids but also more serious newspapers, wilfully ignoring that these kind of assaults have everything to do with power, and nothing with sex. Apart from this: a lot of talkshows, opinion articles, documentaries, live reports, which at one point became a commotion of different voices shouting at the same time.
The hypocrisy of the discussions
But what were the deductions one could draw from the reactions described above?
The "#ausnahmlos" initiative
All in all, a remarkably hypocritical state of affairs. A lot of feminists decided to denounce this by launching #ausnahmslos, a hashtag and petition against sexualised violence "without any exceptions", with a number of demands regarding politics, the entire society and media – amongst others for educational work and awareness campaigns, against victim-blaming and sexist or racial stereotypes. The campaign has collected more than 11000 signatures so far, and prominent supporters include Women's minister Manuela Schwesig, the German Parliament's vice president Claudia Roth and Terry Reintke, member of the European Parliament.
On the other side, politicians like Katja Suding, deputy chairman of the Liberal Democratic Party (FDP) criticised the initiative for "playing down" the Cologne events, and the well-known second-wave feminist Alice Schwarzer denounced "misplaced tolerance" towards radical Islam and called for a debate "without political correctness".
But does the debate on "home-grown" sexist structures and opinions exclude criticism of the patriarchal convictions some immigrants uphold? Should the two discourses not go hand in hand?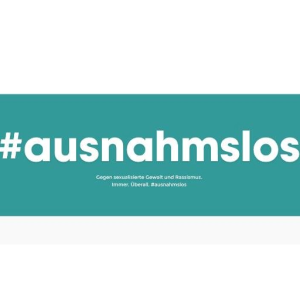 It is no secret that what happened in Cologne very much calls into mind the horrible sexual assaults of the Tahrir Square in Cairo in 2013 – a practice known as "taharrusch dschama'i" or collective (sexual) harassment. The head of the Federal Criminal Police Office seemed certain that the attacks were organised using social networks. Pieces of paper with Arab-German translations of sexual slurs and threats were found on some suspects. However, according to the Home Office of North Rhine-Westphalia (the region Cologne belongs to), the attacks were spontaneous rather than planned.
Be that as it may, it is clear that some immigrants have deeply ingrained patriarchal "values" of female obedience and a woman's place, which can, in their eyes, legitimate sexual assaults against women who do not abide by these "standards". These convictions must be fought and the principle of gender equality must be upheld. Certainly, it would play into the hands of the rightist movement in Germany to not expound these problems.
But on the other hand, it would be both factually wrong and racist to generalise and blame all immigrants, all refugees or all Muslims, the vast majority of which has never come into conflict with the law. Apart from this, such a generalisation would sow hatred between different religions and ethnicities, intensify the already existing feeling of some Muslims of being excluded from society – and thereby, ultimately, even heighten the risk of their radicalisation.
So what is the solution to this delicate situation? A society fighting against sexism must above all be credible. What message does it send if a young immigrant, stepping out of a asylum centre where he just learned about the equality of the sexes in an integration course, is confronted with a flood of advertisements depicting women in sexualised positions? Is there no irony in the fact that Cologne not only became the synonym for horrible sexual assaults, but at the same time is the home of Europe's biggest brothel "Pascha", advertising "oral and sexual intercourse starting from € 30", whose owner thinks that a woman comes into the world "in order to serve and obey a man"? How credible does a state like Germany appear in its effort to support women's rights, considering the fact that its President Joachim Gauck called a young women's movement against everyday sexism a "virtue rage" only some years ago?
According to Karl Marx, the progress of a society can be measured by the position of its women. Germany should defend what it has achieved – and, simultaneously, strive for so much more.
[1] Considering that e.g. one of the Paris attackers had been registered as a refugee in several countries and thereby mingled with the vast majority of people fleeing from war, and taking into account that the attacker of a Paris police station had lived before in a German shelter for asylum seekers, we want to make the difference here between actual refugees and people who might have taken advantage of the overall situation in order to come to Germany with the plan to commit crimes.
Die sexuellen Übergriffe auf Frauen am Silvesterabend in Köln und anderen deutschen Städten haben in der deutschen Gesellschaft einen Aufschrei hervorgerufen. In der darauf folgenden Diskussion vermischten sich jedoch Besorgnis mit Heuchelei, Rassismus und – Sexismus
"Es war ein Spießrutenlauf durch alkoholisierte Männermassen" – so beschreibt ein Polizist die Situation, die viele Frauen in und vor dem Kölner Hauptbahnhof an Silvester ertragen mussten. Nachdem die Polizei eine Gruppe von ungefähr 1000 teils stark betrunkenen und aggressiven Männern aufgelöst hatte, von denen einige Feuerwerkskörper in die Menge geworfen hatten, schien die Situation unter Kontrolle. Das war jedoch nicht der Fall. Das ganze Ausmaß dessen, was danach passiert war, wurde erst einige Tage nach Silvester publik: Gruppen von Männern hatten aus der ursprünglichen Menge von 1000 Personen heraus Frauen sexuell belästigt und teilweise bestohlen (Männer wurden auch bestohlen). Frauen wurden zwischen den Beinen und an der Brust angefasst, sie wurden beleidigt, und sogar drei Fälle von Vergewaltigung wurden registriert. Aufgrund der schieren Anzahl von Tätern konnte die Polizei der Mehrheit der Opfer nicht helfen. Die Staatsmacht hatte die Kontrolle verloren. Ähnliche Vorfälle, wenn auch in einem geringeren Ausmaß, scheint es in praktisch jeder größeren deutschen Stadt gegeben zu haben. In Köln alleine gab es über 650 Anzeigen gegen "arabisch oder nordafrikanisch aussehende" Männer, darunter solche, die als Flüchtlinge registriert waren.[1]
Reaktionen von Politikern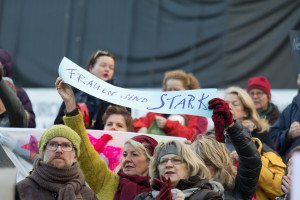 Politiker reagierten in unterschiedlicher Weise auf die Vorfälle. Die meistdiskutierten Maßnahmen, um ähnliche Ereignisse in Zukunft zu vermeiden, waren die folgenden:
Abgesehen von diesen offiziellen Vorschlägen verursachte die Kölner Bürgermeisterin Henriette Reker einen Aufschrei mit ihrem Tipp, dass Frauen von Fremden "eine Armlänge Abstand" halten sollten: ein Ansatz, der den Opfern die Schuld gibt – und darüber hinaus den Frauen während der Attacken nicht geholfen hätte.
Reaktionen in den Medien
Einige Medien benutzen die Kölner Vorfälle für besonders sexistische und rassistische Titelseiten: So zeigte das Magazin "Focus" eine nackte Frau, die sich eine Hand vor die Brüste und die andere vor den Schritt hält. Auf ihrem Körper finden sich mehrere schwarze Handabdrücke. Die "Süddeutsche Zeitung" druckte ein Schwarz-Weiß-Bild von Frauenbeinen – zwischen den Beinen ein schwarzer Arm (die Redaktion entschuldigte sich später). "Sex-Mob", "Sex-Attacken" waren Ausdrücke, die nicht nur von Boulevardzeitungen, sondern auch von seriöseren Medien benutzt wurden – wobei geflissentlich darüber hinweg gesehen wurde, dass diese Art von Angriffen sehr viel mit Macht, und nichts mit Sex zu tun haben. Außer diesen unschönen Beispielen: eine Flut von Talkshows, Meinungsartikeln, Reportagen, Liveberichten zum Thema, die sich irgendwann vermischten zu einem Wirrwarr an Stimmen, die alle zur selben Zeit redeten.
Die Scheinheiligkeit der Diskussion
Aber was waren die Schlüsse, die man aus den meisten der oben beschriebenen Reaktionen ziehen konnte?
Die "#ausnahmlos"-Initiative
Zusammengefasst: Doppelmoral und Scheinheiligkeit überall. Eine Gruppe von Feministinnen entschloss sich, diese Situation anzuprangern, indem sie #ausnahmslos starteten, Hashtag und Petition zugleich gegen sexualisierte Gewalt. Sie stellten eine Reihe von Forderungen an Politik, Gesellschaft und Medien – zum Beispiel für geschlechtersensible Pädagogik und Aufklärungsarbeit, sowie gegen Victim Blaming und sexistische oder rassistische Stereotype. Die Kampagne hat bislang mehr als 11000 Unterschriften gesammelt. Prominente Unterstützerinnen sind Frauenministerin Manuela Schwesig, Bundestagsvizepräsidentin Claudia Roth und Terry Reintke, Mitglied des Europäischen Parlaments.
Auf der anderen Seite kritisierten Politikerinnen wie die stellvertretende FDP-Vorsitzende Katja Suding die Initiative dafür, die Ereignisse von Köln zu "verharmlosen". Alice Schwarzer prangerte "falsch verstandene Toleranz" gegenüber dem radikalen Islam an und rief zu einer Debatte "ohne Political correctness" auf.
Aber schließt eine Debatte über "einheimische" sexistische Strukturen und Meinungen die Kritik an den patriarchalen Überzeugungen mancher Einwanderer aus? Sollten die beiden Diskurse nicht Hand in Hand gehen?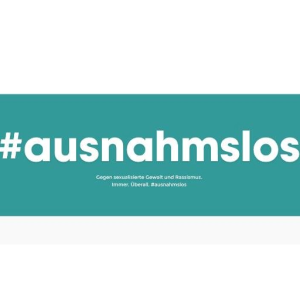 Es ist kein Geheimnis, dass das, was in Köln passiert ist, stark an die fürchterlichen sexuellen Übgergriffe am Tahrir-Platz in Kairo im Jahr 2013 erinnert – eine Praxis genannt "taharrusch dschama'i" oder gemeinschaftliche (sexuelle) Belästigung. BKA-Chef Holger Münch schien sich sicher, dass die Angriffe mithilfe sozialer Netzwerke abgsprochen waren. Zettel mit arabisch-deutschen Übersetzungen sexistischer Beleidungen und Bedrohungen wurden bei einigen Verdächtigen gefunden. Nach Berichten des NRW-Innenministeriums waren die Attacken jedoch eher spontan als geplant.
Wie dem auch sei, klar ist, dass einige Migranten tiefsitzende patriarchale "Werte" mitbringen, einschließlich der Forderung nach weiblichem Gehorsam oder der tief verwurzelten Überzeugung davon, wo der "Platz einer Frau" sei. Diese Ansichten können dann sexuelle Übergriffe auf diejenigen Frauen, die sich nicht an "die Regeln halten", legitimieren. Solche patriarchalen Meinungen müssen bekämpft und am Grundsatz der Gleichberechtigung der Geschlechter festgehalten werden. Sicherlich würde es in die Hände der Rechtsradikalen spielen, die teilweise vorhandenen Probleme nicht offenzulegen.
Jedoch wäre es sowohl sachlich falsch als auch rassistisch, zu verallgemeinern und alle Einwanderer, alle Flüchtlinge oder alle Muslime solcher Überzeugungen zu beschuldigen – schließlich ist eine überwältigende Mehrheit dieser Gruppen nie in Konflikt mit dem Gesetz greaten. Darüber hinaus würde eine solche Verallgemeinerung den Hass zwischen verschiedenen Religionen und Ethnien schüren, das Gefühl des Ausgeschlossenseins aus der Gesellschaft mancher Menschen befeuern – und dadurch schlussendlich das Risiko ihrer Radikalisierung erhöhen.
Was ist also die Lösung dieser heiklen Situation? Eine Gesellschaft, die gegen Sexismus kämpft, muss vor allem glaubwürdig sein. Welche Botschaft muss bei einem jungen Einwander ankommen, wenn er gerade in einem Integrationskurs über die Gleichberechtigung der Geschlechter geredet hat, dann aus der Flüchtlingsunterkunft tritt und mit einer Flut von Werbung konfrontiert wird, die Frauen in sexualisierten Positionen zeigt? Ist es nicht ironisch, dass Köln nicht nur ein Synonym für die schrecklichen sexuellen Übergriffe wurde, sondern auch Heimat ist für Europas größtes Bordell, das "Pascha", das "oralen und Geschlechtsverkehr ab € 30" anbietet, und dessen Besitzer der Meinung ist, eine Frau komme auf die Welt, "um einem Mann zu dienen und zu gehorchen"? Wie glaubwürdig ist Deutschland in seinen Anstrenungen, Frauenrechte zu fördern, wenn man bedenkt, dass Bundespräsident Joachim Gauck vor einigen Jahren eine Bewegung junger Frauen gegen Alltagssexismus als "Tugendfuror" betitelte?
Laut Karl Marx lässt sich der gesellschaftliche Fortschritt exakt messen an der gesellschaftlichen Stellung der Frauen. Deutschland sollte das verteidigen, was es erreicht hat – und gleichzeitig nach sehr viel mehr streben.
[1] In Anbetracht der Tatsache, dass z.B. einer der Paris-Attentäter in mehreren Ländern als Flüchtling registriert worden war und sich dadurch unter die überwiegende Mehrzahl derjenigen gemischt hatte, die vor dem Krieg fliehen, und da einer der Attentäter auf eine Pariser Polizeistation zuvor in einer deutschen Unterkunft für Asylbewerber gelebt hatte, wollen wir hier eine Unterscheidung vornehmen zwischen der großen Mehrheit der tatsächlichen Flüchtlinge und denjenigen, die die Situation ausnutzen, um in Deutschland Straftaten zu begehen.