Read Time:
13 Minute, 5 Second
Trade unions fight for the rights of their members – but women's needs often go by the board as leadership positions are very male-dominated. Can separate women's constituencies be the solution? The example of Hungary.
While we talk a lot about equality between men and women on the societal level, this topic is rarely mentioned related to trade unions. What is the situation in Hungary? The Confederation of Hungarian Trade Unions (MASZSZ), the biggest trade union confederation of the country, has over 100 member unions. Moreover, it has had a separate constituency for women since the 1990s, to which only women are delegated from the member unions. 13 out of thirty constituency delegates were interviewed for this article to find out what women in Hungarian trade unions demand today, and which structures help them in their pursuits.
The interviewed women varied greatly in terms of profession (private vs. public sector and manufacturing vs. service sector) and the number of hours they committed to the cause (part-time/ full time/ free time). However, they were united in their commitment to promoting women's interests through a greater representation of women in leadership positions in the union for instance, allowing for a more female-friendly union agenda.
Gender hierarchies in labor unions
In the world of unions structural inequalities exist similar to those in other organisations. Like in other spheres, women generally have less time for activism due to house chores and struggle to combine work life with union life and family life. As an activist from a teachers' union says: "The conviction is still very present that the woman as the soul of the family, keeps it together. She goes home, and a new shift starts. When the family quietens down, goes to bed, sleeps, that's when we have to work again. So women's work has many layers, one has to fulfil many expectations." Often it is only in retirement, or when the children have already moved out that a woman can be "herself", and spend more time on activism.
The members of the MASZSZ Women's Constituency confirm that it is difficult to motivate fellow women in the union, to get them to join actions or integrate them into local women's constituencies. Sometimes a member union does not have a women's constituency because they do not want to further limit their colleagues' free time, given that they are usually already working at home and within the regular union structures, next to a full-time job. For women to take part in actions at least once in a while, and stand up for their rights, they need the support of their family. As a long-time activist in a food factory workers' union puts it: "We are progressing, bit by bit – and that is important. But it is vital that your family is backing you".

Women's leadership in unions is unequal
Women are not only missing in lower positions within the unions, but also at the top. Due to this, women's needs often go by the board, which is especially deplorable, according to some union activists, as broader social issues are still of special interest to women, due to their role in society. The activists also say that more women at top positions would be helpful as they have a specific way of solving problems. "Us, women, are needed in leadership positions. We see things from a very different perspective, a more emotional one," says a teachers' union delegate. She thinks thus that women are especially needed in social politics. This is a position that many younger feminists might disagree with, but it still is one that gives the interviewed union activists a reason to fight for more women in decision-making positions.
What everyone certainly can agree to is the fact that if the union takes women's interests seriously and really represents them, this leads to greater trust of female union members in the union – and potentially even to more female members.
Separate structures – more solidarity
But are women's constituencies the right way to increase female membership and ultimately also female leadership in trade unions? An example for such a setup is the MASZSZ Women's Constituency. The women delegates to this separate constituency work on all kinds of topics, e.g. wage bargaining, collective agreements, or common petitions. For a delegate of a bus drivers' union, the MASZSZ Women's Constituency was "like doping", as it gave her much-needed support to further her demands in the union. She says: "Although we represent so many different sectors, there are so many topics that we agree on, like the fight against sexual violence and how we expect to be protected by our employers against it."
The solidarity and togetherness that they feel through this group is very important for them. "We work in many different fields, but our problems still frequently are the same. We talk very often and exchange our ideas, and we also help each other. So this is very, very helpful," says the representative of a telecommunications' union. The women agree that the solidarity is bigger within the Women's Constituency than on the highest level of the Confederation, which in turn gives them self-confidence.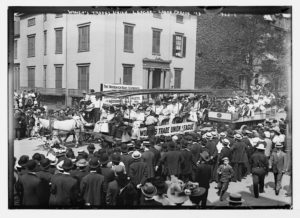 But the activists' opinion on the separate women's group is not only positive. Next to the multiple burdens in the home and at work, it is often difficult for women to accept more responsibilities for the Women's Constituency.
Especially in member unions with a majority of female members, like in the retail sector or food production, the activists also question the necessity of a separate women's union. "In the private sector, I see the point", says the teachers' union activist. "But in the public sector, I don't really feel the need for a separate structure, because: we are women!" She emphasizes that the majority of teachers are women, thus their concerns must already be addressed.
It needs to be stressed, however, that even in female-dominated sectors, women still have their specific interests, which they can discuss and promote more easily with the help of a separate constituency.
45% of Hungarian employees are women – and their interests need to be represented
Despite the difficulties, the majority of union activists are very happy about the existence of a Women's Constituency. They learn a lot from it, both on the personal and on a collective level. It helps their work in the member union, gives them self-confidence, and reinforces their demands within the organisation. It is particularly a space for an exchange of experiences, and allows to build a network and to strengthen the solidarity between women. Unfortunately many activists find that the Women's Constituency is not integrated enough into the structure of the Confederation. This reduces their ability of introducing their demands in collective negotiations and in political decisions. It is thus very important to have formal bases and informal support from higher levels of the unions, across sectors and member unions, for the Women's Constituency to work effectively.
As this year's teachers' strikes in Hungary showed, it is still important that we have people who stand up for the rights of everyone. And we, workers and employees, need to feed these structures – only then can they defend our rights. Because more than 45% of Hungarian employees are women, and their participation rate has grown constantly in the last 15 years, it is important for their interests to be represented in the same way as men's. But this only works if we pay attention to the structural inequality within the union – and if we strengthen women's participation at all levels. At the end of the day it will only benefit the unions if female members recognise themselves in the union's demands and actions as much as men.[:or]A szakszervezet felelössége, hogy a tagok jogaiért küzdjön. De a nök érdekeit gyakran elhanyagolja a szakszervezeti elnökség, mivel az elnöki pozíciókban túlteng a férfiak száma. Mennyire tud ezen egy külön nöi tagozat segíteni? Egy példa Magyarországról.
Míg társadalmi szinten sokat beszélünk a nök és férfiak közötti esélyegyenlöségröl, addig a szakszervezeti szférában alíg esik szó róla. Miröl is van szó, ha a nök szakszervezeti egyenlötlenségéröl beszélünk? A Magyar Szakszervezetek Szövetsége, az ország legnagyobb szakszervezeti szövetsége még ma száznál több tagszervezettel bír. Már a kilencvenes évek óta fenntartanak egy tagozatot, amelybe csak nöket delegálnak, mostanában kb. 30 tagos ez az alszervezet. A cikk 13 delegálttal készített interjúk alapján számol be arról, hogy mit is követelnek a mai nöi szakszervezetisek és milyen strukturák segítik munkájukat.
Az interjúvolt nök nagyon különbözö munkakörben dolgozott (magán- ill. közszféra, gyári vagy szolgálati munka) és különbözö idöt töltöttek a szakszervezetben (teljes vagy félállásban, illetve önkéntesen). Mégis egyetértettek abban, hogy elöre kell vinni a nök érdekeit, hogy a szakszervezeten belüli esélyegyenlöséget erösítsék, és a nöi aktivistákat döntéshozó pozíciókba sikerítsék, végül egy nöbarátabb szakszervezeti világot építsenek.
Esélyek és hierarchiák a szakszervezetekben
Egy szakszervezetben, úgy mint minden professzionális szervezetben vagy cégben, feminista szempontból nézve struktúrális esélyegyenlötlenséget tapasztalhatunk.[1]Mivel a nökre jut még mindig a családi és ápoló munka nagyobb részé és felelössége, nekik kevesebb idö jut az aktivizmusra. Föleg a nem-függetlenített szakszervezeti tagok – vagyis akik munka mellett folytatják a szakszervezeti aktivizmust – veszik észre azt, hogy a teljes állásu munka és a "második müszak" – a család és a háztartás mellett – sok terhet jelent a szakszervezeti munka vállalása.
"Még mindig fennáll az a meggyözödés hogy a nö a család lelke, hogy ö tartja össze," mondja egy pedagógus aktivista. "Hazajön és kezdödik egy új müszak. Amikor a család lecsendesül, ágyba megy, alszik, ekkor nekünk (pedagógusoknak) még dolgoznunk kell. A nök munkája sokrétegü, sok elvárást kell teljesíteni." Gyakran csak a nyugdíjkor, vagy mikor már kiköltöztek a gyerekek, az az idöpont mikor saját maga lehet a nö, és idejét az aktivizmusra szánhatja.

Az MASZSZ Nöi Tagozat tagjai szerint sajnálatos, hogy milyen nehéz szakszervezeti kolleganöiket motiválni, akciókba bevonni, vagy épp a helyi nötagozatba beszervezni. Néha egy tagszervezetben azért nincs nötagozat, mert nem akarnák tovább terhelni a kolleganöket, melyek már amúgy is eleget dolgoznak otthon és a szakszervezeten belül, a föállásu munka mellett. De hogy a nök legalább néha részt vehessenek az akciókban, felállhassanak a jogaiért, fontos hogy családja ebben támogassa. Egy hosszú tapasztalattal rendelkezö szakszervezetis az élelmiszeriparból így fogalmaz: "Haladunk, lépésröl lépésre – és ez fontos. De létfontosságu hogy a családi támogatás meglegyen."
A nök elnökségi pozíciója a szakszervezetekben egyenlötlen
A felsöbb döntéshozó struktúrákból is hiányoznak a nök.[2] Ezért kevésbé jutnak a nök követelései az elnökséghez, pedig ott nagyon hiányoznak a szakszervezeti aktivisták szerint. Sokan úgy látják, hogy nöknek külön érdekük a család körüli témák, és a bövebb szociális témák, mivel a társadalom ezt a szerepet osztja nekik. A MASZSZ Nötagozat tagjai azt is felvetették hogy a nök másképp oldanak meg egy problémát a szakszervezeten belül, másképp állnak hozzá, és ezért hiányzik az ö jelenlétük a tárgyalásoknál. "Mi, nök, kellünk a döntéshozó pozíciókba. Más szempontból látjuk a dolgokat, egy érzelmibb perspektívából," mondja egy tag egy pedagógus szakszervezetböl. Azt gondolja, hogy pont ezért kell több nö a szociálpolitikába. Sok fiatal feminista ellenezné ezt az állást, de legitimálja az interjúvolt szakszervezeti aktivistát arra, hogy több nöért küzdjön a döntéshozó pozíciókban.
De mindenki egyet fog érteni abban, hogy ha a szakszervezet komolyan veszi a nök érdekeit és ezeket képviseli, ez növeli a nöi tagok bizalmát a szakszevervezetben, erösíti magát a szakszervezetet és segíti újabb nöi tagok beszervezését. Ezért fontos megépíteni a nök kompetenciáit, amelyekkel sikeresen meg tudják fogalmazni és megvédeni az érdekeiket.
Külön strukturák – több szolidaritás
De a nöi tagozat lenne a helyes út arra, hogy több nö váljon szakszervezeti taggá és megnöjön a nök részvétele a szakszervezetek elnökségében? Egy példa erre a MASZSZ Nötagozata. A delegált nök mindenféle témával foglalkoznak, a nötöl a férfiig, az ifjusági szervezéstöl a nyugdíjasokig. Ezért mikor összejönnek, sok mindenröl szó esik, pld. bértárgyalásokról, kollektív szerzödésekröl, vagy közös petíciókról. "Nekem a MASZSZ Nőtagozat, kicsit olyan volt mint egy dopping" – mondja egy tag egy buszgarázs szakszervezetéböl, mivel neki sok támogatást adott, hogy a követeléseit elöre vigye a saját szakszervezetében. "Annyi különböző szakmából jövünk, és mégis annyi mindenben egyetértünk, mint például a szexuális eröszak elleni harcban és hogy hogyan tud a munkáltató megvédeni minket ez ellen."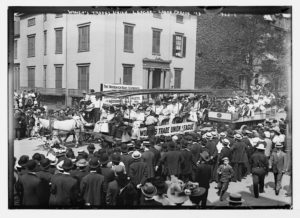 A szolidaritás és összetartozás, melyet a Nötagozaton keresztül tapasztalnak, nagyon fontos tényezö számukra. "A legkülönbözöbb ágazatokban dolgozunk, de a problémáink mégis gyakra ugyanazok. Nagyon gyakran beszélgetünk, ötletelünk és segitünk egymásnak. Úgyhogy ez nagyon, nagyon segít," mondja egy telekommunikácios szakszervezet képviselöje. Ezen keresztül összefogást érzékelnek, hogy vannak tapasztalatok, amelyekröl lehet beszélgetni, egymásnak segíteni. A nök úgy érzik, hogy ez az összefogás nagyobb a Nötagozaton belül mint a felsöbb konföderáció szintén. Ebböl önbizalmat merítenek és saját nötagozatot indítanak a tagszervezetükben, ha van rá támogatás.
Viszont nem mindig pozítív az aktivisták véleménye egy külön nöi szervezet jelenlétéröl. Ez a nök túlterheléséhez köthetö. A teljes állás, házimunka, és meglevö szakszervezeti társadalmi munka mellett nehezen tudnának még külön felelösséget vállalni egy nötagozatban. Másrészt, a föleg nöket szervezö tagszervezetekben nem látják a hasznát egy külön nötagozatnak. "Versenyszféra részéröl teljesen helytálló," mondja a pedagógus szakszervezet képviselöje. "Köszszférán belül van-e létjogosultsága….én annyira nem érzem a pedagógusokon belül, mert hogy: nök vagyunk!"
De alá kell támasztani hogy nem csak a "nöi témákról" szól, melyek esetleg egy "elnöiesedett" szakmában jól képviselve vannak, hanem a nöi aktivizmus, szervezettség és képviselet erösitéséröl is, mely a nök túlterhelése miatt ezekben a szakmákban is nagyon hiányos.
A magyar munkavállalók több mint 45% nö – és az ö érdekeiket képviselni kell
De végül a nehézségek ellenére, az aktivisták nagyrésze nagy örömmel fogadja a Nötagozat jelenlétét, személyes és kollektív szinten is sokat tanulnak belöle. Segíti a tagszervezeti munkájukat, önbizalmat ad, és szervezeti szinten erösíti a követelményeiket. Föleg egy helyet ad a tapasztalatcserére a konföderációi szinten, és hálozatépítéshez szolgál, ezzel erösítve a nök közti szolidaritást. Sajnálatra, gyakran nem látják eléggé beépülve a konföderáció struktúrájába a nök a Nötagozatot, ami csökkenti a nök követeléseinek bevitelét a kollektív tárgyalásokba és politikai döntéshozatalba. Ehhez fontos hogy meglegyenek a formális alapok és az informális támogatás feljebb szinteken is, ágazatokon és tagszervezeteken keresztül, ahhoz hogy a nötagozat rendesen tudjon müködni.

Ahogy a tavalyi ápoló és tanár sztrájkok mutatták, még mindig fontos, hogy legyen, aki felálljon mindannyiunk jogaiért. Ezeket a szervezetek pedig nekünk, munkavállalóknak kell táplálnunk, csak akkor tudják a mi érdekeinket védeni. Mivel a munkavállalók több mint 45% nö, a részvételük az utolsó 15 évben pedig folyamatosan nött, fontos hogy az ö érdekeik ugyanúgy képviselve legyenek mint a férfiakék. Ez pedig csak akkor müködik, ha szembenézünk a szakszervezeten belüli strukturális egyenlötlenségekkel – és erösítsük a nöket minden szinten. Hiszen a szakszervezeteknek is jobb, ha a nöi tagok is ugyanúgy felismerik magukat a szakszervezet akcióiban, mint a férfiak.
[1] Ezt az elméletet 1990-ben elöször az USA-beli szociólógus, Joan Acker fogalmazta meg, több elözö feminista szervezet-elméletre alapozva egy új, strukturális elméletet.
[2] Arról sajnos nem léteznek adatok, hogy milyen a férfi/nöi arány a magyar szakszervezek vezetöfunkcióiban.