Read Time:
13 Minute, 42 Second
In many countries, quotas are used as an efficient measure to diversify politics. Egalitarian and female-friendly policy is closely linked to the number of female politicians. However, it should be carefully examined if making it easier for some women to enter the ruling class will improve social conditions for others.
Gender-balanced policy, positive discrimination, emphasizing the need for diversity in politics as well as in other social institutions: these are all measures that have been aimed at promoting women's emancipation. In general, the call for women to become active members of the society is welcomed by the majority of people sharing progressive beliefs. Indeed, it is one of the points few feminists would argue about. It would be difficult to find a feminist who thought that female participation in politics should be avoided. However, this common agreement is very general. Politics, as well as economics and social activism, come in different shapes and sizes, and sometimes women can campaign for anti-women policy as passionately as conservative men do.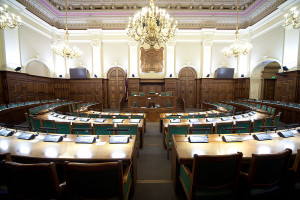 A Twitter user recently asked me: "How can you claim that women are well represented in Latvian politics if they only make 19% of MPs?" This question made me think once more that figures and statistics should never be isolated from their social context. All data should be analysed using a broader perspective, as it is the only way to escape far-fetched conclusions. The position of women in politics, as well as in economics, is multi-faceted and cannot be one-sidedly praised or condemned. The same goes for quotas – they are not sufficient to make Latvian politics more feminist and egalitarian. What is needed, is education, free discussions, and a move from Conservatism in a general manner. While focusing on counting female politicians, we tend to forget about the policy they campaign for. As a result, gender equality may be put in danger by the female politicians themselves.
Statistics say that since the restoration of independence in 1991, women have made up 8 – 21% of the MPs (the lowest rate was in 1995-1998 with only 8% of women in the Latvian Parliament and the peak was reached in 2011-2014 with 21%). Indeed, comparison with other European countries is not favourable to Latvia – even neighbouring Estonia and Lithuania show better results with 26% and 24% respectively. Activists from other countries with far better female representation in politics continue to educate, campaign and lobby for female quotas, and it might seem apparent that 19% of Latvian women in power is not enough. But the question is not about setting a specific figure that would indicate the desirable level of gender equality. Actually, the question that should be asked is: will equal representation in politics lead to a better and equal society, and how?
Unveiled conservatism of Latvian Parliament
It is fairly understandable that in countries where the public sphere is rich in opinions and ideas, where different minority groups have their own agenda and are ready to present it to both general public and government officials, the struggle for diversity in power and decision-making is justifiable. But you must have this diversity in the public sphere, education, and culture first. This would ensure that alternative viewpoints could be formulated and that there would be women to campaign for equality and feminist policy when they get elected to the country's parliament, with or without quotas. If not, what can actually happen, is an unexpected rise of fundamentalist rhetoric coming from newly elected female MPs. Internal misogyny is not uncommon in patriarchal societies and patriarchal views still dominate in Latvia. The government has been declaring its adherence to liberalism and so called European values[1] for a long time, but conservative forces paved their way to the tribune. 2015 was marked as the year when Latvian educational politics took a conservative turn and the previously unknown politician Jūlija Stepaņenko ascended to a high profile position. She, together with other members of Latvian Parliament, instigated changes in legislation. Gaining massive public support (but also encountering fiery criticism from the liberal sector of society) she achieved her goal: The Educational Law now reads that the "Educational system provides moral education according to values proclaimed in Latvia's Constitution, especially those of family and marriage". It also forbids the teaching of anything inconsistent with "moral values" – a definition so vague that any literature or social science lesson could become a punishable activity if a teacher is open about sexual topics, inequality, violence, and domestic abuse.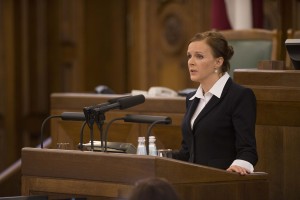 Unfortunately, these changes as well as other anti-feminist stances are promoted and advocated by women – politicians, public figures and grassroots activists. Jūlija Stepaņenko, Inga Bite and Ingūna Rībena are the most well-known female politicians who are actively campaigning for policies that could be described as non-feminist or even anti-feminist. In addition, these kinds of women are often invited to TV or radio shows as political experts, and they defend their ultra-conservative mindset more fiercely than any Edwardian gentleman troubled by rioting suffragettes. Of course, it would be unfair to suggest that all or even the majority of Latvian female politicians are conservative. However, the problem is that whenever a reactionary idea starts to circulate in Latvian society, there are always women in power ready to vindicate it. Why is this?
More ideas, more women in power, more equality. The sequence matters.
Unfortunately, the Latvian public sphere is not the place to encounter a diversity of opinions. Conservatism of different degrees is mainstream and alternative opinions are rarely expressed. In Latvia, as in many post-Soviet countries, wiping out Communist ideology resulted in hostility towards any kind of leftist and anarchist thought. Though new ideas do appear, they still have a far way to go to win hearts and minds. For the time being, alternative voices are few and marginal. Another reason for dominating conformist attitude of Latvian citizens might be immigration. Currently around 370 000 Latvian citizens live abroad, which is a significant number for Latvia with its 2 000 000 population size. Though the main reason for emigration is economic welfare, there is also a noticeable brain drain. Young, better-educated and free-thinking leave and don't come back.
The problem is not with conservatism as such – after all, it is just one of many possible ideologies. But when there is no opposition, it is easy for politicians to exploit right-wing populism, promising to protect "our children" and "traditional families". These ideas frequently resonate with popular opinion and those propagating anti-feminist agenda have massive support. The situation is unlikely to change in the near future unless we focus efforts on creating alternative ideas and discussion platforms, places where new ideas can be nurtured. If we only focus on formal gender equality implementation tools, e.g., quotas, the results may be unpredictable. Quotas are not bad per se, but are not enough to change existing cultural norms.
It might not be difficult to find 50 qualified female MPs in Latvia but we could never be sure that for the time being these women would use their power to create an equal and women-friendly society.
The issue of women and power is similar to that of women and economics. Women should certainly be encouraged to participate in every sphere of life, and modern societies should get rid of any obstacles to this, but we must not be blinded by the assumption that more women in power will make the feminist struggle easier. Latvia has still a long way to go until this conjecture is true.
Quotas in the country where women outside the government generally do not defy but support conservative anti-feminist policy, may be the wrong decision currently.
[1] "European values" is a fairly strange concept used frequently in the Latvian public sphere. Apparently it is some kind of mix of economic liberalism, human rights and European cultural heritage (with Christianity included or excluded, depending on the speaker). European values are often presented as in opposition to "Asian" (i.e., Russian), "Soviet" or, due to the current refugee crisis, "Muslim" values. Strangely enough, such European ideas as nationalism, socialism, communism, anarchism etc. are left out of this conception and described as wicked distortions of the correct and unchanging European ideal (though moderate nationalism is tolerated more than any hint of leftist political orientation). It proves once again that ideology which does not acknowledge herself as such, is ideology par excellence.
Daudzās valstīs, kvotas tiek izmantotas kā efektīvs politikas dažādošanas rīks. Egalitāra un sievietēm draudzīga politika tiek cieši saistīta ar sieviešu politiķu skaitu. Tomēr ir nepieciešams rūpīgi izpētīt, vai tas, ka dažām sievietēm tiek atvieglota iekļūšana valdošajā šķirā, nozīmē sociālo apstākļu un dzīves līmeņa uzlabošanos pārējiem valsts iedzīvotājiem.
Dzimumu līdzsvarota politika, pozitīvā diskriminācija, uzsvars uz dažādības nepieciešamību politikā tāpat kā citās sociālajās institūcijās – visiem šiem pasākumiem ir viens mērķis – sieviešu emancipācijas veicināšana. Lielākoties, sauciens sievietēm kļūt par aktīvām sabiedrības loceklēm, ir ticis plaši atbalstīts. Tas patiešām ir viens no punktiem, par ko feministes diez vai diskutētu. Būtu grūti atrast feministi, kas neatbalstītu sieviešu dalību politikā. Tomēr, šis vispārpieņemtais uzskats ir ļoti vispārīgs. Politika, tāpat kā ekonomika un sociālais aktīvisms, mēdz būt dažāds, un reizēm sievietes var rīkot anti-sieviešu politiskās kampaņas tikpat kaislīgi un veiksmīgi, kā to dara konservatīvi noskaņotie vīrieši.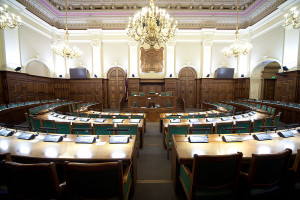 Pirms kāda laika es saņēmu jautājumu no tviterlietotāja: "Kā Jūs varat apgalvot, ka sievietes ir labi pārstāvētas Latvijas politikā, ja tikai 19% Saeimas deputātu ir sievietes?" Šis jautājums lika man vēlreiz apsvērt, ka cipari un statistika vienmēr ir jāskata plašākā kontekstā un nedrīkst tos izolēt no sociālās vides, ko tie raksturo. Datus ir jāanalizē perspektīvā, lai izvairītos no nedabiskiem un samākslotiem secinājumiem. Sieviešu pozīcija politikā, tāpat kā ekonomikā, ir daudzšķautņaina un to nevar vienpusīgi slavēt vai pelt. Tas pats attiecās uz kvotām – ar tām nepietiek, lai padarītu Latvijas politiku par feministiskāku un vienlīdzīgāku. Kas patiešām ir nepieciešams, ir izglītība, brīva telpa diskusijām un pagrieziens prom no konservatīvisma. Kamēr mēs fokusēsimies uz sieviešu politiķu saskaitīšanu, mēs varam nepamanīt, kādu tad politiku šīs sievietes-politiķes īsteno. Rezultātā, dzimumu līdztiesību var apdraudēt neviens cits, kā pašas ar varu apveltītās sievietes.
Statistika saka, ka kopš neatkarības atjaunošanas 1991. gadā, sievietes sastādīja 8 – 21% no kopējā Saeimas deputātu skaita (zemākais rādītājs bija 1995. – 1998. gados, kad tikai 8% sieviešu iekļuva Latvijas parlamentā, bet virsotne tika sasniegta 2011. – 2014. laika posmā ar 21% deputātu sieviešu). Patiešām, salīdzinot ar citām Eiropas valstīm, Latvijas rādītāji izskatās vāji – pat kaimiņu Igaunija un Lietuva parāda labākus rezultātus – 26% un 24% attiecīgi. Aktīvisti no citām valstīm, ar daudz labāku sieviešu reprezentāciju politikā, turpina cīņu par sieviešu kvotām, un var šķist acīmredzami, ka Latvijas nieka 19% ir vairāk nekā nepietiekami. Taču mērķis nav nospraust konkrētu ciparu, kas apliecinās, ka vēlamais dzimumu līdztiesības līmenis ir sasniegts. Īstenībā, jautājums, kas būtu jāuzdod, ir šāds: vai vienlīdzīga dzimumu reprezentācija politikā vedīs pie labākas un vienlīdzīgākas sabiedrības?
Latvijas Parlamenta neslēptais konservatīvisms
Ir saprotams, ka valstīs, kur publiskā telpa ir bagāta ar idejām un viedokļiem, kur dažādas minoritātes ir artikulējušas savas prasības un ir gatavas tās izskaidrot gan plašai publikai, gan valdības pārstāvjiem, cīņa par vienlīdzīgu pārstāvību varas iestādēs ir attaisnojama. Taču sākumā ir jābūt dažādībai publiskajā telpā, izglītībā un kultūrā. Tas nodrošinās alternatīvo viedokļu parādīšanos un izaudzinās tās sievietes, kas vēlāk cīnīsies par vienlīdzību un pro-feministisku politiku, kad tiks ievēlētas, ar vai bez kvotām. Ja tas nenotiek, tad, diemžēl, fundamentālisma retorika nāk tieši no nupat ievēlētām deputātēm-sievietēm. Iekšējā mizogīnija ir bieži sastopama patriarhālajā sabiedrībā, un patriarhālie uzskati vēl joprojām dominē Latvijā. Valdība deklarēja savu piederību liberālismam un tā saucamajām "Eiropas vērtībām"[1] ilgu laiku, bet konservatīvie spēki tomēr ieguva iespēju brīvi izteikties no Saeimas tribīnes. 2015. gads ir bijis nozīmīgs kā laiks, kad Latvijas izglītības politika ieņēma strauju konservatīvu pagriezienu, kas ļāva iepriekš nezināmai politiķei Jūlijai Stepaņenko iegūt plašu atpazīstamību. Viņa, kopā ar citiem Latvijas Saeimas deputātiem, iniciēja izmaiņas likumdošanā. Saņemot masīvu publisko atbalstu (bet arī ugunīgu kritiku no liberālās sabiedrības daļas), viņa savu mērķi sasniedza – Izglītības likums tagad saka, ka "Izglītības sistēma nodrošina izglītojamā tikumisko audzināšanu, kas atbilst Latvijas Republikas Satversmē ietvertajām un aizsargātajām vērtībām, īpaši tādām kā laulība un ģimene". Tas turklāt aizliedz skolās mācīt jebko, kas nav savienojams ar "tikumību" – jēdzienu tik plašu un neskaidri definētu, ka jebkāda literatūras vai sociālo zinību stunda var kļūt bīstama, ja skolotājs pieminēs tādas tēmas kā seksualitāte, nevienlīdzība, vardarbība un disfunkcionālas ģimenes.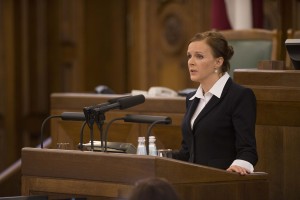 Diemžēl, šīs izmaiņas, tāpat kā virkne citu anti-feministisku viedokļu, savas karstākās aizstāves ir ieguvušas sieviešu vidē. Jūlija Stepaņenko, Inga Bite un Ingūna Rībene ir pazīstamākās, taču nebūt ne vienīgās aktīvistes, kuras bieži tiek aicinātas uz TV vai radio raidījumiem, kur savus ultra-konservatīvus uzskatus aizsargā tikpat kvēli, kā pirms simts gadiem to bija darījuši pret sieviešu balsstiesībām noskaņotie džentlmeņi. Protams, būtu negodīgi apgalvot, ka visas vai pat vairākums no Latvijas sievietēm-politiķēm, ir konservatīvi noskaņotas. Taču problēma ir tajā, ka jebkāda reakcionāra ideja iegūst savus atbalstītājus ar varu apveltīto sieviešu vidē. Kāpēc?
Vairāk ideju, vairāk sieviešu varā, vairāk vienlīdzības. Secībai ir nozīme.
Diemžēl, Latvijas publiskā telpa nav tā vieta, kur var sastapt viedokļu un ideju dažādību. Dažādu pakāpju konservatīvisms ir dominējošs, un alternatīvie viedokļi ir margināli. Latvijā, tāpat kā daudzās citās post-padomju valstīs, komunistiskās ideoloģijas iznīdēšana nozīmē naidīgumu pret kreiso un anarhisko domu kā tādu. Lai gan jaunas idejas parādās, tām vēl ir tāls ceļš ejams līdz plašai popularitātei. Vēl viens iemesls Latvijas iedzīvotāju konformistiskai attieksmei var būt imigrācija. Pašlaik ap  370 000 Latvijas pilsoņu un nepilsoņu dzīvo ārzemēs, kas Latvijai, ar tās mazāk nekā 2 000 000 lielo iedzīvotāju skaitu, ir būtisks cipars. Lai gan emigrācijas pamata iemesls ir tieksme pēc ekonomiskās labklājības, var pamanīt arī vērā ņemamo smadzeņu aizplūdi. Jaunie, labāk izglītotie un brīvāk domājošie aizbrauc un neatgriežas.
Problēma nav konservatīvismā kā tādā – galu galā, tā ir tikai viena no iespējamām ideoloģijām. Taču opozīcijai neesot, politiķiem ir ļoti viegli ekspluatēt labējo populismu, apsolot pasargāt "mūsu bērnus" un "tradicionālas ģimenes". Šīs idejas gūst atbalstu, un nav grūti iegūt masu popularitāti, vairojot anti-feministisko politiku. Diez vai šī situācija mainīsies nākotnē, ja vien mēs nefokusēsimies uz alternatīvu ideju un diskusiju platformu veidošanu, vietu, kur jaunas, progresīvas idejas var netraucēti attīstīties. Sašaurinot uzmanību līdz formāliem dzimumu līdztiesības veicināšanas rīkiem, tādiem kā kvotas, rezultāti var būt nepārredzami. Kvotas nav sliktas per se, bet ar tām nepietiek, lai mainītu eksistējošās kultūras normas.
Droši vien, nebūtu grūti atrast 50 kvalificētas sievietes un virzītu tās deputātu amatam, bet mēs nekad nevarētu būt droši, ka šīs sievietes izmantos savu varu, lai veidotu vienlīdzīgu un sievietēm draudzīgu sabiedrību. Sieviešu un politikas jautājums ir līdzīgs sieviešu un ekonomikas attiecībām. Sievietes noteikti ir jāatbalsta aktīvi piedalīties šajā dzīves jomā, un modernā sabiedrībā nedrīkstētu pastāvēt šķēršļi, kas traucētu sievietei nodarboties ar uzņēmējdarbību, aktīvismu vai politiku. Tomēr   nevajadzētu paļauties uz uzskatu, ka sievietes politikā atvieglos feministu cīņu. Latvijai vēl ir jāpārvar daudz, lai šis pieņēmums kļūtu patiess. Kvotas valstī, kur sievietes ārpus valdības lielākoties nevis pretojas, bet pakļaujas vai pat aktīvi atbalsta konservatīvu anti-feministisko politiku, var būt aplams risinājums.
[1]     "Eiropas vērtības" ir savdabīga koncepcija, kas tiek bieži izmantota Latvijas publiskajā telpā. Tā vien šķiet, ka tas ir īpatnējs ekonomiskā liberālisma, cilvēktiesību un Eiropas kultūras mantojuma sajaukums (ar vai bez kristietības, atkarībā no runātāja). Eiropas vērtības parasti tiek pretstatītas "Āzijas" (t.i., Krievijas), "Padomju" vai, ņemot vērā pašreizējo bēgļu krīzi, "Islāma" vērtībām. Savādi ir tas, ka tādas Eiropas idejas kā nacionālisms, sociālisms, komunisms, anarhisms ir izsvītroti no šīs koncepcijas un tiek definēti kā ļauna Eiropas ideāla sagrozīšana (ideāls, dabiski, paliek nemainīgs cauri gadsimtiem), lai gan mērenais nacionālisms tiek akceptēts vieglāk nekā pat mazākais pagrieziens pa kreisi. Tas kārtējo reizi pierāda, ka ideoloģija, kas neatzīst sevi par tādu, ir ideoloģija par excellence.