Read Time:
16 Minute, 25 Second
As the extreme right gains momentum in Europe, it is striking to see that more and more of its leaders are female. How can the success of women like Marine le Pen (France) or Frauke Petry and Beatrix von Storch (Germany) be explained?
"So you want to prevent women and children from crossing the border by force of arms?" – "Yes". The woman who made this statement in response to a user's question on her Facebook page is called Beatrix von Storch, a member of the federal board of the Alternative for Germany (AfD), a far right party, which is becoming more and more popular.[1] When making this statement, von Storch wanted to support one of the party leaders, a woman called Frauke Petry, who before had endorsed the "use of firearms" in such a situation. The AfD is following in the footsteps of other European parties which have gained votes with a nationalistic and xenophobic agenda, like the French National Front (FN) with its leader Marine Le Pen or the more and more anti-democratic Polish Law and Justice (PiS), the party Prime Minister Beata Szydło belongs to.
While it is not clear if Szydło has much power of her own within her party, or if she is rather a "puppet" controlled by party leader Jarosław Kaczyński, this is not the case for the other three women: Petry, von Storch and Le Pen seem to make their own politics.
Both Le Pen's and Petry's predecessors were charismatic men – Marine Le Pen took over the job of party leader from her father Jean-Marie Le Pen, Frauke Petry followed AfD founder Bernd Lucke. And both women also made sure to kick their predecessors out of the party.
These circumstances raise the question: What unites the "German" and the "French" approach and what separates the women from each other?
Marine Le Pen – soft rhetoric, same ideology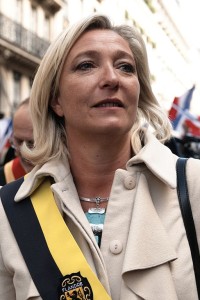 Four years after taking office, Marine Le Pen expelled her father from the party in 2015, following anti-Semitic remarks, thereby publicly taking a step towards a more "toned-down" version of the FN. An intelligent move in order to make the FN more acceptable among the general public while not changing the agenda: The new Le Pen only seems to be more conciliatory than her father, using "ambiguities, double meanings, silences and allusions" in her speeches while staying with the same ideology. This strategy had helped her party gain nearly 25% of the votes at the European elections in 2014, and (following the attacks on Charlie Hebdo in January and the Paris attacks in November 2015) carried her to new heights at the regional elections in December 2015, where the FN gained most of the votes in 6 out of 13 regions in the first round.[2]
Le Pen also avoids talking too openly about her party's anti-feminist agenda: For example, she brought her niece, the FN politician Marion Maréchal-Le Pen, back into line after she had proposed to stop paying women's abortions in certain cases. This position was, according to Marine Le Pen, "not amongst the FN's projects". Even though her party values the "traditional family" and the ideal of a stay-at-home mother (requirements the twice divorced mother of two and full-time politician cannot meet herself), she does not raise the issue very often and prefers the indirect way: For instance, she recently launched a blog where she poses with her kids, her partner or her cats – the perfect idyll.
Beatrix von Storch – radical and outspoken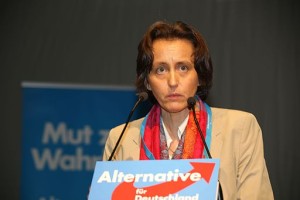 Beatrix von Storch, on the other hand, is quite the contrary to this. As already mentioned at the beginning of this article, she does not recoil from using harsh vocabulary to talk about immigrants and the measures she would take to hold them back. But also her anti-feminism and her homophobic stance are very outspoken: She operates a number of websites where, amongst other things, she fights for the "traditional family" (von Storch does not have any children herself), curses alleged sexual "re-education" of children in schools and speaks out against rainbow families. Interestingly, she bases herself upon these views when arguing against Gender Mainstreaming, thereby failing to recognize (deliberately?) that Gender Mainstreaming is "the process of assessing the implications for women and men of any planned action, including legislation, policies or programmes […]".
Von Storch is also a staunch anti-choice activist, who marched in the first row of the yearly Berlin "March for life" in 2015. She gathered signatures in Germany against the so-called "Estrela report", a European Parliament resolution calling for "high-quality abortion services" being made "legal, safe, and accessible to all within the public health systems of the Member States" – the resolution very narrowly failed to pass.[3] Furthermore, she recommends abstinence as a method to prevent unwanted pregnancies and STDs and has criticized a federal campaign promoting the use of condoms.
Frauke Petry – getting inspired by Le Pen?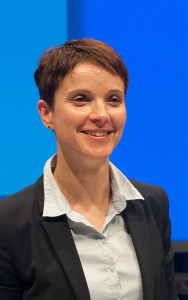 Frauke Petry, in general, shares the same views as Beatrix von Storch, but recently she seems to want to soften her image: For example, she gave a lengthy interview to German people magazine "Bunte" together with her new partner, another AfD politician (Petry lives separated from her husband, a Protestant priest, and the father of her four children). In the accompanying text, the journalists described her as "girlish and delicate" and published a picture of the smiling couple. Petry also used the interview to criticise von Storch, claiming that when she (Petry) was talking about the use of firearms against refugees, she rather meant "warning shots".
In a recently broadcast interview for the "Conflict Zone" programme of German radio station "Deutsche Welle", Petry quite desperately tried to distance herself from all kinds of radical statements which she or fellow party members had made or which are written in the leaked provisional party manifesto.
Petry was criticised for both the "Bunte" interview and her performance in "Conflict Zone". Speaking unofficially, party members denounced her criticism of other members of the federal board, and described her appearance in "Bunte" as "embarrassing". However, the strategical will to present a more "human" side cannot be denied.
"Toning it down" – a success factor to gain female votes?
The differences in the way the two women present themselves are reflected in the electorate of their respective parties:
If, in the 2010 regional elections (one year before Marine Le Pen became the party leader) only 10% of women and 13% of men voted for the FN, in the regional elections of 2015 25% of women and 28% of men put a cross next to the party. With Marine Le Pen's "toning it down" approach, the FN superficially became more "mainstream" and increased its electorate both within women and men.
The AfD for the first time took part in federal elections in 2013. Back then the party was seen as an anti-Euro party more than anything (after the steady drift to the extreme right its founder has left the party). 5.5% of men in Western Germany and 7.1.% in Eastern Germany voted for the party, whereas for women, the respective percentages were 3,4% (West) and 4.7% (East). According to a survey of a renowned German public opinion research institute, at present 17% of men, but only 2% of women would vote for the AfD in federal elections. Even when taking into account that women are less likely to declare their support for a radical party in a survey carried out by phone, the difference is still astounding. In the regional elections in three German federal states two weeks ago, the AfD won between 12,6 and 24,2% of votes (there are no numbers available regarding the percentages of women voting for them).
Of course it needs to be stressed that there are multiple factors at play when deciding for or against a party. However the correlation between how the female leaders of the FN and the AfD present themselves, on the one hand, and the support they get by women, on the other, is astonishing.
Marine Le Pen and Beatrix von Storch respectively Frauke Petry, therefore, have taken two very different roads in their quest for making their parties stronger. They have all succeeded, but as for the AfD, very probably this happened at the expense of women's votes. It is yet to be seen if Frauke Petry with her new method will be able to make up lost ground here or if rather her party will not accept her approach. As the AfD is much younger than its French counterpart, it will be interesting to see how the strategy will change in time.
The presence of women leaders in far right parties reflects the increasing participation of women in politics in general. Their voters seem not to take issue with the fact that women in these positions are no role models for the female ideal they are propagating. Be that as it may, for anyone who believes that women are the "gentle", more empathic sex – and this certainly includes Le Pen, Petry and von Storch themselves – the three women are a "shining" example of the contrary.
[1] She later backtracked and stated that her comment "only" referred to women, not to children. Following a public outcry and critique from within the party, she said that her statement had been a mistake and that she had "slipped on her computer mouse".
[2] In the second round, the republicans and the socialists joined forces for common candidates, thereby preventing FN candidates from becoming the governing party.
[3] European Parliament resolutions are non-binding.
Die populistische Rechte in Europa gewinnt an Stärke – und es ist auffällig, dass immer mehr der Führungsfiguren dieser Parteien Frauen sind. Wie kann der Erfolg von Frauen wie Marine le Pen (Frankreich) oder Frauke Petry und Beatrix von Storch (Deutschland) erklärt werden?
"Wollt [ihr] etwa Frauen und Kindern an der grünen [Grenze] den Zutritt mit Waffengewalt [verwehren]?" – "Ja." Beatrix von Storch, Mitglied des Bundesvorstands der AfD, hat einen Aufschrei mit dieser Antwort auf die Frage eines Besuchers ihrer Facebookseite verursacht.[1] Mit ihrer Aussage wollte von Storch Frauke Petry unterstützen, eine der AfD-Parteichefs. Sie hatte den "Schusswaffengebrauch" in einer solchen Situation gutgeheißen. Die AfD folgt in den Fußstapfen anderer europäischer Parteien, die mit ihrer nationalistischen und ausländerfeindlichen Rhetorik Stimmen gewinnen konnten. Beispiele sind der französische "Front National" (FN) mit seiner Parteichefin Marine Le Pen, oder die immer antidemokratischere polnische "Recht und Gerechtigkeit" (PiS), der Premierministerin Beata Szydło angehört.
Während nicht ganz klar ist, wieviel Macht Szydło tatsächlich in ihrer eigenen Partei hat, oder ob sie vielmehr eine durch Parteichef Jarosław Kaczyński gelenkte "Puppe" ist, sind die drei anderen Frauen über diesen Verdacht erhaben: Petry, von Storch und Le Pen scheinen tatsächlich ihre eigene Politik zu machen.
Die Vorgänger sowohl von Le Pen wie auch von Petry waren charismatische Männer – Marine Le Pen übernahm ihren Posten als Parteichefin von ihrem Vater Jean-Marie Le Pen, Frauke Petry folgte dem AfD-Gründer Bernd Lucke. Beide Frauen stellten zudem sicher, dass ihre Vorgänger die jeweiligen Parteien verlassen mussten.
Diese Umstände lassen die Frage aufkommen: Was verbindet den "deutschen" und den "französischen" Ansatz und was trennt die Frauen voneinander?
Marine Le Pen – geschmeidige Ausdrucksweise, gleichbleibende Ideologie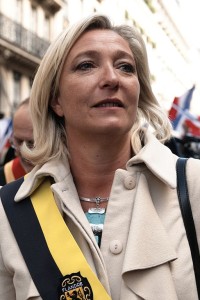 Vier Jahre, nachdem sie den Posten der Parteichefin übernommen hatte, schloss Marine Le Pen im Jahr 2015 ihren Vater von der Partei aus, nachdem dieser sich antisemitisch geäußert hatte. Ein öffentlicher Schritt hin zu einer "abgemilderten" Version des FN, und ein intelligenter Schachzug, um den FN in der Gesellschaft akzeptabler zu machen, ohne das Programm zu ändern. Die neue Le Pen scheint nur versöhnlicher als ihr Vater zu sein, weil sie "Ambiguitäten, Doppeldeutigkeiten, Schweigen und Anspielungen" in ihren Reden nutzt, aber bei derselben Ideologie bleibt. Diese Strategie hat ihrer Partei dabei geholfen, bei den Europawahlen im Jahr 2014 25% der Stimmen zu erzielen. Nach den Charlie-Hebdo-Anschlägen im Januar und den Pariser Terroranschlägen im November 2015 erreichte sie bei den Regionalwahlen im Dezember 2015 neue Rekordwerte – der FN gewann in 6 von 13 Regionen in der ersten Runde die meisten Stimmen.[2]
Le Pen vermeidet, allzu offen über die anti-feministische Agenda ihrer Partei zu sprechen: Zum Beispiel brachte sie ihre Nichte, FN-Politikerin Marion Maréchal-Le Pen, zurück auf Linie, nachdem diese vorgeschlagen hatte, in bestimmten Fällen die Kosten für Abtreibungen nicht mehr zu erstatten. Dies war laut Marine Le Pen "nicht unter den Projekten des FN". Obwohl der FN Wert auf die "traditionelle Familie" und das Ideal der nicht berufstätigen Mutter legt (Anforderungen, die Le Pen als zweifach geschiedene Mutter zweier Kinder und Vollzeitpolitikerin nicht erfüllen kann), spricht die Parteichefin das Thema nicht sonderlich häufig an – sie zieht den indirekten Weg vor: Zum Beispiel präsentierte sie vor kurzem ihren eigenen Blog, in dem sie mit ihren Kindern, ihrem Partner oder ihren Katzen posiert – das perfekte Idyll.
Beatrix von Storch – radikal und direkt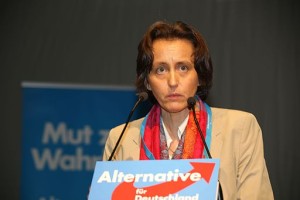 Beatrix von Storch ist demgegenüber das glatte Gegenteil. Wie bereits zu Beginn erwähnt, schreckt sie nicht vor scharfen Worten zurück, wenn es um Immigranten geht und die Mittel, mit denen sie sie abhalten würde. Auch mit ihren anti-feministischen und homophoben Meinungen hält sie nicht hinterm Berg: So betreibt sie eine Reihe von Webseiten, wo sie für die "traditionelle Familie" kämpft (von Storch hat selbst keine Kinder), angebliche sexuelle "Umerziehung" von Schulkindern beklagt und sich gegen Regenbogenfamilien ausspricht. Interessanterweise stützt sie sich auf diese Ansichten, wenn sie Gender Mainstreaming anprangert, und verkennt dabei (absichtlich?), dass Gender Mainstreaming der Prozess ist, "Auswirkungen jeder geplanten Handlung, einschließlich der Gesetzgebung, anderer Politikentscheidungen oder Programme […] auf Männer und Frauen" einzuschätzen.
Von Storch ist zudem eine überzeugte Abtreibungsgegnerin, die im Jahr 2015 beim jährlichen Berliner "Marsch für das Leben" in der ersten Reihe marschierte. Sie sammelte in Deutschland Unterschriften gegen den sogenannten "Estrela-Report", eine Resolution des Europäischen Parlaments, die dazu aufgerufen hätte, "Abtreibungsdienste, die hohen Standards genügen, legal, sicher und innerhalb der öffentlichen Gesundheitssysteme der Mitgliedsstaaten allen zugänglich" zu machen – die Resolution wurde mit einer hauchdünnen Mehrheit abgelehnt.[3] Darüber hinaus empfiehlt von Storch Abstinenz als Methode, ungewollte Schwangerschaften und Geschlechtskrankheiten zu vermeiden, und kritisierte eine bundesdeutsche Kampagne für den Gebrauch von Kondomen.
Frauke Petry – inspiriert durch Le Pen?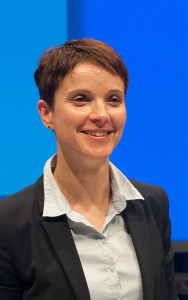 Frauke Petry teilt im Allgemeinen die Meinungen von von Storch. Jedoch scheint sie seit kurzem zu versuchen, ihr Image etwas moderater erscheinen zu lassen: Zum Beispiel gab sie der "Bunten" mit ihrem Partner (einem anderen AfD-Politiker) zusammen ein langes Interview – Petry lebt getrennt von ihrem Mann, einem protestantischen Pfarrer, der der Vater ihrer vier Kinder ist. Im Begleittext wird Petry als "mädchenhaft und zart" beschrieben; der Beitrag wird illustriert durch ein Foto des lächelnden Paares. Petry benutzte das Interview auch, um von Storch zu kritisieren. Sie behauptete, sie selbst habe, als sie über den Schusswaffengebrauch sprach, lediglich "Warnschüsse" gemeint.
In einem kürzlich veröffentlichten Interview für das Programm "Conflict Zone" der Deutschen Welle versuchte Petry einigermaßen verzweifelt, sich von allen möglichen radikalen Aussagen zu distanzieren, die sie selbst oder andere Parteimitglieder getroffen hatten, oder die im durchgesickerten vorläufigen Parteiprogramm zu finden sind.
Petry wurde sowohl für das Interview in der "Bunten" als auch ihren Auftritt in "Conflict Zone" kritisiert. Hinter vorgehaltener Hand warfen Parteimitglieder ihr vor, andere Mitglieder des Bundesvorstands kritisiert zu haben, und bezeichneten das "Bunte"-Interview als "peinlich". Jedoch kann der strategische Wille Petrys, sich etwas "menschlicher" zu zeigen, nicht bestritten werden.
Vorgebliche Mäßigung – ein Erfolgsfaktor, um Stimmen von Frauen zu gewinnen?
Die Unterschiede in der Art, wie sich Le Pen, Petry und von Storch präsentieren, spiegeln sich in der Wählerschaft ihrer Parteien wider:
Während bei den Regionalwahlen im Jahr 2010 (ein Jahr, bevor Marine Le Pen Parteichefin wurde) nur 10% der Frauen und 13% der Männer den FN wählten, machten bei den Regionalwahlen im Jahr 2015 25% der Frauen und 28% der Männer ihr Kreuz bei der Partei. Durch Marine Le Pens Strategie der vorgeblichen Mäßigung wurde der FN oberflächlich an den Mainstream anschlussfähig und konnte dadurch seine Wählerschaft sowohl bei Frauen als auch bei Männern erhöhen.
Die AfD, damals noch vor allem Anti-Euro-Partei, nahm zum ersten Mal im Jahr 2013 an Bundestagswahlen teil. 5.5% der Männer in West- und 7.1% in Ostdeutschland wählten die Partei; für Frauen waren die jeweiligen Prozentzahlen 3,4% (Westen) und 4.7% (Osten). Laut einer Emnid-Umfrage würden bei Bundestagswahlen derzeit 17% der Männer, aber nur 2% der Frauen die AfD wählen. Sogar, wenn man in Betracht zieht, dass Frauen bei Telefonumfragen eher davor zurückschrecken, ihre Unterstützung für eine radikale Partei zu erklären, ist der Unterschied immer noch erstaunlich. Bei den Wahlen in drei Bundesländern vor drei Wochen erhielt die AfD zwischen 12,6 und 24,2% der Stimmen (es gibt keine Erhebungen bezüglich der Prozentanteile der Frauen, die die Partei gewählt haben).
Natürlich sollte betont werden, dass eine ganze Reihe von Faktoren eine Rolle spielt, wenn sich jemand dafür entscheidet, die eine oder andere Partei zu wählen. Jedoch ist die Korrelation zwischen der Art, wie die jeweiligen Führungsfrauen im FN und der AfD sich präsentieren, auf der einen Seite, und der Unterstützung, die sie von Frauen erhalten, auf der anderen, erstaunlich.
Marine Le Pen und Beatrix von Storch respektive Frauke Petry haben also sehr unterschiedliche Wege genommen, um ihre Parteien stark zu machen. Sie hatten jeweils Erfolg, aber die AfD mit ihrer aggressiven Herangehensweise hat sehr wahrscheinlich Stimmen von Frauen verloren. Es bleibt abzuwarten, ob Frauke Petry hier etwas "gutmachen" kann oder vielmehr die Partei ihren Ansatz nicht akzeptieren wird. Da die AfD sehr viel jünger ist als ihr französisches Pendant, wird es interessant zu sehen sein, wie sich ihre Strategie mit der Zeit entwickeln wird.
Die Präsenz weiblicher Führungsfiguren in rechtsextremen Parteien spiegelt die steigende Beteiligung von Frauen in der Politik im Allgemeinen wider. Ihre Wählerschaft scheint keinen Anstoß daran zu nehmen, dass Frauen in diesen Positionen das weibliche Ideal, das sie propagieren, gar nicht selbst leben. Wie dem auch sei, jede Person, die glaubt, dass Frauen das "zartere", empathischere Geschlecht sind – und Le Pen, Petry und von Storch gehören sicher dazu – wird in den drei Frauen "leuchtende" Gegenbeispiele finden.
[1] Später lenkte sie ein und erklärte, ihr Kommentar habe sich "nur" auf Frauen, nicht aber auf Kinder bezogen. Wiederum etwas später, nach der öffentlichen Diskussion und innerparteilicher Kritik, sagte von Storch, ihre Aussage sei ein Versehen gewesen – sie sei auf ihrer Computermaus "ausgerutscht".
[2] In der zweiten Runde schlossen sich Republikaner und Sozialisten zusammen und präsentierten gemeinsame Kandidaten. Dadurch verhinderten sie, dass der FN Regierungspartei werden konnte.
[3] Die Resolutionen des Europäischen Parlaments sind nicht bindend.