Read Time:
10 Minute, 7 Second
Are women's and animal rights inextricably linked? Should feminists abstain from consuming meat and dairy products and if they don't, does this make them hypocritical?
Feminists and vegans tend to elicit a similar response from the general public; a negative attitude, miscomprehension and incredulity. Sometimes they are ridiculed for being social escapists, trying to hide from "real" problems, i.e., poverty, war, scarcity of resources etc. The problem goes even deeper when both ideologies merge together. In this article I would like to examine two aspects of a feminist-vegan life – a moral issue and an economic one. As an avid dairy consumer and an occasional meat-eater who is unlikely to give up these eating habits in the near future, I am going to explain why I do not think that veganism should become part of the feminist struggle.
A moral obligation towards animals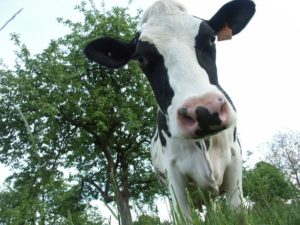 One of the arguments which is used frequently in feminist-vegan disputes is that the entire animal industry is built on the exploitation of the female reproductive system and that because of this, feminists should make animal rights their cause.
Equating a milk cow's and a woman's feelings of commodification and helplessness seem to be the principal idea here. Contrary to what dairy industry is telling us through advertising, cows are not happy to give us milk and do not enjoy their lives on farms. Quite often the term "rape" is used when speaking about artificial insemination and the ultimatum is declared – no feminist should consume milk because it's contrary to feminism to turn someone into a commodity. However, what happens if we expand this argument beyond the animal industry, should feminists care about the welfare of female animals in the wild? Animals can be violent to one another and this includes cases of sexual aggression of males towards females. If a female animal's sexual agency matters in farms, then it should follow that the safety of animals should matter in the wild as well. However, clearly we cannot intervene in the wild in this scenario. Obviously, protecting animals from "rape" would be considered a rude interference in the world of nature in this case.
This is only one example for the fact that, though it is difficult to deny that people do exploit animals, carrying human condition over to animals might not be the solid argument. In fact, anthropomorphizing animals is never a legitimate argument for an animal's welfare, because it exploits our inclination to ascribe to them characteristics they might not have.
Another issue I find with making animal rights a feminist cause is the impossibility of animals representing themselves. Social movements grow from an experience of a hardship or struggle and generally grow through people's awareness that they are experiencing the same oppression. However, fighting for recognition and for people's own rights is inevitably different from fighting for animal welfare, as the oppressed group in this case has no voice. Fighting for animal rights, therefore, gives moral satisfaction but cannot be compared to the fight for feminism or human welfare in general.
Are you able to afford it?
Food inequality also comes into play when talking about the connections between veganism and feminism. For many people a good cut of meat is an indispensable part of a substantial meal; furthermore, it is considered to be a sign of prosperity. Better cuts of meat are more expensive and harder for low income families to afford, therefore a meat-containing diet signifies better nourishment and a higher social position. Promoting vegan values in societies where meat inequality exists is harder because one needs to contest the privileged position of meat in the food pyramid. Doing so however cannot be a feminist's primary concern, who will rather focus on conditions of poverty and malnutrition – conditions which make meat a luxury.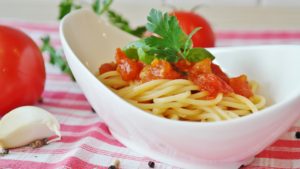 A vegetarian or vegan diet can be as nutritious and balanced as a diet containing animal products, but in the case of veganism, it is important to ensure that you are substituting enough protein to replace the meat and dairy. This can be costly, as some protein substitutes, such as nuts and dried fruits, are quite expensive. Access to vegan eating options is also geographically limited; if you do not live in a big city and your only shopping centre provides very little food suitable for vegans, it becomes more difficult to follow a vegan diet. There are of course other options, such as ordering ingredients online or through creating small but integrated vegan communities to provide support. However, this is time-consuming and demands a great deal of dedication, so not everyone can act like this. Demanding from feminists that they should go vegan therefore does not take into account the position of poor people who might simply not be in a position to do so.
Does eating autonomy exist?
One of the main feminist values is not to blame women (and people in general) for their private and personal choices. Thus, it is unclear to me how some vegans try to police eating preferences and scorn non-vegan feminists for their moral insensitivity. Neither feminism, nor human rights activism is about measuring other people's involuntary involvement in cruel practices; some human rights activists for example do wear manufactured clothing from potentially exploitative factories. Demanding from fellow feminists to go vegan is to some extent similar to the pejorative treatment of "upper class feminism", when problems white, educated, and employed women face are not considered that important in comparison with the suffering of women in traditional communities and some developing countries. A feminist should not be chastised for eating meat whilst focusing on feminist issues which are important to them.
The animal rights question depends on people's goodwill and empathy towards animals, but I doubt that humanity will totally abstain from animal products in the foreseeable future. Taking into account that there are ongoing human rights violations not only in developing countries but also in Europe, I think that for most people these will outweigh animal rights considerations. Although campaigns aimed at promoting animal welfare are to be praised, equating animal rights and feminist activism does not quite fit. Whilst people who dedicate their lives to diminish animal suffering are to be respected, feminists who do not feel the moral urge to go vegan should not be shamed for their eating choices.[:or]Vai sieviešu un dzīvnieku tiesības ir nesaraujami saistītas? Vai feministēm būtu jāatturas no gaļas un piena produktu ēšanas, un, ja nē, vai tas padara viņas par liekulēm?
Feministēm un vegāniem klājas līdzīgi grūti attiecībās ar tā saucamiem parastajiem cilvēkiem. Bieži vien šajās attiecībās ir daudz negatīvas attieksmes, nesaprašanas un neuzticības. Dažkārt gan feministes, gan vegāni tiek izsmieti kā sociāli eskeipisti, kuri slēpjas no "īstām" problēmām: nabadzības, kara, resursu trūkuma utml. Ja divi skatījumi uz pasauli apvienojas, situācija saasinās. Šajā rakstā es gribētu izpētīt divus feminisma-vegānisma aspektus – morālo un ekonomisko. Kā cilvēks, kurš ikdienā lieto daudz piena produktu un reizēm arī gaļu, un kurš negrasās mainīt ēšanas paradumus tuvākajā nākotnē, es centīšos paskaidrot, kāpēc man nešķiet, ka vegānismam obligāti jākļūst par feminisma dienas kārtības daļu.
Morāla atbildība dzīvnieku priekšā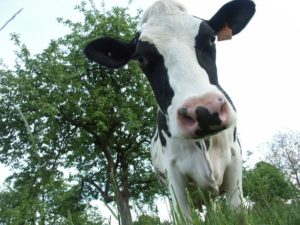 Viens no argumentiem, kas bieži tiek izmantots feministu-vegānu diskusijās, ir tas, ka visa dzīvnieku industrija ir balstīta uz sieviešu reproduktīvās sistēmas ekspluatāciju, un šī iemesla dēļ feministēm jāiekļauj dzīvnieku tiesības savā politiskajā programmā.
Šķiet, ka piena govs un sievietes objektivācija, bezspēcības sajūta, kas ir raksturīga gan sievietēm sabiedrībā, gan dzīvniekiem fermās, šeit ir pamatdoma. Pretēji tam, ko mums ar reklāmas palīdzību cenšas iestāstīt piena produktu industrija, govis nemaz nav laimīgas dot cilvēkiem savu pienu un nebauda dzīvi fermās. Ļoti bieži jēdziens "izvarošana" tiek lietots, lai runātu par govs mākslīgo apaugļošanu, un tam parasti seko ultimāts – feministes nedrīkst patērēt pienu, jo pārvērst dzīvu būtni par preci ir pretēji feministu uzskatiem un vērtībām. Tomēr kas notiks, ja šis arguments tiks paplašināts un attiecināts arī uz savvaļas dzīvniekiem? Dzīvnieki mēdz izturēties vardarbīgi cits pret citu, un reizēm šī vardarbība izpaužas arī kā seksuālā agresija pret mātīti. Ja sieviešu kārtas dzīvnieku seksuālajai rīcībspējai ir nozīme fermās, tai vajadzētu būt svarīgai arī dabā. Tomēr diez vai ir iespējams iejaukties savvaļas dzīvnieku attiecībās un aizsargāt mātītes no "izvarošanas", jo tas tiks uzskatīts par rupju un nevajadzīgu iejaukšanos.
Tas ir tikai viens piemērs tam, ka, lai gan ir grūti noliegt to, ka cilvēki patiešām ekspluatē dzīvniekus, pārnest cilvēku sociālo situāciju uz dzīvniekiem nav pārliecinošs arguments. Patiesībā, dzīvnieku antropomorfizācija nekad nav pārliecinoša, jo izmanto cilvēku tieksmi rūpēties par būtnēm, kurām mēs piedevējam īpašības, kas mums šķiet simpātiskas vai līdzjūtību rosinošas.
Cita problēma feministu-vegānu attiecībās ir dzīvnieku nespēja reprezentēt pašiem sevi. Sociālās kustības var smelties pārliecību no personiskās pieredzes, no kopējās cīņas un kopējās apspiešanas apjēgšanas. Tomēr cīņa par atzīšanu un par cilvēku pašu tiesībām ir atšķirīga no cīņas par dzīvnieku labklājību, jo apspiestajai grupai nav savas balss. Tādējādi, cīņa par dzīvnieku tiesībām sniedz morālu gandarījumu, bet nevar akli tikt pielīdzināta feministu cīņai par cilvēku labklājību un vienlīdzību.
Vai tu vari to atļauties?
Gaļas patērēšanas jautājumā sava nozīme ir arī pārtikas nevienlīdzībai. Daudziem cilvēkiem liels un sulīgs gaļas gabals ir maltītes neatņemama daļa; turklāt gaļa tiek uzskatīta par labklājības simbolu, jo labākie gaļas gabali ir dārgāki un grūtāk pieejami trūcīgām ģimenēm. Tādējādi gaļu saturoša diēta nozīmē labāku uzturu un augstāku sociālo pozīciju. Vegānu vērtību sekmēšana sabiedrībā, kur pastāv gaļas nevienlīdzība, ir grūtāka, jo nākas apstrīdēt gaļas privileģēto pozīciju pārtikas piramīdā. Tomēr diez vai var secināt, ka tas ir feministu uzdevums, jo feministes drīzāk koncentrēsies uz nabadzības un nepietiekama uztura problēmām – tām, kas padara gaļu par luksusa patēriņa preci.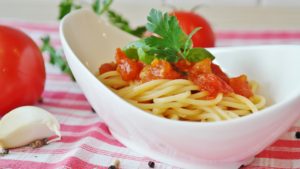 Veģetārā vai vegānu diēta, protams, var būt tikpat līdzsvarota un barojoša, kā diēta, kas satur dzīvnieku izcelsmes produktus, taču vegānisma gadījumā nepieciešams parūpēties par pietiekamu proteīna aizstāšanu. Tas var būt diezgan dārgi, jo daži proteīna aizstājēji, piemēram, rieksti un žāvētie augļi, nav lēti. Pieeja vegānu pārtikai ir arī ģeogrāfiski ierobežota. Ja cilvēks dzīvo mazpilsētā vai laukos un vienīgais tirdzniecības centrs nepiedāvā vai piedāvā ļoti maz vegāniem piemēroto pārtiku, varbūtība, ka cilvēks kļūs par vegānu, samazinās. Protams, ir citi izejas varianti, piemēram, pārtikas pasūtīšana internetā vai mazu, bet integrētu vegānu kopienu veidošana. Tomēr, tas ir laikietilpīgi un pieprasa zināmu piepūli un pārliecību, ko nevar prasīt no ikviena. Ēšanas paradumus nosaka ne tikai personīgā izvēle, bet arī cilvēka sociālie apstākļi, materiālā labklājība un iespējas sekot izvēlētajam ceļam.
Vai pastāv ēdiena autonomija?
Viena no galvenajām feministu vērtībām ir sieviešu (un kopumā cilvēku) brīvās gribas respektēšana un neiejaukšanās privātajās izvēlēs. Tādējādi, man nav skaidrs, kāpēc daži vegāni cenšas monitorēt citu cilvēku ēšanas paradumus un aizrādīt ne-vegānu feministēm viņu morālo nejutību. Nedz feminisms, nedz cilvēktiesību aktīvisms neuzstāda par savu mērķi izmērīt cilvēku netīšu iesaisti cietsirdīgās praksēs. Daži cilvēktiesību aktīvisti, piemēram, valkā drēbes, kas tika saražotas šūšanas fabrikās, potenciāli izmantojot bērnu vai ekonomisko vergu darbu. Pieprasīt no feministēm vegānisku ēšanu kaut kādā ziņā līdzinās nievājošai attieksmei pret "augstākās šķiras feminismu", kad baltu, izglītoto un nodarbināto sieviešu problēmas tiek uzskatītas par mazāk svarīgām salīdzinājumā ar ciešanām, ar kurām saskaras sievietes tradicionālajās kopienās un atsevišķās attīstošās valstīs. Feministe, kura koncentrējas uz sev tuvākām feministu tēmām, nav pelnījusi rājienu un nicinājumu, tāpat kā feministe, kura neuzskata par nepieciešamu kļūt par vegānu.
Dzīvnieku tiesību jautājums ir atkarīgs no cilvēku labās gribas un empātijas pret dzīvniekiem, taču es šaubos, ka pašlaik un pārskatāmā nākotnē ir iespējams pilnībā atturēties no dzīvnieku izcelsmes produktu patēriņa. Ņemot vērā, ka visā pasaulē, tostarp, arī Eiropā, vēl joprojām netiek respektētas cilvēktiesības, tas, pēc manām domām, būs prioritāte lielākam cilvēku skaitam, nekā dzīvnieku labklājība. Kamēr cilvēki, kuri velta dzīvi tam, lai atvieglotu dzīvnieku ciešanas, ir uzslavas vērti, feministes, kuras neizjūt morālo vēlmi kļūt par vegāniem, nav jāstrostē par viņu ēšanas izvēlēm.